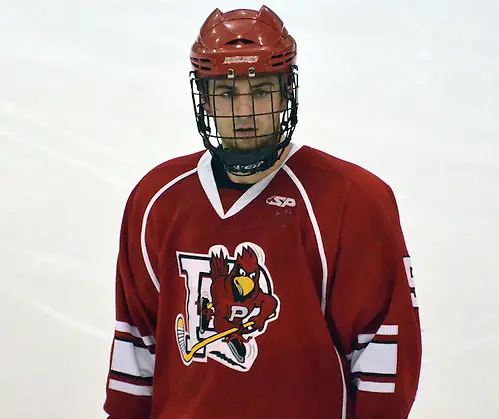 The headline would have read something like this: "Plattsburgh hands Lakers first loss of the season".
The sub-head? "With one hand tied behind its back".
Well, sort of.
The No. 7 Cardinals, who had been struggling just a bit in recent weeks (2-2-1 in their last five outings) were a little short-handed on the blue line for Saturday's encounter with Oswego, at the time the top ranked D-III team in the land. Their lot got worse before it got better, but when the groaning from the disappointed sellout 3,000-strong throng finally died out, Plattsburgh had skated out with a hard-fought, 2-1 win.
"We played with a short bench," said Bob Emery, Plattsburgh's veteran head coach. "We were pretty banged up, and played with four and a half defensemen. We managed to hang on, and I don't know how we did."
The answer to that was a tribute to the work of elastic goalie Mathieu Cadieux (34 saves) and to stout work by a hungry flock of Cardinals.
"It's a short season," said senior defenseman Paul Puglisi, "so every game is huge. Especially against great teams like this. Sacrifice is huge. Blocking shots and sacrificing for the team. I think there was lot of it tonight."
One couldn't argue with that, especially given the large supply of ice bags that were handed out afterward around the Cardinals dressing room.
Plattsburgh's battle-readiness was tested scarcely 15 seconds into the contest when key blueliner Mike Grace was leveled in a scary-looking corner collision and had to be helped off the ice. He missed the rest of the period before returning in the second stanza.
That left the Cardinals, for the time, with a mere quintet of healthy defensemen.
Make that four really, when you consider that the fifth was junior forward Nick Jensen, who was playing back for just the first time in his life.
"We knew coming going in we were going to face some adversity, as far as being short defensemen," said Puglisi. "But that wasn't going to matter."
What did matter was that Jensen was able to plug a hole on the blue line while helping his new defense-partners keep from having to suck too much wind while working a five-man rotation.
"Jensen played a really great game," said Puglisi. "He helped us out a lot, because it meant less reps for the (rest) of us. I was surprised. He did an unreal job."
Jensen wasn't the only Cardinal to rise to the occasion. Puglisi, who had scored just twice in 90 games, gave Plattsburgh a 1-0 lead with a drive from the blue line while the teams skated four-on-four.
"That makes three total goals," said Puglisi. "(Jared) Docking walked the wall and passed me the puck. I found an open lane and just tried to put it on net. I'm not a goal scorer, so if I shoot it on net, hopefully something good will happen."
Puglisi's tally came one day short of a full year after his last goal, which also came against Oswego.
"I was definitely surprised, but definitely excited."
Alex Brenton made it 2-0, eight minutes later on a short-handed breakaway, and from that point on the Cards were faced with having to put down an Oswego team bent on avoiding an upset.
"We didn't change anything after the lead," said Emery. "We changed a few things going into the game (notably moving Jensen off a line with his brother Alex and into the back), but nothing once it started. Oswego's known for its speed through the neutral zone, and we wanted to cut that down."
The Lakers' Chris Muise cut the margin to one goal midway through the third period, but Plattsburgh was able to button down the win.
"They (were) the No. 1 team in the nation," said Puglisi. "We had to have our best game to play them. But no matter what place they are in or we are in, it's going to be a battle with them."
NOTES
–The Cards will be in an unusual position of having to face two No. 1 teams in succession. Friday, they will host Norwich, which ascended to the top spot in the wake of the Lakers loss.
"That's not going to be hard to be focused for," said Puglisi.
–Among the latest SUNYAC commitments for next season is forward Blake Forslund, who is bound for Fredonia. Forslund, 20, is in his second season with the Orangeville Flyers (OJHL). Forslund was no doubt steered to Steele Hall by Flyers' assistant coach Kevin Stone, a former star in the Fredonia net
–Kudos to Morrisville interim bench boss Kevin Krogol for notching his first career win, the Mustangs' 5-4 triumph over Brockport last Friday. Interesting to note that the milestone puts Krogol "just" 923 wins behind legendary Boston College coach Jerry York, who tied the NCAA career mark the same weekend.