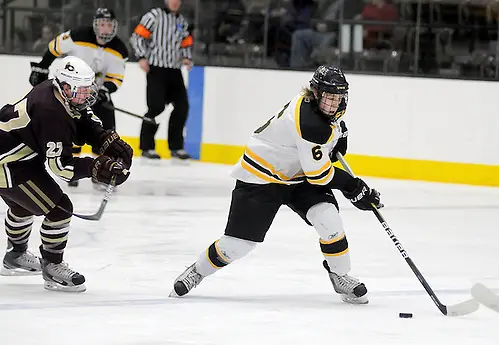 The Wisconsin-Superior Yellowjackets continue to turn heads in NCAA Division III.
In the past month, Wis.-Superior (8-2-1) has made a steady rise up the USCHO.com D-III Poll. In this week's rankings, the Yellowjackets jumped from 12 to 10, and seem to be building momentum every week. Playing in the rigid Northern Collegiate Hockey Association, the Yellowjackets are in second place (5-2-1) behind Wisconsin-Eau Claire (10-1-1).
Last weekend, Wis.-Superior, after battling Wisconsin-River Falls to a 1-1 tie on Friday, rebounded Saturday with an impressive 3-2 victory.
This season, Wis.-Superior is getting help from hometown product Pat Dalbec. Through Saturday, the junior forward is tied for third in the NCHA in points with 15. Dalbec is also tied for third in goals (7).
Offensively, Dalbec spearheads an aggressive attack that leads the NCHA in shots. Dalbec has recorded 46 shots, while defenseman Jeff Forsythe has 35 and forward Kyle Leahy has 28.
In eight conference games, the Yellowjackets rank third in goals scored with 25. However, an area Wis.-Superior will have to improve is its power play efficiency. The Yellowjackets have 12 goals in 60 power-play opportunities (20 percent).
In order for the Yellowjackets to keep making noise nationally, they'll have to find someone to complement Dalbec. Forsythe ranks second in the NCHA with 10 assists; however, in goals scored, forward Joey Massingham ranks second on the team with four.
The Yellowjackets have outshot their opponents 91-47, but average a modest 3.2 goals per game. As many shots as Wis.-Superior takes, more goals should be sailing past goaltenders' legs.
If the Yellowjackets' attackers do have an off night, they can rely on the solid goaltending of junior Drew Strandberg. Strandberg is boasting a 2.35 goals-against average, third-best in the NCHA. He's third in win percentage (.812) and eighth in save percentage (.881).
Through eight games, Strandberg has faced only 141 shots, which could be a testament to Wis.-Superior's solid blue line, led by Forsythe.
Can the Yellowjackets keep their hot streak going? Part of the reason for their success is that they haven't played the marquee teams in the NCHA yet.
January will be a pivotal month for the Yellowjackets. Wis.-Superior plays No. 6 St. Norbert and No. 3 Wis.-Eau Claire in back-to-back series. This weekend, the Yellowjackets will be tested when they travel to Gustavus Adolphus on Saturday, a team that was ranked 12 in mid-November, but has fallen short of getting back into the top 15 recently.
If more shots hit the net and Strandberg continues his fine season, the Yellowjackets could keep getting noticed across the country.