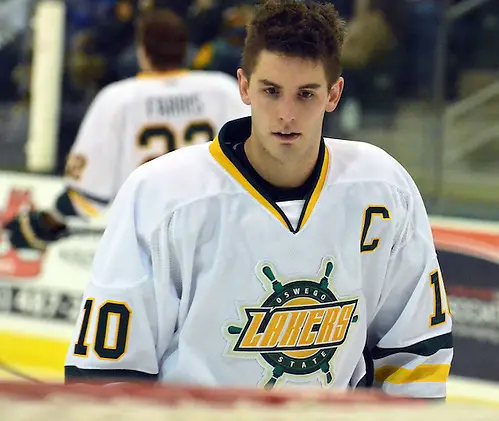 Jon Whitelaw spent the greater chunk of November and December in street clothes, which is scarcely a fitting place for the SUNYAC's reigning scoring champ.
More to his liking would have been on ice, wearing the "C" for Oswego State, and leading the Lakers' charge into the national championship fray.
What Whitelaw, an education major and budding middle school teacher, learned the hard way is that you can't rush a gimpy ankle, and after suffering his injury in the Nov. 9 tilt at Morrisville, he was forced to watch and wait as his Lakers mates battled through their way through the first semester.
It was an experience that Whitelaw, who returned to the lineup to lead Oswego to a pair of wins in its own Pathfinder Bank tourney, didn't care for one bit.
"It's been the most frustrating thing I've ever had to go through in my career," said the slick-skating left wing. "I haven't had any injuries — in junior (Huntsville OJHL) or in college — and it was very difficult. But it kind of gave me a new perspective, looking from afar. It's one of those things that you've got to find the best out of, and I think I did."
Whitelaw said that while waiting for what seemed to be an eternity to be declared healthy, he did whatever he could to help the Lakers cause.
"It was a roller coaster," he said. "Right when you think you're getting better, you kind of take two steps back. When I was watching the guys (play), I tried to be the best cheerleader I could. There were times when I was behind the glass that I wish I could step up and say something on the bench. But it was great to see the guys, especially the seniors, step up."
Exhibit A in that court was senior co-captain Chris Brown's dramatic game-winner in the waning seconds of overtime against previously-unbeaten Hobart. The win allowed Oswego to stop a two-game mini-slide heading into the Christmas break.
"That's exactly what I'm talking about," he said."
Whitelaw admitted he felt a little like a freshman again when he suited up Dec. 30 for Oswego's Pathfinder opener against Plymouth State.
Still, if he had any butterflies in his gut, they were blown away in short order when he rifled his first shot on goal in six weeks past Plymouth goalie Jack Astedt.
"It was a feeling-out process," Whitelaw said. "I had to try and get that fear (of re-injury) out of my head. (This) was a great thing for my confidence. I took some pretty good hits, and I was able to skate away injury free."
Whitelaw added four assists to polish off a very successful weekend for himself and his mates.
"That was a nice reward," he said, "after having worked to try and get back in the lineup, for all the frustrations I've had to go through."
Having passed that test, Whitelaw is now bent on leading Oswego down the stretch and through what the Lakers expect — not hope — to be a successful playoff run.
After falling one win short of the national championship last year, Whitelaw, ever the captain, said that there is only one outcome acceptable for the senior-laden Lakers, who are currently ranked No. 2 by USCHO.
"It's win and nothing else," he said. "That's always the expectation for us. This is the time of year when we hit our stride. For the guys who have been here, we remember back, and we want to be firing on all cylinders. We don't want to wait and try to get lucky."
For the present, though, Whitelaw is just happy to be skating with his mates.
"It was just great to back and celebrating with the guys," Whitelaw said. "On the other side of the glass."