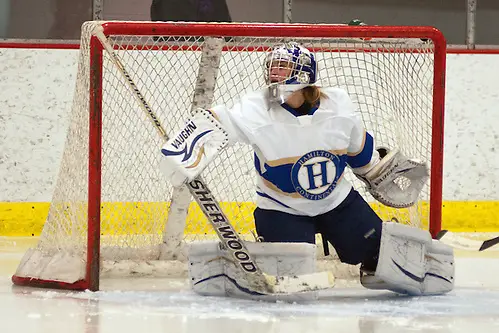 The Hamilton women's hockey team is off to its best start in the 17-year history of the program. Under first-year coach Emily McNamara, the Continentals enter the second semester with a 6-2-0 record.
McNamara is no stranger to success after playing for Middlebury and winning three straight national championships from 2004 to 2006. Upon graduating in 2007, she also served as an assistant coach at her alma mater over the last four seasons, helping guide the Panthers to a 78-20-11 record under legendary coach Bill Mandigo.
"Bill has been a huge influence for me during not only my playing career, but also helping me get started into coaching," McNamara said. "Coming to Hamilton, it's nice having experience in the NESCAC and knowing about the high academic traditions of the schools in the conference."
McNamara took the reins of the program in mid-September after Brendon Knight departed Hamilton for an assistant job at D-I Syracuse University after guiding the program for the last six seasons.
"The girls have been awesome," McNamara said. "I got pretty lucky that we have a great senior class with good leadership that helped make the transition pretty easy."
Hamilton started gaining confidence that it could be in the midst of a special season right from the opening weekend, when the Continentals split with traditional power Amherst.
"This is a group that has found a way to win the games that we've needed to win so far," McNamara said. "Coming back against Amherst after losing to them Friday night to open the season I think was huge for what we did the rest of the semester. We could have sat back when we were down 6-2, but we fought back and made it 6-5. It showed a lot for the team and for me that we know we could hang with good teams."
McNamara pointed to her five seniors, led by forward Katie Zimmerman and goaltender Becca Hazlett, as two of the biggest reasons for the Continentals' strong start.
Zimmerman leads the team with 11 goals and is tied for second nationally. She has four game-winning goals, three power-play goals, and two assists to establish herself as one of the premier forwards in D-III.
"Zimmerman has really taken another step this year and rounded into a more complete player," McNamara said. "She's playing both ends of the ice right now and she has a real nose for the net. I think she's one of those rare players that just has a knack for putting the puck in the net."
Hazlett has compiled a 5-2-0 record with a 2.00 goals-against average and a .907 save percentage in her final chapter of her sparkling four-year career in the Continentals uniform.
"Becca has been unbelievable," McNamara said. "She's been good ever since she was a freshman, and even in the games where we've outshot the other team. We've given up a number of good opportunities and she's bailed us out with some great saves. It's good feeling to know that we can look back at our net and trust our goalie to make the save when needed."
Zimmerman and Hazlett have combined with Abby Runyon, Julia Beaty, and Emily Baxter to form a solid corps for Hamilton this season.
"Our senior class is really doing a great job this year leading us in all aspects of the game, on- and off-the-ice," McNamara said. "The five of them have done everything you could ask out of them. Abby is our captain and blocks five shots a game. Julia is our assistant captain and works harder than anyone, and Emily has worked hard and contributed too."
Hamilton has also had the benefit of a strong freshmen class that has come in and made an impact right from the get go.
"We have nine freshmen right now, and five of them play all the time and are contributing right now," McNamara said. "Coach Knight left me with a good class before leaving for Syracuse, so I have to be thankful for that."
McNamara is hoping this season's success can help springboard Hamilton women's hockey onto the national map to help continue its upward trend in the D-III ranks.
"The more success you get the more you can sell your program," she said. "If we can grab a couple good kids and keep doing well in the league, that'll be huge. The league is so wide open this year, and every night is a battle that you could win or lose. Middlebury is the only team that really stands out right now."
The second-half schedule will be a little more challenging for Hamilton, and it starts on Saturday when the Continentals travel to Elmira for a big nonconference showdown with the No. 4 Soaring Eagles.
"This weekend, we'll really be taking a defensive focus and we'll have to do the little things well and then we'll have a chance to be successful," McNamara said.
McNamara and Hamilton also have a looming showdown with her coaching mentor at the end of January when Hamilton travels to Middlebury for a pair of NESCAC games.
"I want to beat him for sure," McNamara said with a chuckle. "It'll be fun though to go back. It's alumni weekend there, so it will be nice to see a lot of my old teammates and players that I coached while at Middlebury."