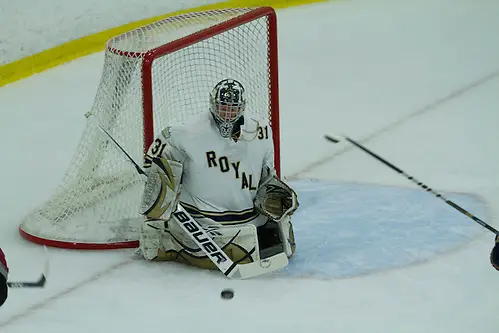 With the arrival of 2013, the stretch run to the Minnesota Intercollegiate Athletic Conference championship is about to begin.
Seven weeks remain in the season, and Bethel and St. Thomas enter January tied for first place with identical 5-1 records.
The Royals and Tommies won't play each other in games that count in the conference standings until next month, when they play a home-and home on Feb. 1-2.
Of course, we'll have an idea of what to expect in the pivotal series after this week, as Bethel and St. Thomas are scheduled to play a nonconference game on Saturday night in St. Paul.
Both teams certainly have what it takes to win a conference title. St. Thomas is the defending regular-season champion, and the Royals have come a long way from where they were a year ago when they finished seventh.
The Royals have scored 29 goals, including 13 off the power play, but have given up 31 goals. Jack Paul and Garrett Windle have anchored the offensive attack with five goals apiece, while Matt Rowe and Dan Harper have spent most of the time in goal.
Rowe has played in five games and has tallied 125 saves. Harper has appeared in seven games and has racked up 139 saves.
If the Royals can find a little more balance on offense and continue to make strides on defense, they will have an opportunity to contend for the championship.
Of course, the Tommies have the pieces in place to be a champion as well, and until someone proves otherwise, they are the team to beat.
St. Thomas has cranked out 33 goals and has allowed 26. Alex Altenbrand and Michael Krieg have scored five goals apiece, and Chris Cass and Alex Niestrom have tallied four goals apiece.
Tyrone Simcoe and Drew Fielding have been the primary goalies for the Tommies, with Simcoe tallying 89 saves and Fielding coming through with 218 saves.
I don't think any team is going to run away with the conference championship, and while the title likely won't be decided until the final week of the year, that crucial series in February between the Tommies and Royals could go a long way in determining which team does win the championship.
Below is a look at the other teams in the league and a few thoughts on each one with the second half of the season set to begin.
St. Mary's
The Cardinals have cranked out 43 goals, with Bobby Thompson and Austin Balko coming through with seven and six goals, respectively. They also have 56 assists as a team, and their ability to score will keep them in the hunt for a conference title. But stepping up on defense will be important for the Cardinals if they hope to be a contender. They have allowed 43 goals this year, and that trend needs to change, especially with them entering this month looking to snap a three-game losing streak.
St. Olaf
The Oles have not played a game since Dec. 1 and enter January in dire need of momentum. They have dropped three of four, and begin the month with a grueling trip to Wisconsin-Stevens Point and St. Norbert. Dan Cecka has played well for the Oles, scoring six goals and tallying four assists, and the Oles will need to be at their best offensively if they are going to be a contender in the conference.
Concordia
The Cobbers open the month with two nonconference games in Wisconsin, but they will have an opportunity to stay in the hunt for an MIAC playoff berth, as six of their next eight conference games will be at home.
If Concordia continues to get solid play from players such as Jordie Bancroft and Andrew Deters, and if goalie Chris Neamontis can keep his goals-against average under two, the Cobbers could emerge as one of the better teams in the conference this month.
Gustavus Adolphus
The Gusties have been a competitive team most of the season, having lost four games by two goals or less. They forged a tie in another game.
They will need to draw on that competitive edge going forward, as half of their remaining MIAC games will be played on the road. Gustavus has scored 32 goals, but it has also given up 32 goals. Finding success down the stretch will hinge on it being able to step up defensively, especially on the road, where goals are often much tougher to come by.
Goalies John McLean, Patrick Sullivan, and Tyler Venne have all seen time in goal, and Gustavus will need solid goaltending the rest of the way if it is going to be in the hunt for a playoff berth or find a way to climb back into the hunt for a conference title. The three goalies have combined for 377 saves.
St. John's
One of the hottest teams in the league in December, the Johnnies hope that momentum carries over into 2013. They have won their last five games and have been solid offensively, scoring 34 goals off 59 assists.
That type of unselfish play will put the Johnnies in position to contend for the conference title. At the very least, they will have a chance to nail down a MIAC playoff berth.
John Haeg has been a big part of that success. He has tallied seven goals and has dished out eight assists. Jascha Pettit has scored five goals and has tallied five assists. Justin Hochsprung has racked up eight assists to go along with one goal.
The thing to keep an eye is how St. John's does early in the month. The Johnnies will play six of their next seven away from home, including a pair of nonconference games in Wisconsin. If they can emerge from that stretch with a winning record, they will be in the MIAC title mix at the end of the year.
Augsburg
The Auggies limped into the break, earning only one win in their last six games. They have scored 29 goals, but have allowed 38, and they are going to need to be much more effective on offense to get back on track.
Three players have scored four or more goals, while Justin Lochner has racked up 265 saves and has allowed 32 goals in 11 games. If he can take his game to another level and get help from the defense in front of him, the Auggies should show signs of improvement this month.
If Augsburg is going to have any shot at the conference tourney, it needs to step up in January, because its final four games of the year will come against Bethel and St. Thomas.
Hamline
At some point, the Pipers have to win a game. They have dropped four consecutive games after a tie with Lake Forest and need to find a way to cut down on the number of goals allowed. Hamline has given up 61 goals this year, and their goals-against average of nearly five (4.64) needs to come down if they are going to make strides during the second half of the season.
Hamline simply needs to work to improve and build a little momentum for next season.