This time last year, the thought of playing ice hockey for Cornell couldn't have been further from the mind of Craig Esposito.
"If you had asked me a year ago if I would be playing Cornell hockey," Esposito said, "I'd almost laugh. I never thought this opportunity would come up."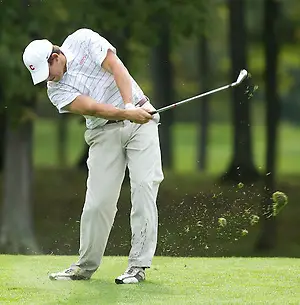 The game of hockey works in mysterious ways.
One year later, Esposito is a member of the 15th-ranked Big Red, and skating among what's historically one of the best defensive units in the country. For the Cornell junior, his opportunity to join the squad came up unexpectedly last summer.
"I had heard one guy from last year's roster didn't return this season, and that the team was looking for an extra defenseman," Esposito said. "I emailed Coach [Mike] Schafer, spoke to the team captains and joined the team in summer skates. They [captains] were helpful and kept inviting me back, so I kept going. Finally, I got asked to be put on the roster, and of course I accepted."
Skating as a part of the men's hockey team is new territory for Esposito, but being a Big Red varsity athlete is not. Craig joined the hockey team in October after completing his second season as a member of the Big Red men's golf team. He was no slouch with the golf club, recording the team's second-lowest average round and serving as one of the squad's tri-captains.
"The biggest thing [in being a Division-I athlete] is the work ethic. I put a lot of work into my golf game to play at the D-I level and that can be transferred over to hockey," Esposito said. "I knew how to put time and effort into it. Being a golfer really helped with the transition [to hockey]. It made it easier, I guess."
Switching from the putting green to legendary Lynah Rink isn't just an exciting change for Esposito, it's also a personal one.
After all, he's a homegrown product, having played high school hockey at nearby Lansing (N.Y.) High School while also competing for the Binghamton Junior Senators of the Atlantic Junior Hockey League.
"I grew up going to Lynah Rink with my parents and watching Cornell hockey," he said. "Playing for Cornell is truly a dream come true."
Of course, Esposito isn't the only player on the Cornell roster that hails from the greater Ithaca area. Standout goaltender Andy Iles helped guide the Ithaca Little Red to a state high school championship in 2006-07. Sophomore forward Kevin Cole was a classmate of Esposito's at Lansing High School. The two have played key roles in getting Esposito acclimated to the Big Red hockey family.
"Andy [Iles] and Kevin [Cole] have been very helpful in getting me introduced to the program, and I'm very thankful that they are local guys that I was friends with right off the bat; it made it an easier transition," Esposito said. "There were a lot of new things that I had to learn, and I think knowing Andy and Kevin just made it easier."
Esposito, Iles and Cole are all products of the Ithaca Youth Hockey Association, a program that has long been known to produce top talent in the area. This year, the program gained a lot of attention when local star Dustin Brown captained the Los Angeles Kings to the Stanley Cup, and Esposito said he believes the hockey program that produced three members of the current Big Red roster, and many more players throughout the years, deserves a lot of credit.
"Ithaca youth hockey hasn't been recognized as much as it should be, but it's produced some good players over the years," Esposito said. "The program has a lot of young talent and it has the potential to consistently produce good players year after year."
As for Esposito's current team, the Big Red are focused on making another run at the Frozen Four this year after falling one game short last season.
"This group of guys is so hungry to win overall. We come into every game wanting to win," Esposito said. "It's a special group of guys; we're all together. Everyone on the team is very close. That proves to be successful on the ice."
Cornell started off the season with three straight wins, including a season-opening sweep at home of Colorado College. After hitting a bit of a slide in the beginning of November, the Big Red went into the break on a four-game unbeaten streak highlighted by a Frozen Apple defeat of Michigan at Madison Square Garden.
After joining the Big Red at the end of the men's golf season, Esposito has had to watch Cornell's success from afar, having been a healthy scratch in each of Cornell's 15 games. Still, the defenseman, who comes in at a hefty 6-foot-4, 220 pounds, said he believes that he has a lot to offer Cornell when called upon.
"I think my defensive side is a strength I've always had," Esposito said. "I am more of a defensive defenseman. I am pretty big and I feel like I can play the body pretty well."
As for goal scoring, Esposito seems to hint that he'll stick more to the idea of protecting goals from going in as opposed to contributing to the scoring attack.
"I'd love to score goals, too," Esposito said. "But that doesn't really happen that often for me."
Esposito will continue to work, now as a member of the team he grew up watching, and try to crack Cornell's defensive lineup.
He'll continue to relish his time in the red and white.
"It's really just been a dream come true to be part of this great program, and I'm really going to just try and enjoy the experience," Esposito said. "I just try to do the best I can personally, and I know that I just need to keep working hard and hopefully it will come soon."