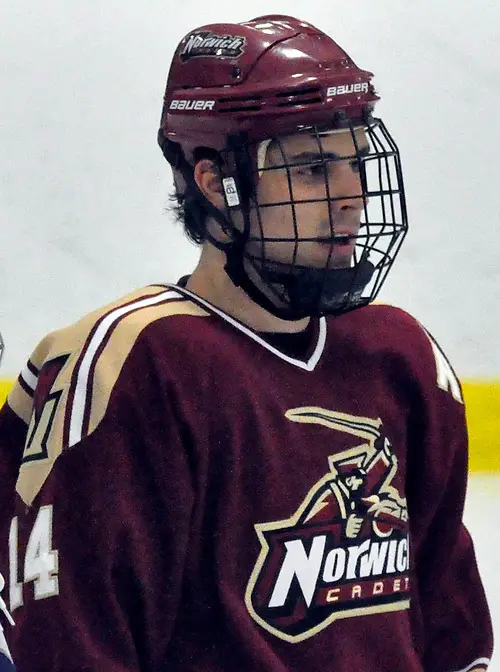 Coach Mike McShane had them circled on the calendar long before the New Year's ball dropped and 2013 was upon us: Five key games on the schedule that he knew would be key in refining his team and perhaps defining a season based on the outcomes, beginning with the Northfield Bank Tournament right after the New Year. Game one went as planned with a solid 6-0 win over Connecticut College, but game two was a bit of a hiccup as the Cadets suffered their first and only loss of the season to a hyped-up Neumann squad by a score of 5-3.
"I told the kids that I think it was more important to their team than it was to ours," said McShane. "You know it started out good and we had some great chances we just couldn't take advantage of, and they just really cashed in on the few shots they had.  It was a tough one to lose, but we don't have a lot of time to dwell on it, because we head over to Middlebury to play on Tuesday night. They played great against us in the Primelink back in November, and have some great young talent. They can really go and put pressure on you anywhere on the ice, but are just young. I saw them play Trinity over the weekend and thought they completely outplayed them, but just couldn't get the puck in the net. It is going to be a tough one for sure."
Game three was back in the plus column as the Cadets defeated their in-state rivals by a score of 3-1 behind two third-period goals from Tory Allan and Gerard McEleney. The Cadets turned it on the third period, outshooting the Panthers by a 14-8 margin and outscoring the hosts by a 2-0 margin to take the win. That Tory Allan scored the game-winner shouldn't be a surprise, as the talented forward and his linemates lead a potent offensive unit for the Cadets that may only be getting better in the second half of the season.
"Colin [Mulvey] and Tory [Allan] have come a long way, and they really took off when we put Travis [Janke] with them on that line," noted McShane. "They have been very productive for us. Now that we have [Blake] Forkey back from his injury, we have him back with Thomas and Cotnoir. So those two lines are really going good for us. We really want to get the third and fourth lines chipping in with some offense, and now that we can slide people back into their natural positions, maybe we will see some of those players producing more on those lines to give us more balance. Now we can put Chris Duszynski back on his line and hopefully get Shane Gorman and Dean Niezgoda going with some more goals. Gorman scored 10 goals for us last year, but only has one so far this season, and Dean definitely has the hands and hopefully can get some points for us in the second half. Getting those two lines on track will help us be a better team."
Games four and five arrive this weekend in the form of league opponents Massachusetts-Boston and Babson — two teams that always seem to bring their best for the Cadets, regardless of the venue.
"Oh for sure these will be two great games," stated McShane. "Both of these teams are talented and are playing very well right now, so we have our work cut out for us if we want to win against either of these teams. They will have no problem with intensity and being ready to play us this weekend, so we will need to match that and (do) better than we did against Neumann last weekend. We have been really good about staying focused and really just playing the next game on the schedule. We really are going to have to do that this weekend, as these are two of the best teams in our conference, so we better be ready to play."
Norwich's overall depth is not just apparent with the forwards, as the Cadets have a strong defensive corps that is bolstered by the addition of freshman Ryan Whitell, who started school in the second semester and will give coach McShane more options in pairing up the defense in the second half. Additionally, the Cadets are blessed with an abundance of goaltending talent as well, and the back end is where the coach may be focusing some fine-tuning down the stretch.
"Matic [Marinsek] came back to school in just great shape this fall," said McShane. "It was such a big difference over the kid who came here last year. Chris [Czarnota] and Parker [Carroll] have also played well, but we will need to eventually find the hot hand and go with that guy. Right now, all three have played for us and performed well. The depth is a great thing to have on defense and in goal, so we will be looking to fine tune our playing partners on defense, as well as focus down on the goaltenders to really get a consistent and productive line-up."
While these five games over a week have been a focal point for the coaching staff, there is clarity that there is still a long way to go in the season and the knowledge that every time they step on the ice, the Cadets are in the crosshairs of the opposition looking to upset the current number one team in the country.
"Everybody is better," noted McShane. "Our league is a lot better, and it's going to continue to improve. The University of New England is better and with their rink they are going to be getting more great players. It's the same for the other schools too.  There isn't a lot of margin between the teams anymore, and any night the goalie down the other end can beat you. The differences between the top players on each team are pretty small, so you have to come to play every night and be focused for 60 minutes.  Yes, we knew these were going to be tough games this week, but we are taking them one at a time and we aren't changing that approach for the remaining games on the schedule."
Three down and two to go for Norwich this weekend that may give a clear indication as to whether anyone can challenge the Cadets this season for the ECAC East crown. The competition has much to prove and the Cadets want to send a clear message as to where they expect to finish and be playing in March. The drive beyond the five is on.