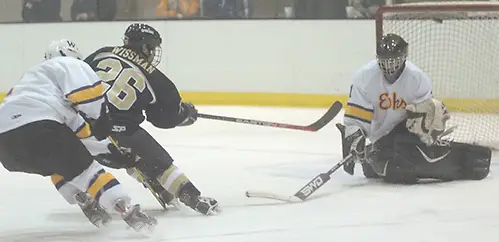 "Seamless," said coach Bill Kangas. "That is the word I would use to describe how this team flows and appears to anyone looking in from the outside. It just works almost effortlessly and without any perceived hierarchy. You could see a bunch of hockey players having lunch together and not know what class they were in and probably not even if a captain may be sitting among the group. They just all really are close as a group, and that makes this team a lot of fun to coach this year."
For the Williams Ephs, the first 10 games of the season have shown great success, with a 7-2-1 overall record and 6-1-1 record in the highly-competitive NESCAC conference. With what might be one of the shortest rosters in college hockey at just 23 players, the team is getting things done on the ice collectively and playing great playoff-style hockey each and every night out.
The team may be only scoring an average of 2.4 goals per game, but that is more than okay when you only surrender 1.7 goals per game. Over the past six games, the Ephs are 5-0-1 and have surrendered just nine goals to the opposition. Four of the wins have been by just one goal, and three games finished with 2-1 decisions in the Ephs' favor. For a team that lost four talented defensemen, including one All-American and a top flight goaltender, you might not expect these results from this roster.
"We did lose a lot on the back end from last year's team," noted Kangas. "Losing four 'D' and Ryan [Purdy] definitely left a gap, but this year's team has found a way to overcome those departures. Our older forwards have been great in working with the younger players and our system and getting them on track. Our young 'D' have stepped in and done a good job early on, and Sean [Dougherty] has stepped up his game in goal knowing what he needed to do to step into playing full time after playing behind Ryan last season. We do have a short roster, and with a couple of injuries right now it's really short. Yes, staying healthy is important, but everyone on the roster feels important as part of the lineup. Everyone has bought in to doing whatever it takes for us to be successful on the ice. You see it in practice and in games, and you really see it in how seamlessly they all work together as a unit. I rarely talk about individual players, and this team is really that, a team. They work hard every day, and it shows in the way they play in a practice or a game. It has been fun to watch."
One player who has been instrumental in the success certainly has been sophomore goaltender Sean Dougherty, who is 6-2-1 overall and has an astonishing .946 save percentage and 1.59 goals-against average. Those numbers would make his predecessor proud, but don't really surprise his coach.
"I think it was good that Sean came in and had a year behind Ryan last year," stated Kangas. "It gave him a chance to get acclimated to the academics and get his feet wet in the NESCAC conference and grow at his own pace. He played four games for us last year as a freshman, but got mono the last month and that limited his playing time. He won the ISL when he was at Milton Academy and backed the Greater Boston U-18 team to the national semifinals against Shattucks, so we knew we had a good one.  Last year bought him some time, and he has been very good. He is very accountable as a goalie, and I really like seeing that in his personality."
The other area of strength is the six seniors that bring depth, experience, and a desire to do whatever it takes on the ice for the team to win. Their numbers may not be something that draws your attention, but it is hard to argue with the results attained so far this season.
"I don't really look at the stats," said Kangas. "I am surprised that you told me that John [Wickman] and Cody [Skinner] don't have a goal yet, but they and the rest of the seniors are all about doing the little things to make plays that don't show up on the score sheet, but certainly help us be successful. They know that if they don't get it done then someone else will step up and make a play. When we played Wesleyan last weekend, it was defenseman Mike Brofft that stepped up with a goal and an assist that made the difference in our 2-1 win. These six kids came in together and played as freshmen, and now they have continued that effort and commitment to the team on the ice and off in leading this group to where we are at today. They have pulled everyone together, and it shows on the ice, regardless of whether you are a freshman, sophomore, junior, or senior."
The Ephs have three difficult nonconference games this weekend, including Skidmore, Plattsburgh, and Babson. The last two games are on the road, so nothing will be easy for the Ephs, and that is a challenge their coach is looking forward to facing with this group.
"Every game is tough," noted Kangas. "The kids are working hard, and we have been fortunate to have come out on the right side of many games so far this season. We don't take any opponent lightly, and have a lot of respect for Skidmore, who won a crazy 7-6 game the other night. Yes, they scored more goals in the third period on Tuesday than we have in our last two games, but that is what makes it challenging and motivates our kids to play hard. There is no break in playing at Plattsburgh or Babson, so we will need to just focus on the task at hand and keep our effort level up and look for guys to make plays when we need them."
The following weekend, the Ephs host league-leading Bowdoin and Colby, but don't think they are looking past the three games they have scheduled in the next six days.
"It's a pretty quick season, so they are all important," said Kangas. "We don't have the luxury of taking nights off, and this team doesn't have that in them. They go hard at each other in practice, and certainly at everyone we have played so far. I don't expect much will be different regardless of who we play this weekend or any other games we have scheduled."
In that regard, the Ephs just might be making that seamless transition to being a very dangerous team for any opponent. So if Williams is on your schedule, get ready for some high-intensity hockey that may have you thinking the playoffs already started.  Just know they already have for the team in purple.