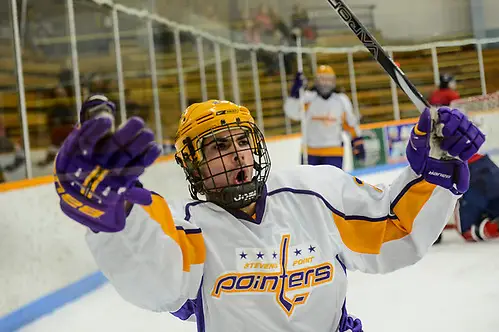 Despite battling through the toughest schedule in NCAA D-III, the Wisconsin-Stevens Point men's hockey team is rolling, having won six of its last seven games, including memorable victories over two top 10 teams.
The Pointers (10-6-1) have surged to the No. 15 spot in this week's USCHO.com D-III poll. A major reason for Wis.-Stevens Point's recent success has been the steady play of junior forward Kyle Heck. Heck, from nearby Plover, Wis., was an All-NCHA selection last season and is a favorite to make the squad this year, too. He leads the Pointers in goals with nine, and is tied for third in the NCHA.
"The team has been playing really well, all together, after the (holiday) break and even before the break, really," Heck said. "We're doing all of the little things right. Coach (Chris) Brooks puts together a tough game plan for every game and the team's just been following that and executing it on the ice."
The Pointers have earned two key wins during their resurgence. On Dec. 1, Wis.-Stevens Point nipped No. 6 Wisconsin-Eau Claire, 4-3, in overtime and, on Dec. 29, busted loose for seven goals in a 7-4 upset of No. 7 Adrian on the road. Brooks said the Pointers had a chance to sweep Adrian on Dec. 30, but failed to win the third period, falling 6-4.
"For five out of the six periods we played them, we played our style, but for that one period, we got caught trying to play their style of hockey and that doesn't work for us," Brooks said.
For having the most rigid schedule in the country, Brooks is pleased to have 10 wins, a national ranking, and be holding down fourth place (4-5-1) in the brutally competitive NCHA. However, two crucial match-ups are on the horizon: the Pointers host Wis.-Eau Claire on Jan. 26 and No. 11 Wisconsin-Superior on Feb. 1. Wis.-Stevens Point has posted a 6-1-1 record at home this season.
"For us, we just have to have that confidence and our guys have shown that confidence — we've played in some big games, we've won some overtime games — we've battled some adversity," Brooks said.
Offensively, the Pointers have scored 61 goals (third in the NCHA) through 17 games, but have only cashed in on nine power-play opportunities. Defensively, Wis.-Stevens Point ranks sixth overall in penalty kill percentage. In goal, the Pointers have used the solid combination of senior Nick Graves and sophomore Brandon Jaeger, and the duo have produced an impressive 8.91 goals-against average.
More impressively, through 17 games, the Pointers have limited opponents to 13 shots or less seven times.
"In order to take that next step, and really put ourselves on the map, we need to get better on our power play and penalty kill," Brooks said. "But like we've talked about, we can't get away from the things that have made us successful and have given us the opportunity to win games when our special teams haven't been great."
Brooks, in his second season at Stevens Point, has put a balanced attack on the ice. Besides Heck, the Pointers have also relied on senior forward Jerry Freismuth (eight points), sophomore forward Andrew Kolb (11 points), senior forward Johnny Meo (15 points), junior forward Garrett Ladd (12 points), and junior forward Kyle Politz (10 points). Freshman Alex Brooks (10 points) and sophomore Kevin Gibson (10 points) are the Pointers' top defensemen.
"We're still a very young group, and I'm proud of the strides the guys have made on and off the ice," Brooks said. "We just have to continue to stay on course and if we do that, we're a good hockey team. I always tell the guys that we have to stay true to our identity as a team, just stay focused to what's made us successful as a group."
Of course, to keep the momentum going, the Pointers must improve in their deficiencies.
"Our power play hasn't been the best all year, but we've been working on that a lot and it has picked up after the break, starting with Adrian and then this past weekend," Heck said. "If we pick that up and stay out of the (penalty) box, we're going to be a hard team to beat."