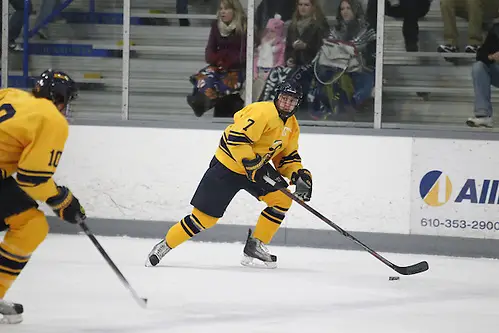 The mighty fell in the Green Mountain State on Saturday night.
That was when the Knights of Neumann University downed the No. 1 team in the nation, the Norwich University Cadets, in the championship game of the Northfield Bank Tournament in Northfield, Vt.
Sophomore forward Chris Bournazos scored two goals in the title game against the Cadets, including the game-winner, and earned tournament MVP accolades. Junior goaltender Braely Torris, a transfer from Southern Maine, was also named to the All-Tournament Team, and was tabbed as ECAC West Goaltender of the Week after stopping 34 of 37 shots in the title game, including 19 saves in the third period alone.
"It was a pretty good feeling," said Neumann coach Dominick Dawes of the win. "The guys came back rested and prepared, and worked hard. We had a lot of injuries in the first half (of the season), and it's good to have some guys back."
Freshman forward Brandon Gagne joined both Bournazos and Torris on the ECAC West Honor Roll this week after recording two assists last weekend, including one on the game-tying goal against Norwich.
For Dawes, it wasn't just about beating the No. 1 team in NCAA Division III; it was also about chalking up a victory against his alma mater.
A 2004 graduate of Norwich, Dawes played in 101 career games with the Cadets over four seasons, scoring 16 goals and adding 31 assists for 47 points as both a forward and defenseman. He also helped Norwich to three NCAA tournament semifinal berths, including a national championship as a junior.
"It was obviously pretty exciting for me, and a chance to go back to where I played," admitted Dawes. "They have such a strong tradition, and it was a fun weekend."
Now Neumann (7-4-2 overall, 2-4-0 ECAC West), which has won three consecutive games, and also received eight votes in this week's USCHO.com Division III men's poll, will look to use its recent tournament crown as a springboard for the remainder of the 2012-13 season.
"We weren't satisfied with the first half," said Dawes. "It's good to get some guys back in the lineup."
The Knights get back to work this Friday and Saturday at home against nonconference foe Fredonia.
"We have a big weekend ahead," said Dawes. "The first thing we talked about Monday was last weekend was over. Our focus is this weekend, and we'll go from there."
Neumann will return to conference action on Jan. 18 against Manhattanville, following a game at Division I Penn State. The Knights edged then-club program PSU by a 6-3 count in an outdoor contest at Citizens Bank Park in Philadelphia last January.
****
No. 3 Hobart (11-1-2 overall, 5-0-1 ECAC West) has been off since a 3-2 overtime loss to then-No. 2 Oswego on Dec. 8. The Statesmen, who are one of just four ranked teams remaining with a single loss or less this season, return to action this weekend at Curry and Nichols.
No. 12 Manhattanville (9-4-1, 4-1-1) begins the new calendar year at Cortland on Jan. 13. The Valiants last played in a 3-2 loss to Babson in the title game of the Middlebury Classic on Dec. 31.
No. 8 Utica (11-2-0, 3-2-0) got back to business on Jan. 4 with a 6-2 win over Salve Regina as Louis Educate scored two goals and set up another. The next night, the Pioneers shocked then-No. 2 Oswego by a 6-0 score. Educate duplicated his three-point performance,  while Louis Therrien made 25 stops for the shutout.
Elmira (5-9-0, 2-4-0) fell to Oswego, 5-2, on Jan. 4 despite 38 saves from Darren McDonald. The Soaring Eagles have lost three straight games, and will try to get back on track this weekend with a home-and-home series against Morrisville.
Nazareth (5-8-1, 0-5-0) defeated Cortland, 4-3, on Tuesday in its first game since a 2-1 loss to Buffalo State on Dec. 8. The Golden Flyers continue their inaugural campaign on Saturday at Oswego.