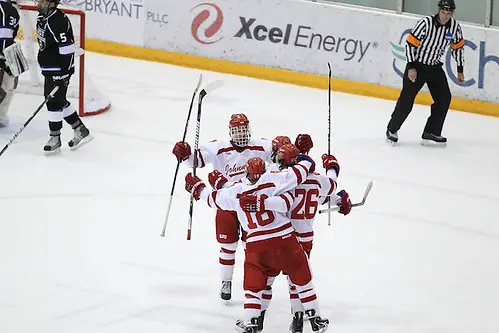 At first glance, the record isn't flashy. St. John's is 6-6-1 overall and only 1-3 in the Minnesota Intercollegiate Athletic Conference.
However, the record is deceptive. The Johnnies have won five of their last seven games, and appear poised to make a run for a conference playoff berth, and perhaps if the hockey gods smile down on them enough, a conference title.
"I thought we had a good first half of the season," St. John's coach Doug Schueller said. "We finished really strong before the break, winning five games in a row, and while we lost a couple of games on the road last weekend, I thought we played well and we feel good about our team."
St. John's certainly has its share of reasons to feel good about the direction it's headed in as it prepares for the stretch run of conference play.
During the Johnnies' five-game win streak in December, they nailed down wins over St. Thomas and the Milwaukee School of Engineering, two of the better teams in the nation, and as they head into the grind of January, they have solidified their identity.
"We are not a highly-skilled team, but when we finish checks, when we block shots and when we keep the puck moving from north to south, we do very well," Schueller said. "The players are really buying into it because when we play that way, we can beat anyone on any given night."
John Haeg has picked up where he left off last season, scoring seven goals and dishing out nine assists in 13 games. Jascha Petit has tallied six goals and six assists while Justin Hoschsprung has come through with one goal and eight assists.
Those three have played a pivotal role for a St. John's offense that has scored 36 goals.
"They are on our top line, and if you had told me in October that we would be where we are at right now with who we have playing well for us, I wouldn't have expected it," Schueller said. "They have done a great job and have been very consistent, but we have a lot of depth and a lot of players capable of stepping up."
The Johnnies have been tough defensively as well behind a cast of defensemen who have risen to the occasion. Joe Freemark has played in every game and Mac Campbell just played in his first game and his shown a lot of promise.
"We returned six good defensemen from last season and we have very good leadership and depth," Schueller said. "We have eight guys we can count on to play well, and the good thing is we will have them all back next year too."
The goaltending has been solid as well. Saxton Soley, who came out of preseason camp as the most consistent goalie, has played in nine games and has racked up 210 saves while allowing 21 goals.
Mitch Thompson, a transfer from Division I Wisconsin, has just returned from a broken finger and has 42 saves on the season. J.D. Wells, who helped propel the Johnnies to the MIAC playoffs last year, has played in three games and has tallied 60 saves.
"I like our depth at goalie, and any of the three are capable of playing well," Schueller said. "It's nice knowing we can count on all three of them."
St. John's has 12 games remaining on its schedule, and is confident it can make a run to the conference tournament, especially after competing so hard in a 3-1 road loss to Wisconsin-River Falls on Saturday. The Johnnies held a 42-18 edge in shots.
"If we play as hard as we did in the River-Falls game, we are going to win a lot of games," Schueller said. "Our league is so tough from top to bottom, and we are going to have to play consistent and play hard in every game. We can't afford to take any nights off. If we play how we are capable of playing, we'll be in a position to make the playoffs."
****
McClellan Continues To Play Well: Augsburg standout Ben McClellan scored a goal in Augsburg's 4-2 loss to St. Scholastica on Friday. His goal was unassisted, and he has scored a team-best six goals on the season. McClellan has also tallied five assists. The Auggies are 3-9-1 overall and 1-3 in the MIAC.
Gustavus Thrives On Special Teams: The Gusties didn't show much rust after a 28-day layoff as they went on the road and knocked off St. Scholastica, 3-2, on Saturday behind strong special teams play. Gustav Bengston and Adam Smyth both scored power-play goals to pace Gustavus in the win. The Gusties were outshot, 32-21, but goalie Tyler Venne racked up 30 saves to help secure the win. Gustavus has scored 10 power-play goals on the year.
Tommies Win Showdown: St. Thomas and Bethel squared off on Saturday, and while the game didn't count in the conference standings, it still turned out to be quite a battle.
The Tommies edged the Royals, 6-4, behind three goals and an assist from Riley Horgan. Bethel overcame deficits of 2-0 and 4-2 and tied the game at 4-4 late in the second period before St. Thomas pulled away.
Tyler Grubb, playing his first college game, scored a goal and tallied an assist for the Tommies.
Mitch Hughes and Garret Windle scored two goals apiece to pace the Royals.
The two teams will play a home-and-home in February that could go a long way in deciding the conference crown. The Tommies and Royals are currently tied for first place in the league with identical 5-1 records.