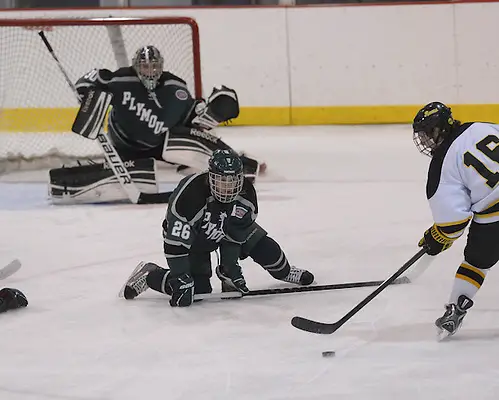 Coach Craig Russell knew that coming into the 2012-13 season that his Panthers would have a target on their back, one that took shape after Plymouth State defeated Salem State in double-overtime to capture the MASCAC title last year. Like any defending champ however, that is to be expected, and one must be ready for the challenge ahead.
Being on top of your conference can only mean one thing to the other programs looking up: knock them off. That has been in the back of their mind for Russell and his Panthers every time the puck drops.
"We definitely have a target on our back because of last year, but that's something we expected going into this year and has been difficult, at times, to make the guys realize that we need to play our absolute best each and every night," said Russell.  "I think we need to stay focused on playing a complete game in order to have a shot at the end of the year."
Plymouth State got off to one of the hottest starts in the nation, winning eight of its first nine games, including a seven-game wining streak to close out the first half of the season. To say that the Panthers were only focused may be an understatement.
"We have been pretty good at defending, but have had some setbacks along the way that can't happen down the stretch," said Russell. "Offensively, we should be okay as long as we're healthy, but the challenge is always to limit your opponents quality opportunities. If we can play good team defense and manage the puck through the neutral zone, I like our chances at the end of the day."
Unlike most teams in its conference, Plymouth State returned to action a bit earlier from the semester break and traveled to north to Oswego, N.Y., for the Pathfinder Bank Tournament. Riding that hot streak into their opening match-up against Oswego State, the Panthers were ready to face one of their toughest challengers yet.
However, the Panthers were unable to win that weekend, dropping two games to Oswego and Basbon.
"We were fighting the flu pretty good during that weekend and were a bit out of sorts," said Russell. "Overall, I think we felt that when we could put a few strong shifts together and manage the puck well, we could stay right with anyone. Special teams were definitely weak against Oswego, and we need to improve on that area all around.
"It's always good to play the best competition possible to see where you stack up, no matter what the outcome. We know that we have a lot to improve on before the end of the season, and these games really put it into perspective for us. It's all about peaking at the right time, and if we can work out some wrinkles along the way, we'll have a good finish."
Since the minor setback in Oswego, the Panthers returned to form, and won four of their last six games. The challenge ahead now for Plymouth State is that every game from here on out is a conference game. Valuable points are at stake each night, and opponents would love nothing more than to knock the Panthers down a peg, or two, or even three, but Russell feels that his team is ready for that final push.
"League play is always our main concern," Russell said. "We gave away two points on Saturday that we shouldn't have. You have to show up every night, no matter who you're playing; if you can't get the timely save or goal, it's going to be a long night and we didn't get that on Saturday. As I always say, we prepare for each team the exact same way. We can use more of a sense of urgency when we play on the road, but other than that nothing changes in our approach to the games. We try to get better as each day goes by, and as long as we stay healthy, I think we can have a nice year."
To be at the top means that there really is only once place to go, and that's down. For Plymouth, the view is looking good from up top, but the challenge is to stay there and continue to stay there for as long as it can.
The way Russell and his Panthers are getting ready for the final push into the postseason, it's safe to say, challenge accepted.
Players of the Week
Rookie of the Week
P.J. McCadden, Westfield Sate, forward. The Mount Sinai, N.Y., native posted two goals, including the game-winner at Framingham Sate last week.
Offensive Player of the Week
Cody Brier, Worcester State, freshman. The freshman forward collected three points, two goals and assist, in the Lancers 2-0-1 week.
Defenseman of the Week
Richie Zobak, Plymouth State, senior. Zobak tallied a goal and an assist last week in the Panthers' week.
Goaltender of the Week
Taylor Fant, Worcester State, junior. What a way to pick up your first win. The Denver native stopped 34 shots for his first victory this season in the Lancers 4-3 win over Plymouth.