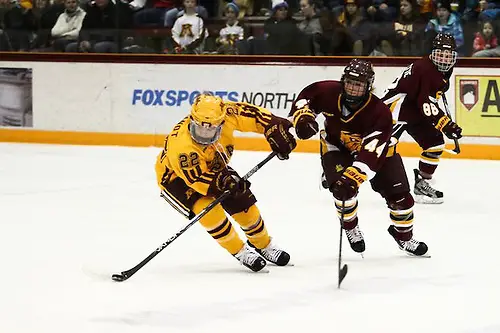 Candace: Where to start on a week that featured a lot of crazy results? Oh, let's go to Pennsylvania first. As you pointed out, something had to give Friday when Robert Morris met Mercyhurst, and for one night at least, it was the horrific second half of Robert Morris, as the Colonials, winners of only one game in their last 12, continued their mastery of Mercyhurst, winning 4-2 to go 3-0 against Mercyhurst while having a losing record against the rest of the CHA. Mercyhurst finally unleashed a year and a half worth's of frustration the following night in a 9-1 win, but what do you make of the Colonials continued success against the Lakers? Is it possible that RMU could knock Mercyhurst down in the PairWise during the CHA tournament?
Arlan: If you want insight into Robert Morris, then I'm likely the last person that you should ask, because I haven't come close to figuring the Colonials out all season. My record on games involving RMU in our picks contest on the season is likely sub-.500, as is the Colonials mark in CHA play. Not only did they win in Erie on Friday, they did so without leading scorer Rebecca Vint, and after surrendering the first goal. Whether or not it's a case of Paul Colontino having seen behind the curtain at Mercyhurst and knowing where the Lakers are vulnerable, that inside knowledge seems to have failed him on Saturday. Maybe that drubbing will help Mercyhurst feel more confident should the teams meet in the playoffs.
The split leaves the Lakers slightly more vulnerable heading to Syracuse this weekend to decide the CHA title. Mike Sisti's squad is still a point up in the standings, thus one win for them may be sufficient. The Orange and goaltender Kallie Billadeau will be the subject of this week's column, so it'll be interesting to get some thoughts from her and Paul Flanagan on the eve of that key series.
Syracuse gained ground by sweeping a pair of 2-1 games from RIT over the weekend. The Orange have won eight straight, six of those games by one goal. Conversely, RIT's last four losses have been by a goal. Goals are at such a premium in many of these CHA games that if a team is able to occasionally blow the game open and relax as Mercyhurst did on Saturday, it is such an edge in a tight race.
If Mercyhurst can win three of its remaining four games versus Syracuse and RIT, that ensures the Lakers of yet another CHA banner. Can they do it?
Candace: If I were a betting woman, I'd say yes. RIT has been inconsistent in its first season at D-I, scoring some wins that in hindsight may have looked more impressive than they actually were, such as sweeping Robert Morris. The Tigers are still, in my opinion, a season or two away recruiting-wise from being able to contest for the CHA crown. Syracuse has definitely shown improvement, and shown some consistency, but when it comes to offense in the CHA, no one is as loaded as Mercyhurst. Christine Bestland is one of those special players capable of lifting up an entire team, and Emily Janiga is showing signs of being an offensive stalwart in her own right. The Lakers are the only CHA squad with more than one player averaging over a point a game, and they have four, with two more hovering just under that mark. I have to believe that despite their occasional missteps, Mercyhurst is too strong not to capture the CHA regular season crown and tournament. However, if the Lakers were to lose one more game, I think it might open things up in the PairWise.
For me, last weekend's biggest news wasn't Robert Morris, which actually had a history of success against Mercyhurst, but Quinnipiac beating Cornell, 4-1. It was the Bobcats' first win ever against the Big Red. Previously, I always considered Quinnipiac to be the best middle-of-the pack team in the ECAC. However, with Kelly Babstock, Erica Uden Johansson, and Nicole Kosta playing so well, I might have to re-evaluate. It looks like Quinnipiac and St. Lawrence are bound to meet in the first round of the ECAC tournament, and that should be one heck of a series. Does the win against Cornell show that Quinnipiac might be a team that could go to the finals of the tournament, perhaps beyond?
Arlan: Based on the unexpected results we've seen throughout the season, I'm not going to rule it out. I watched much of Quinnipiac's game versus Colgate over the weekend, and when Victoria Vigilanti is playing well, and to my eyes she is, then the Bobcats are the type of team that can trouble many an opponent. What you said about Bestland could apply to Babstock as well. There aren't that many offensive forces in the game, and if you can combine one with an effective running mate like Kosta, the potential to score in any game exists. Add in a senior class led by Vigilanti, Brittany Lyons, and Regan Boulton looking to make an impact in its final postseason run, and Quinnipiac is the type of team you really don't want to have to face in the playoffs.
When it comes to actually winning the ECAC, then I'm not sure. The Bobcats haven't demonstrated that they can stay at that championship level long enough to advance through a best-of-three series plus two more games versus likely two of Clarkson, Cornell, and Harvard. If Vigilanti can stay locked in, then that becomes feasible. Those three through six seeds in the ECAC are strange in that home ice doesn't seem to be much of a factor.
I also watched most of SLU at Rensselaer — great video quality — and the Saints still seem to be a little off. They skate well and look threatening often, but a lot of plays didn't really develop. SLU also had problems maintaining an offensive presence in front of the net against the more physical Engineers. I could see a similar issue against teams like Cornell, Clarkson, and Quinnipiac. I think that there is still potential in Canton; I just don't know that they have time to reach it this year.
The blizzard complicated the remainder of the season for teams like Dartmouth that had one game delayed, and especially Harvard, that now has to make up two postponed games on top of finishing off the Beanpot. Could all those midweek games down the stretch wear down the Crimson and leave them vulnerable for the playoffs?
Candace: I think the Crimson are already vulnerable. They've been having some trouble scoring for the last month, and that puts a lot of pressure on the defense. Last week, Boston College edged them in a tight defensive game. If I were Katey Stone, I'd be slightly concerned, especially with three of the last six games against the top of the ECAC. As you said, there aren't many offensive forces in the game. Actually, a distressing number of them seem to be concentrated in Minneapolis, while North Dakota, Boston College, and Boston University are the teams outside of Minneapolis that probably have the most balanced offenses. You could throw Mercyhurst in there as well. Harvard has two big threats in Jillian Dempsey and Lyndsey Fry. Harvard's scoring offense ranks sixth, but a lot of their biggest offensive games have come against the lower-ranked teams. When they faceoff against the better-skating teams, it's almost always close and low-scoring. Harvard is currently fifth in the PairWise, but I could see scenarios where they could get knocked out beyond the final eight, especially with Boston University, Cornell, Clarkson, and St. Lawrence still on the regular season schedule. I can't see any way for Harvard to finish lower than third in the ECAC, but third is not necessarily a good place to be in the ECAC tournament, because it means facing a very mercurial Dartmouth team.
What helps Harvard is that it has very strong goaltending, so even if the forwards aren't clicking, the Crimson will be in every game.
Another interesting result came out in the WCHA, where Bemidji threw a huge scare into North Dakota in the first game, taking them to overtime. Wisconsin is hot on North Dakota's heels in the WCHA standings race, and would seem to have an easier schedule the last two weekends. What's your take on that game against Bemidji: minor blip, or cause for concern?
Arlan: The Bemidji State series really didn't tell me anything new about North Dakota. Throughout the season, UND has played series where the score differential changes considerably from game one to game two. In each of the first two weeks, it improved by four goals from a first-game loss to a second-game win. In every series in November, the second-game result was at least two goals better than the first, culminating with another four-goal improvement against RIT. The first series of February versus Minnesota State was another four-goal improvement. Now we see a six-goal gain in game two with BSU. Who knows why it takes the big diesel engine a game to get going — maybe it's the cold in Grand Forks? Very few teams can match the offensive talent of Jocelyne Lamoureux, Monique Lamoureux, Michelle Karvinen, Josefine Jakobsen, and Meghan Dufault. The only problem offensively for UND is that the offensive production falls off of a cliff after that; nobody else has double-digit points. There are a lot of people in the range of having six to nine points, so the supporting cast can contribute, but one can't count on seeing it every weekend. The encouraging thing for UND in the first game was that the game-winner came from Allison Parizek, not one of the big guns. If the role players get involved offensively, that would be huge. However, the Beavers' goaltending has been spotty all year, so scoring against BSU doesn't meant a player will be able to beat someone like Alex Rigsby with the season on the line.  Another encouraging sign for North Dakota was Shelby Amsley-Benzie posting her third shutout on Saturday. If she can be solid, not necessarily sensational, that should be enough to compete against most of the top squads.
So much of North Dakota's season will be determined by the final series in Duluth. If UND can handle the Bulldogs, as it did on home ice, then it should be set for a top-three finish in the WCHA and still have a good shot at an at-large NCAA berth if it can reach the league final. I'd say that UND's theoretical best game is better than that of teams like Ohio State, Minnesota-Duluth, and Wisconsin. But I don't think the Badgers will play a bad game the rest of the way. A team is going to have to beat UW.
The real wildcard in the WCHA is UMD. Coming off of an emotional series in Minneapolis where the Bulldogs threw everything they had at the Gophers only to come up short, they were beat up and out of gas against Minnesota State. Can they regroup in time to handle the one-two finish of Wisconsin and North Dakota? They really need all four games, and that is a very tall order.
Candace: All four? No, not in a million years. I wouldn't be surprised if the Bulldogs split with Wisconsin; they did sweep the Badgers at the beginning of the year, but that was a different Wisconsin team. I think Wisconsin has improved markedly since October. I think the same can be said for North Dakota. Aside from Minnesota, the Badgers haven't lost at home since the opening of their new rink, when they came out flat against Bemidji State. That includes a sweep of North Dakota back in December, although again, I think North Dakota has improved significantly in the second half. While the Bulldogs are definitely a better team now, they aren't consistent enough. Their scoring is by committee. They are the only team without at least one player averaging over .900 points per game in the top six of the WCHA. Wisconsin, Minnesota, Minnesota State, and North Dakota all have at least one skater over the point per game mark, and Ohio State's Ally Tarr is very close to that mark at .964 points per game. It just makes the Bulldogs that much more vulnerable. They have to count on Kayla Black playing exceptionally well in net and keeping the other team to two goals or less, and hope that their offense can be opportunistic when it gets a chance.
At this point, it looks like Minnesota-Duluth will be playing Ohio State, a team that had a promising start, but which has fallen off significantly. The Buckeyes trail the Bulldogs by three points in the WCHA standings. Considering that Ohio State has generally been much better at home, it would behoove them to try to get that fourth seed if they want a shot at the WCHA semis. Ohio State is at North Dakota this weekend, then closes against Minnesota State, a team that has played spoiler a lot this season, getting at least a point against everybody in the WCHA except Minnesota. I think the Buckeyes need to sweep Minnesota State to have a shot at home ice. Can they do it? How do you see Duluth and Ohio State shaking out?
Arlan: I'd give them a better chance than your "not in a million years" for UMD, but I don't think that a sweep of the Mavericks will likely be enough on its own to give the Buckeyes home ice. Just to be clear, UMD needs four wins for staying alive in the PairWise; for the WCHA race, three UMD wins would be enough to mathematically ensure that the Bulldogs stay ahead of OSU. UMD has a one-game lead in the standings, but also leads in the tiebreaker. The teams went 2-2 head-to-head this season, the second tiebreaker is conference wins, and the Bulldogs currently have two more WCHA wins than Ohio State. In general, UMD has played better in the second half than the Buckeyes, so the chances are good that it will be able to do at least as well against North Dakota on home ice as OSU will in Grand Forks. If that happens, one win by UMD at Wisconsin should be enough to ensure home ice for the Bulldogs. About the only factor in the Buckeyes' favor is that by that last weekend of the regular season, Minnesota State likely won't have that much at stake, because they should be cemented in the sixth spot by then.
One place where there is some drama near the bottom of conference standings is the ECAC. Rensselaer looks to be safely in the playoff field. The fight for the eighth and final entry figures to be intense. Colgate moved into eighth by a point on the strength of a head-to-head win over Princeton this weekend. As I write this, Yale is three points behind the Raiders but has two games in hand on both Colgate and Princeton, and will be playing at Dartmouth tonight. Yale has three games that it likely won't win versus Dartmouth, Harvard, and Quinnipiac, but has some shot against RPI, Union, and Princeton. The problem for the Bulldogs will be playing six games in a two-week stretch. Colgate plays four of those teams: Dartmouth, Harvard, Union and RPI. Princeton finishes with Clarkson, St. Lawrence, Brown, and Yale, but the Tigers will have to get it done on the road, as they've played their final home game. I still like Colgate to emerge, but it could possibly come down to that final game with Princeton at Yale. Do you still favor Princeton?
Candace: I said last week that if Princeton lost to Colgate, the Tigers' playoff hopes would be in jeopardy. Looking at the schedules of the respective contenders, Princeton might seem to have a very slight advantage in closing with Brown and Yale, two games that the Tigers have a better than even-money chance of winning, while Colgate closes with Union and Rensselaer. The Engineers may doom Colgate, but still, I'd rather be in Colgate's position, because Princeton has no room for error. I'd say Yale will be on the outside looking in. I can't see the Elis winning more than two of their final six, and could alternately see them only winning one, against Union, as Princeton again will be a tough contest, with the Tigers probably extra motivated.
We haven't discussed Hockey East yet, in part because a lot of the games in that conference were postponed due to the blizzard. However, that conference is at a stage where the top five teams have played an equal number of games. Providence is in third, with a single point advantage over New Hampshire and Northeastern, and a critical home-and-home this weekend against the former. The Friars then close their season with a home-and-home with Northeastern that could decide home ice advantage.  The schedule favors Northeastern to probably pull ahead and get third, because after tonight's nonconference game against Boston College, the Huskies play a pair with Maine and then travel to Connecticut, all very winnable games. Providence probably has the most difficult schedule. Will the Friars get the fourth slot and home ice, or do you see Providence having to travel to Durham in the first round of the Hockey East playoffs?
Arlan: With only three HEA games taking place since we last discussed the race — Maine splitting at Vermont and UNH beating UConn — the only change really was Vermont's chances diminishing with the loss to the Black Bears. Maine could continue to be a spoiler. UNH closes the season by hosting the Black Bears, and given those are rivalry games, I don't know that we can automatically put them in the Wildcats' win column. A year ago, the shoe was on the other foot in that final series and Maine scratched out a pair of one-goal wins. The Black Bears aren't a very fast team, so the large ice sheet of the Whittemore Center would seem to work against them.
The standing of UNH versus Providence will come down to that home-and-home series that the two teams play on Friday and Sunday. If either gets more points out of the two games, then that team will finish on top of the other. Both the Wildcats and Friars have been erratic enough that it would be folly to attempt to predict what will happen, although I realize that is just what you will ask me to do on Friday. All of the computer ratings favor the Wildcats by the slimmest of margins, but it's another rivalry series, and I don't know how one expresses that to a machine. Given being wrong here won't cost me another six-pack, I'll say sure, the Wildcats will host a quarterfinal in Durham. Providence has a bit more pop up front, so UNH will need to take care of its own zone.
In one other piece of Hockey East news, what do you take away from Northeastern's second consecutive Beanpot championship?
Candace: I didn't see the second period, but I was impressed by Northeastern's ability to bounce back in the third so quickly from what could have been a demoralizing Eagles' score that tied the game, 3-3, with about 10 minutes left. The tip-in game-winner by Katie MacSorley was just one of those things; I don't think Corinne Boyles really had a chance at it. At the other end of the ice, Chloe Desjardins played very well, although she was helped by two posts. I don't think BC played poorly, but I think they have a little more in them than was on display. If Northeastern can continue playing that well, then I think both BC and BU will really be hoping to win the likely coin flip that will decide the top seed in the Hockey East playoffs. Then again, Boston University is definitely looking vulnerable after its two Beanpot losses, getting outscored, 7-1. What is your takeaway from the Beanpot?
Arlan: Northeastern definitely looked stronger in the Beanpot than they had in the games I'd seen leading up to it. It appears that a healthy Chloe Desjardins in net can make the Huskies a different team. Although the second goal against her was one she'd like back, she held her team in there for long stretches. Northeastern showed some resiliency to survive a rocky start and a bad bounce that produced an early deficit. Then it capitalized in the second period off of BC's penalty trouble, something that seems to always plague the Eagles in their defeats. Plus, Northeastern was able to win with Coyne being held to a lone second assist, and secondary scoring has always been one of our questions about the Huskies. The way NU closed the game after regaining the lead in the third period was another impressive factor that has to encourage Dave Flint moving forward. Congratulations to the Huskies.
For BC, it's another game where they look dominant at times, but at the end of the day, they haven't accomplished that much. There have been a number of those over the last couple of seasons. I know that you view them as a clear second-best team in the country, but to me, they are just another in that broad layer that can win or lose on any given day. The Eagles allowed 41 shots in both Beanpot games; that's too many for my liking. Boyles has improved, and now the team defense has to as well.
In the third-place game of the Beanpot, Harvard got a win it really needed. I like the Crimson. They are another very fast team that plays its systems well and always has good goaltending. I still see Harvard as being right there. And you are correct; the Terriers need to find another gear. They have more talent than they revealed over the past two Tuesdays.