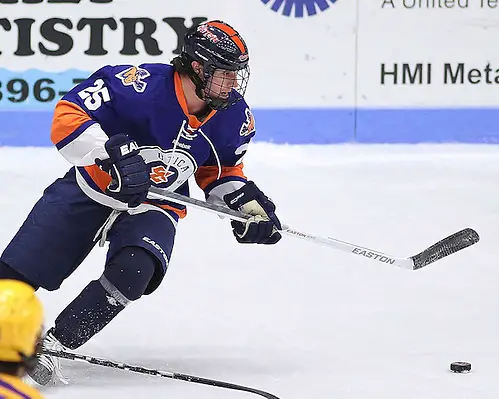 The second season is about to begin in the ECAC West.
The league's 2012-13 regular season ended on Saturday, with Utica winning the league title by virtue of a head-to-head tiebreaker against Hobart. Both schools finished 11-3-1 in conference play for 23 points apiece, but the Pioneers claimed two of their three meetings with the Statesmen.
Neumann wound up third overall at 8-6-1 (17 points), while Manhattanville was fourth at 6-6-3 (15 points). Elmira took fifth place at 5-10 (10 points), while first-year program Nazareth was sixth at 1-14 (2 points).
Nazareth will visit Neumann on Wednesday night in a first-round elimination game. It will be a continuation of sorts of this past weekend's series, whereby the host Knights swept the Golden Flyers in back-to-back games.
"We're going into the playoffs with a clean slate," said Nazareth coach George Roll. "In one game, anything can happen, and that's our mentality right now."
"With our league always being so close and competitive, I think we have been in playoff mode the past couple weeks," said Neumann coach Dominick Dawes. "At this point, the focus has to be one day at a time."
In the other preliminary round ECAC West playoff contest scheduled for Feb. 20, Manhattanville will host Elmira. The host Valiants won all three of their regular-season encounters with the Soaring Eagles.
"It's the best time of the year, and it should be good," said Manhattanville coach Arlen Marshall. "We've (all) played each other three times. We know our opponents so well, and it should bring out the best each game."
"I think that the playoffs are a new start, a second season, and we are looking forward to the challenge," said Elmira coach Aaron Saul. "Not many people are giving us a chance, but we will give it our best shot at winning the ECAC West title."
The semifinals will be conducted on Saturday, Feb. 23. The lowest remaining seed will travel to Utica, while the highest remaining seed will head to Hobart. The semifinal victors will then advance to the ECAC West Championship game on March 2 at the home ice of the higher seed.
"It's what you play for, and we're glad it's here," said Hobart coach Mark Taylor, whose Statesmen won last year's title. "It's been a tight battle all the way through, and I liked the way we played our last game and how we're coming into the tournament."
"We are certainly happy to have earned home ice and a bye in the first round," said Utica coach Gary Heenan. "Like most teams, we are a little banged up, so the rest should help us."
In the ECAC West's regular-season scoring race, Utica's Trever Hertz and Louie Educate finished in a tie for first place with 19 points in league contests. Hertz scored 10 goals and added nine assists, while Educate tallied nine goals and 10 assists.
Hobart goaltender Nick Broadwater topped all ECAC West netminders with a 1.95 goals-against average, while Neumann's Braely Torris was first with a .936 save percentage. The two also tied for the league lead with two shutouts apiece. Nick Therrien of Utica finished first with a league-high 820 minutes played, and also topped the conference with 11 victories.
In overall games, Utica, ranked seventh in the national polls, averaged a league-high 4.60 goals per game, while sixth-ranked Hobart surrendered a league-low 2.13 goals per contest. No. 13 Neumann had the league's top power-play (26.2) and penalty-killing (86.8) percentages, while Utica scored a conference-best six short-handed goals. Elmira averaged 21.67 penalty minutes per game, highest in the conference.
ECAC WEST NOTES
Utica (20-4-1 overall) has gone 9-1-1 in its last 11 outings following a 3-2 win and a 4-4 tie with Manhattanville last weekend, and is 13-2 at home so far this season. Jon Gaffney set up one goal and then scored the game-winner late in the first contest against Manhattanville, and then added a goal in the second game. Nick Therrien made 34 saves in the opening match, and finished with 63 stops in all on the weekend.
Hobart (19-4-2) is 3-2 in its last five appearances, including a 6-1 triumph over Elmira in the regular-season finale. Cam Miller scored twice for the Statesmen, while Frank Salituro scored one goal and assisted on two others, and Nick Broadwater made 27 saves. Nick Gamache tallied the game-winning goal, his third of the campaign among his eight total goals, and was named ECAC West Rookie of the Week.
Neumann (16-6-3) has won 12 of its last 15 games (12-2-1) entering the playoffs, while junior netminder Braely Torris has been named ECAC Goaltender of the Week the past two weeks. He made 52 saves against Nazareth last weekend while recording 5-3 and 4-2 victories. Senior forward Steve Gervais was honored as ECAC Player of the Week after notching five points in the Nazareth sweep on three goals and two assists.
Manhattanville (13-9-3) is 2-2-2 in its last six games. Alex Scola backstopped both games against Utica, and finished with a total of 70 saves, including 36 stops in the rematch. Luke Van Natter scored the game-tying goal on Saturday with 32 seconds remaining in regulation and Scola pulled for an extra attacker. Scott Hudson and Paul Allan Bamberg each had two assists in the tie with Utica.
Elmira (10-15) has lost three straight games, and six of its last nine following its defeat at Hobart. Andrew Ciampichini scored the Soaring Eagles' only goal, assisted by leading scorer Josh Burnell, while Matt Milne and Ryan deMelo combined for 27 saves in net. The Soaring Eagles have qualified for the last five NCAA Division III Tournaments.
Nazareth (6-18-1) has fallen in its last seven outings after being swept at Neumann. Scott Dawson had a goal and an assist for the Golden Flyers in the first game, while Mark Zavorin did likewise in the rematch. Joe Gladnick made 36 saves on the weekend.