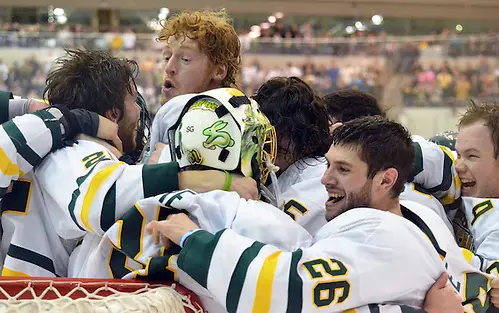 Most coaches can push buttons. The best coaches know when to keep their hands to themselves. Count Oswego bench boss Ed Gosek among the latter.
Gosek, who has one Frozen Four championship ring on his finger, realized late in the season that whatever emotional tweaks his No. 3 Lakers might have needed could be applied by themselves. His deft touch wasn't needed.
Little wonder then, that Oswego is roaring into Saturday's NCAA tournament tilt with No. 6 Adrian on the strength of an 11-1 roll, capped by a convincing 4-0 SUNYAC championship game win over arch-rival Plattsburgh.
"It started in the locker room," said Gosek, whose 52nd birthday was highlighted Saturday by that decisive win over the Cardinals. "(We have) leadership with (captain Jon) Whitelaw and (assistant captain Chris Brown) 'Brownie.'  We decided weeks ago to pass the torch to them. We need them to be good leaders, and we need the rest of the team to be good followers. They're giving the right message, and it's being received."
That message, simply put, is "finish the job."
Oswego, the lone SUNYAC entry in the tournament, and its 14 seniors, has a little bit of unfinished business to attend to after falling in last year's Frozen Four title game to St. Norbert.
"It was a long summer," said senior goaltender Andrew Hare, who posted six shutouts this season. "It was definitely the worst feeling ever. We definitely know what it takes to win."
High-scoring senior winger Luke Moodie (22-19-41) echoed the sentiment.
"A lot of us have been there," said Moodie, who said the best approach is to stick to the same things that have been so successful for the Lakers. "We're going to approach (this week) the same way. Practice hard all week. We're going to prepare the same way we do for every game. If we play our game, we're going to be successful."
Senior forward Tyler Leimbrock, whose first-period goal against Plattsburgh proved to be all the scoring the Lakers needed, said that his club has the confidence and talent to compete with anybody.
"We have the tools," he said. "If we have performance like this (against Plattsburgh), there's no stopping us. With Andrew Hare playing like that, we're going to be tough to beat."
All clubs hope to be at their best at the most crucial moment of the season. The Lakers are more than just hopeful about it. They know it, and can point to their recent success to prove the point.
"That's the best part," said Hare. "We had little ups and downs during the year, but we never really got negative about it. We're getting hot at the right time, and hopefully we'll keep on doing it."