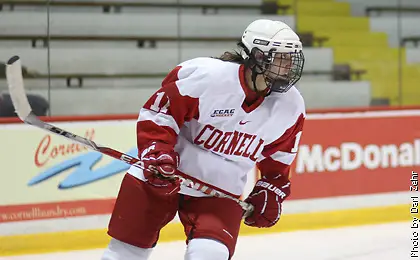 Candace: One round is in the books, and while most of the favorites prevailed, there were some upsets, and there were also a few where the favorite really struggled in advancing. Ohio State upset Minnesota-Duluth, Boston College needed overtime to get past Maine, and Cornell escaped Colgate with two come-from-behind wins. For me, I think that last one is the most surprising. I did pick Minnesota-Duluth, but the Bulldogs and Buckeyes split their season series. Boston College had swept Maine in the regular season, but we all know that Brittany Ott is a fantastic goalie, and a hot goalie can go a long way in evening things in a one-and-done like in Hockey East. For Cornell to need to come from behind in both games was a real surprise. What did you think of the first weekend of postseason action?
Arlan: At various points in the weekend while the games were underway, there were some scores that were shocking. By the end of the weekend, events had normalized, and I don't think any of the three series that produced upsets were that much of a surprise. Nothing happened that shifted the balance of power. We weren't expecting any of the teams that lost at home to make a long tournament run.
Your "hot goalie" comment likely applies even outside of Hockey East. Obviously at this point, every round consists of a single game, but even in some of the best-of-three series, a top goaltender can rule. Carmen MacDonald came up huge for St. Lawrence. Lindenwood's Nicole Hensley gave new meaning to the phrase "standing on her head." Her NCAA record of 90 saves in Friday's game may never be topped, and that it came in her third game in four days makes it all the more remarkable.
As for the Cornell series, we had seen during the season that Colgate was a team that had the potential to give someone problems if the Raiders made the playoffs. They had beaten Clarkson and had a tie and one-goal loss versus St. Lawrence. However, Cornell had outscored them 18-2 during the season, so that didn't seem to be a favorable match-up. On one hand, the Big Red can be encouraged that they managed stirring comebacks both days. That probably gives them an extra boost that they wouldn't have gained in the momentum column from a pair of lopsided wins. Brianne Jenner continues to spark Cornell and fill the role previously handled by Rebecca Johnston. But it has to be a bit concerning that it came down to needing to pull the goalie in consecutive games. Every week, it is a different set of teams that are playing well in the ECAC, and nobody has really demonstrated that they can string wins together against the top teams.
Candace: Agreed. The ECAC has seemed to have more volatility than in years past. There are several strong teams, but it hasn't been the case of one or two dominant ones and then the rest, the way it currently seems to be in Hockey East, the CHA, and even the WCHA, where you have three dominant teams. On the other hand, that unpredictability makes things a lot more interesting to watch. Harvard, for instance, had struggled the previous weekend in tying St. Lawrence and losing to Clarkson, and Dartmouth had seemed to be on an upswing, yet Harvard easily handled the Big Green in two games. In fact, the Crimson were the only team in the ECAC to win without a struggle, getting two shutouts. The other three series had at least one overtime game.
You talked about Nicole Hensley, and I had picked Lindenwood to possibly upset Robert Morris. For a while Friday night, it looked like my stab in the dark may have proved accurate. I followed the game on a live blog, and not only did Hensley make 90 saves, but several were top notch. Now the Colonials advance to play CHA top dog Mercyhurst, the only conference team Robert Morris had a winning record against besides Penn State. You have to wonder how Mike Sisti and the Lakers feel about that. It's one of those things were it's possible to put too much pressure on yourself. Robert Morris can skate freely, and the Colonials may be in the Lakers' heads. In the other CHA semi, I do wonder if RIT's experience as last year's D-III national champion might help them get past Syracuse.
Arlan: The Tigers do have the edge in postseason experience. That was even more true for RIT against Penn State, but the teams wound up playing two one-goal games, the second ending in OT. The RIT and PSU series was another postseason case where a stingy goaltender, Nicole Paniccia, made an outcome closer than dictated by other factors. I doubt that the Tigers will get as many looks against Kallie Billadeau, so they'll need to finish a little better to advance. Syracuse comes into the semifinals with the best of both worlds — well rested due to having a bye, but not rusty after playing a midweek series.
Mercyhurst may have exorcised a few demons where RMU is concerned when the teams last met and the Lakers dominated, 9-1. I'd say that there is zero chance that they come into this game unprepared for the Colonials. Meanwhile, RMU has won four games over the last two weekends, twice as many victories as it enjoyed in previous weeks in 2013. Yes, those wins were against the bottom teams in the league, but Robert Morris needs to look for positives where it can at this point. Another plus for the Colonials would have to be that as much as this season has been a head-scratcher, at least they are still above .500 at 15-14-3, although they were six games above over the holiday break.
The Lakers are in the strange position of likely reaching the NCAA tournament no matter how they fare this weekend, but they really don't control their fate to any great extent. They may lose and advance or win the CHA and get left out. In that respect, Mercyhurst is just playing for a trophy this weekend like the other three teams. If that title should escape the Lakers again this year, which team could you envision winning it?
Candace: I could actually envision anybody winning the CHA at this point, but it depends on the match-ups. RIT has had the most difficulty with Mercyhurst, never getting close to beating the Lakers, so if those two are in the final, I'd expect the Lakers to come out on top. If Robert Morris defeats the Lakers, I'd probably favor either Syracuse or RIT to win the final. Regarding the Lakers missing the NCAA tournament, I guess it's possible, but I think a few things would have to happen that to me seem unlikely. Namely, St. Lawrence would have to repeat as ECAC champ and Northeastern would have to win Hockey East. Otherwise, I don't see any way for it to happen. I can't see Ohio State beating Minnesota, and whichever team between Wisconsin and North Dakota wins the WCHA semi, even were they to then go on and beat Minnesota in the WCHA final, I don't think it would shift either ahead of Mercyhurst in the PairWise, although I guess I could be wrong. Is there something there that I'm not seeing?
Arlan: Only that if anyone other than Minnesota wins the WCHA tournament, then that team holds an automatic bid and no longer needs to pass Mercyhurst in the PairWise to get in over the Lakers. So if Wisconsin and Northeastern won titles, for example, the Mercyhurst bubble likely pops. It definitely helps the Lakers if the higher seeds do well in the conference tournaments, because it most likely would require two winners from outside of the current top eight to ruin Selection Sunday for Sisti's team and deny them a ninth straight NCAA appearance.
I found it interesting that for all of the parity along the way this season, the composition of the conference tournament fields at this stage looks a lot like it did a year ago. RIT has replaced Niagara in the CHA semis, but the Purple Eagles were doomed months ago. Hockey East has the same four teams that ventured to Hyannis last March. Ohio State replaces UMD in the WCHA field, while Clarkson supplants Quinnipiac. That's not a lot of turnover. Perhaps we will see a bit more next season in an Olympic year.
In terms of flux in the NCAA field, at least one of Wisconsin or North Dakota will miss out this time, and either Clarkson or Harvard will be added — most likely both. St. Lawrence is the other team most at risk for not being back. I said last week in our discussion that it didn't look like the Saints had a run in them, but now that they are just two wins away, can MacDonald and company stay on a roll and prove me wrong again?
Candace: At this point, I'm going to say no. I just think it's too tall an order. The Saints have a horrible record this year against Cornell, Clarkson, and Harvard. I guess they could be Colgate 2.0, as they were outscored 15-3 in three games against the Big Red this year. Perhaps they'll take Cornell by surprise, but I expect the Big Red to be a little more on their guard this year after losing in the final last season to St. Lawrence on two goals in the final two minutes of the game. Even should St. Lawrence pull off the upset in the semis, I think they would lose to either Harvard or Clarkson in the final.
I think it will be interesting to see how the conference tournaments play out this year with almost the same teams back in it. Last year in Hockey East, Northeastern fell short to Providence, while Boston University crushed Boston College. The pairings are different this year, with the Terriers, who have been quietly chugging along and winning, albeit in uninspiring fashion, facing Providence, while Boston College gets a chance to avenge its Beanpot loss to Northeastern. Since you don't participate in postseason picks, first, are you thinking St. Lawrence has another run, and how do you think Hockey East might shake out?
Arlan: You mentioned St. Lawrence scoring twice in the final two minutes last year; the Saints are perfecting their technique, scoring twice in the final 32 seconds to force overtime on Saturday, the game they eventually lost. We talked about ECAC teams having difficulty sustaining a strong performance from game to game. I felt that Harvard and SLU played the best hockey in the league in the quarters, so I guess that means they have no chance in the coming round. Anyway, I'm the wrong guy to ask about that league, because I thought Dartmouth was the team most poised to pull an upset, and the Big Green just never fired. All I know is that between Amanda Colin's triple-overtime game winner and Jamie Lee Rattray's falling-down goal, the ECAC is home to some of the prettiest goals.
If the Hockey East Tournament was set in a Hollywood movie, then because Providence's 0-9 mark against the remaining teams must be foreshadowing something, the Friars would be the likely beneficiary of a plot twist and would go on to win. Since this is allegedly real life, I expect the Friars to drop behind by a few goals versus the Terriers, and their latest Zenyata-style comeback will fall just short. Sticking with the horse-racing theme, Northeastern would be the "wise guy" horse that all of the insiders would start to bet. They've been the best team since the Beanpot, but a similar plot was unfolding last season, and just like that, the Huskies' season was kaput.  I think that the Eagles are playing possum. No, that's a bad metaphor. What's the bird that pretends to have a broken wing and leads the predator away from the nest? Huskies! It's a trick, head back to the Eagles' nest, and not the one in Wisconsin.
The bottom line in Hockey East is that BC should win. They have the most talent. Last year, I thought that goaltending was the Achilles' heel, but now I can't fault Corinne Boyles at all. Haley Skarupa looks to be back in form, and I think she and Alex Carpenter form the best one-two tandem in the East. This year, it really will be the most obvious suspect, and Boston College will win the championship, but they'll need a minimum of one overtime period to do so. Take it to the bank — or one of those check-cashing places. That reminds me that I still owe you a six-pack, so I'll get right on it while you explain to the readers what will really happen.
Candace: Hah, we'll see. I think any number of things could happen. While I favor Boston College, the Eagles sometimes get in a rut where they are gripping their sticks too tightly or something, or maybe over-thinking it. For two weeks in a row, the Eagles put up a ton of shots on net, yet struggled to score. Ott made 72 stops. BC still has a potent offense, and if it gets untracked, I like them in a rematch against Northeastern. That Beanpot game was a close one. Regardless of whether the Huskies get another upset or Boston College gets revenge, I expect Boston University to be waiting for them. It will likely be a close game between BU and Providence, as two of the three were during the regular season, but the Terriers are a very solid team. I'll be interested to see how the final PairWise standings shake out at the top. There's currently a three-way tie for the final home ice spot, but that will change the moment the final whistle blows on the Harvard-Clarkson game, since those are two of the teams involved. Harvard currently holds a minute edge over the Terriers and Golden Knights. I'm also wondering whether Boston College can overtake Cornell again for second, which doesn't mean much in terms of home ice, but could in terms of which teams move on to the Frozen Four in Minneapolis.
I mentioned Minnesota still being a favorite in the WCHA earlier. Another place they are a favorite is in the Patty Kazmaier Award race, as four Gophers, Amanda Kessel, Hannah Brandt, Noora Räty, and Megan Bozek, were in the final 10 list. Those four were joined by last year's winner, Brianna Decker of Wisconsin, last year's final three nominee Jocelyne Lamoureux of North Dakota, Brianne Jenner of Cornell, Jillian Dempsey of Harvard, and a pair of sophomores, Boston College's Alex Carpenter and Northeastern's Kendall Coyne. What's your initial take on the final 10?
Arlan: There will always be some super players that don't fit on the list, and I think that is the case again. Goalies like Erica Howe and Alex Rigsby, and skaters like Christine Bestland, Monique Lamoureux, and Kelly Babstock, are no less worthy because they were not named. Awards tend to favor high-scoring forwards in general, and that's the case this year, with eight of 10 being forwards. But overall, I thought that it was a nice list, and the Committee did a good job. In recent years, the vote has tilted a bit to favor WCHA players, but we may be getting to an end of that cycle, because four of the six finalists from that league are seniors. The ECAC and Hockey East got two apiece, while the CHA was bypassed. One problem for the CHA this year is that it is a challenge for voters to compare the seasons of players from that conference when it has three new teams.
I don't have any insight into what the committee will do from here. A few weeks ago, I thought that Kessel was in the best position, because she was on pace for a possible 120-point season. Then she got "dinged up," as Minnesota coach Brad Frost put it, and has skated less than a handful of shifts over her team's last four games. It's hard to score from the bench or the stands. Meanwhile, the race has tightened up just among her teammates, as Räty set NCAA records for shutouts in a career and season and Bozek and Brandt set program records for points in a season by a defenseman and rookie, respectively. Both Jenner and Jocelyne Lamoureux have accelerated their production. Jenner pulled Cornell out of the fire against Colgate, and Lamoureux was in the middle of the rout of Minnesota State. If somebody has a huge final weekend at her conference tournament, that could influence the final three and ultimate winner.
Do you have other opinions on the 10 finalists or how the Kazmaier Award is shaping up?
Candace: Well, seeing as I am on the Committee this year, I do have some idea. First, you should know that the Committee doesn't select the final 10; that is done by the Division I coaches. The coaches nominate players, and if two or more coaches nominate a player, that player is on the ballot. Then the coaches submit their votes for the top 10. After the final 10 are announced, the Committee schedules a call to discuss the finalists, with the idea that it will help with the selection. You should also know that the voting for the final three is done before the conference tournaments are over, and in fact, the final three will be announced this Thursday, March 7. We'll have a story on USCHO about it, so be sure to look for it.