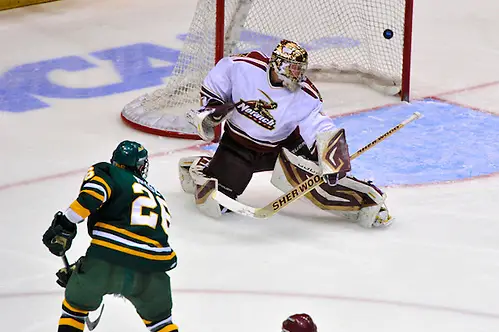 Oswego for years has relied on superior talent to win games, but not necessarily on gritty, hard-nosed hockey, the type of hockey one needs to win in the playoffs. This approach has gotten Oswego far in the last few years, but not far enough.
"We've relied on our talent," Oswego coach Ed Gosek said. "We've got talented kids who have won a lot of games because of their talent. Can they win games because of being gritty, outworking, blocking shots, mentally staying tough? These are the things we've been working on for a long time."
The Tyler Leimbrock goal in the NCAA semifinal victory over Norwich that gave Oswego the all-important 4-2 lead epitomizes the new playoff style of Oswego hockey.
Just prior to the goal, Leimbrock missed on a golden opportunity alone with the goalie. However, he and the team continued to work hard to keep the pressure up.
"I tried to stick with the puck in the corner, using what we've been preaching in practice," Leimbrock said. "And Titanic finding the back door. It shows the hard work and the perseverance of the team. Falling behind in the first period and coming back. It kind of epitomizes the play of our team."
The first goal was also similar — a blown opportunity by Jon Whitelaw missing an open net, but continued pressure eventually resulted in a Paul Rodrigues goal seconds later.
"It's one thing to talk about, but its another to have that resilience to believe in one another," Gosek said. "Like tonight, to continue to battle and not be happy with a one-and-done effort. I think that's really been a big difference for us. I'm proud of the guys."
Buying into that belief occurred after Oswego lost to Plattsburgh for the second time this year in the final regular season game.
"I think the turning point was our loss to Plattsburgh," Gosek said. "With a senior team, it becomes their team. Did they really want to take ownership? Anybody can do it when it's easy. How are you going to do it when it gets tough?"
That question was answered by the first goal and Leimbrock's clinching tally.
"When we had our backs to the wall in the semifinals of the SUNYAC playoffs, we knew it was you win or go home [in every game]," Leimbrock said. "We knew we weren't getting a[n at-large] bid. Everybody just pulled together."
Since that moment of truth, Oswego beat Buffalo State, 5-2, after falling behind 1-0, and defeated Plattsburgh, 4-0, to win the SUNYAC title and a berth into the NCAA playoffs. There, they beat Adrian in overtime, 3-2, after falling behind 2-1 in the quarterfinals, and now beat Norwich, 6-3, after falling behind 1-0 20 seconds into the game and 2-1 in the second period.
They now have one more game against Wisconsin-Eau Claire to prove their newfound playoff-style hockey is a winning formula.