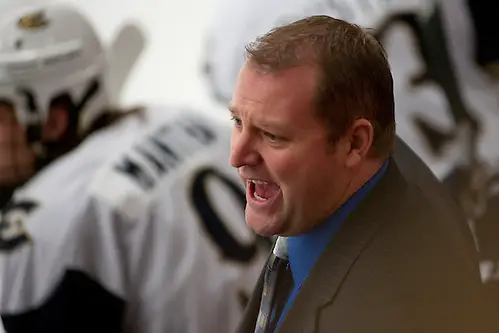 Wisconsin-Eau Claire coach Matt Loen, who led the Blugolds to their best season in school history and finished with their first NCAA national championship in their first D-III Frozen Four, has been voted as the USCHO D-III Coach of the Year. Loen beat out Oswego's Ed Gosek and Utica's Gary Heenan for the award. Fellow NCHA coach Tim Coglin of St. Norbert had won it the last two years, so it seems fitting that the award stays in the conference in the NCHA's final year.
Loen coached the Blugolds to a 24-5-2 overall record and 14-3-1 NCHA record as the team claimed the NCHA regular season title. In the NCHA Peter's Cup finals, the Blugolds fell to St. Norbert, 3-0, at home, but after beating St. John's in the first round of the NCAA tournament, Loen had the Blugolds ready, and they traveled to De Pere, Wis., to play St. Norbert in a rematch on the Green Knights ice, coming away with a 3-1 win. Earlier in the season, Wis.-Eau Claire had beaten and tied St. Norbert on the Green Knights' ice, where St. Norbert rarely loses.
This season was the first since 1989 that the Blugolds advanced to the NCAA tournament. Loen has compiled an 82-72-12 record in six seasons at the Blugolds' helm, just six shy of the school record, and has led the team to three consecutive winning seasons. Loen also has the best winning percentage in school history.
Previously this year, Loen earned NCHA Coach of the Year honors, and also won the ACHA Edward Jeremiah Award as D-III Coach of the Year. Loen, an Eau Claire alum (Class of '95), became the only person in the history of the NCHA to win both Coach of the Year and Player of the Year honors; he captured the latter in his senior year at Eau Claire.
This is the final season of the NCHA, as next season, Eau Claire will compete in the Wisconsin Intercollegiate Athletic Conference with the other Wisconsin schools, while.St. Norbert and St. Scholastica move to the MCHA.
USCHO's D-III awards are voted on by the Division III columnists and editor. Still to come this week are the nation's rookie of the year and the All-USCHO first, second, third, and all-rookie teams.