As freshman Nic Kerdiles gave Wisconsin its second two-goal lead of the game last Saturday, the Badgers' NCAA tournament hopes grew exponentially.
For a team that was essentially left for dead early in late November, there were plenty of good feelings to go around as it capped a seemingly unbelievable 21-5-5 run with a 3-2 triumph over Colorado College to win the WCHA's Broadmoor Trophy and an automatic bid to the NCAA field of 16.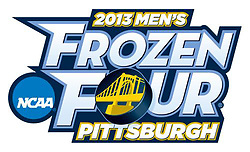 Road to the Frozen Four
NCAA tournament page, with bracket
The story of the Badgers' 2012-13 season to date features Kerdiles in a number of prominent ways besides just that goal in the championship game.
When asked after the game if he felt that he was the main reason for his team's turnaround, however, Kerdiles was quick to shift attention away from himself and onto his teammates.
"Not at all, no," Kerdiles said. "I take no credit for that. We are working hard right now."
When Badgers coach Mike Eaves recruited Kerdiles, he probably had visions of having the youngster skate for a couple of seasons alongside junior Mark Zengerle and becoming a key piece of the puzzle as the Badgers looked to return to national prominence after a disappointing 2011-12.
In October, it appeared those plans might have been derailed before they even began as Kerdiles got caught up in an amateurism issue with the NCAA. According to reports, Kerdiles' family didn't repay the player's family advisor soon enough for a hotel stay at the NHL Entry Draft.
The NCAA ruled it an amateurism violation, and they suspended the incoming freshman for the season.
After appeal, the Irvine, Calif., native missed the Badgers' first 10 games of the season. The Badgers also lost Zengerle to injury, and the team went just 1-7-2 during that span, losing to both Northern Michigan and Minnesota State twice. They earned their only victory over Minnesota-Duluth.
"We had a lot of things going on," Kerdiles said. "Mark, obviously a big part of the team, was out with an injury for some of those games. We just couldn't get a rhythm, I think. Lines were shifting all the time. We were just trying to figure things out."
Kerdiles' first game came on Nov. 30 in Denver. He was not much of a factor in that first contest as the Badgers managed only one goal in a 1-1 tie. The following night, he assisted on each of his team's first two goals in what turned out to be just their second victory of the season.
"You could see the energy he brought to the ice," Eaves said in a news conference after that series. "He won battles. He had a couple of assists on Saturday because he was around the puck."
His first goal came at home on Dec. 13, four minutes into a contest with Alabama-Huntsville. He added a second tally before the night was over and finished December with five points in five games.
"With all of the stuff that's been going on with me, I guess it's just nice to get that out of the way," Kerdiles said about scoring his first goal. "At the end of the day I'm just excited for the way our team played."
January was not particularly kind to Kerdiles. With just two assists combined through the first two weekends, he suffered through a three-game pointless streak. Getting a second look at Alaska-Anchorage during the final weekend of the month, he broke through with three points. The team went 7-1 through the month despite his inconsistent play.
From the start of February, Kerdiles got on track and was held off the score sheet just twice over the remainder of the season. Starting with the Feb. 24 matchup with Penn State, Kerdiles has had at least a point in each of his team's last 11 games.
Playing playoff hockey hasn't fazed him. He notched two points in each of the WCHA opening-round games against Minnesota-Duluth. He then put up two points in each of the Badgers' three victories at the WCHA Final Five, earning MVP honors.
"I think that was part of our struggles early in the season," Eaves said. "Not having Nic, losing [Zengerle], Derek [Lee] was hurt. There were a lot of things going on at that time. Getting Nic back and a healthy [Zengerle] and Derek playing well, things started coming together."
With an NCAA tournament matchup with Massachusetts-Lowell looming, Kerdiles is tied with his linemate, Zengerle, for second place on the Badgers in scoring with 10 goals and 32 points in 31 games.
At this point, it seems safe to assume that Kerdiles has had the kind of impact Eaves hoped he would have when he recruited the USA Hockey National Team Development Program product.
The Badgers have lost just five times with Kerdiles in the lineup, and they will continue to lean on him for scoring if they plan on making a run to the NCAA Frozen Four.