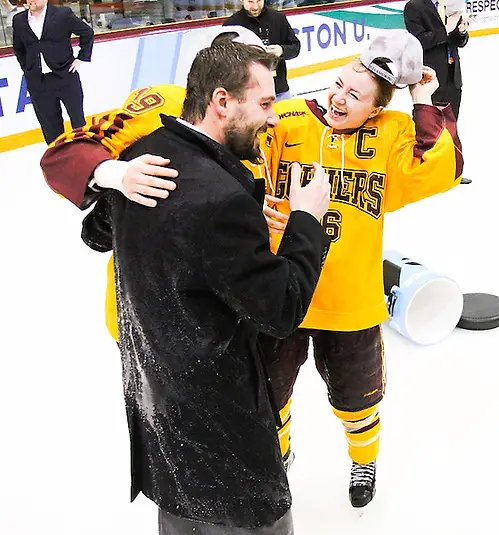 In a historic season, Brad Frost, our USCHO D-I Women's Coach of the Year, led the Minnesota Gophers to their second consecutive NCAA Women's D-I Hockey Championship and an unprecedented untied and unbeaten season, as the Gophers finished 41-0 and pushed their record wins streak to 49. Frost beat out Boston University coach Brian Durocher and Mercyhurst coach Mike Sisti for the award.
"He knows how to coach a team to championships, to wins," said Minnesota captain Megan Bozek. "When things aren't going our way, he knows what to say between periods, and I think a lot of us connect to him on a deeper level off the ice."
In 41 games this season, Minnesota trailed for barely more than 60 minutes total. The Gophers were pushed to overtime three times, once by Bemidji, and then by North Dakota in the quarterfinals and Boston College in the semifinals of the NCAA tournament.
In addition to the record for wins, Minnesota also set a new NCAA record for power-play effectiveness, finishing with a 32.2 percent conversion rate, beating the old record of 31 percent, also set by the Gophers back in 2005.
"Coach Frost is such a genuine family guy," said Rachel Ramsey. "He looks at all 22 of us like we're his daughters. I don't know how many girls have a coach that they can literally go sit down in his office and talk about anything, whether it's hockey or personal or just life-related."
As the pressure mounted on Minnesota during the year, and the wins kept coming, Frost encouraged his team to focus on the process of playing, rather than the results.
"Thinking about the steps that will get you there, and we learned that 41 times this year," Becky Kortum said.
In his six years behind the Minnesota bench, Frost has led the Gophers to three WCHA regular season titles, two WCHA Tournament titles, and two NCAA titles while compiling a 186-36-16 record (.815).  Frost also claimed WCHA Coach of the Year and ACHA Coach of the Year honors this year.
USCHO's D-I Women's Awards are voted on by the D-I columnist and editor. Still to come this week are the  rookie of the year and the All-USCHO first, second, third, and all-rookie teams.