It seemed like just last week Yale was hoisting the NCAA title in Pittsburgh — and now we're just over six months away from crowning a new national champion in Philadelphia.
Just like any other college campaign, a number of familiar faces from the previous season won't be back. Gone is last year's NCAA scoring champion Rylan Schwartz (Colorado College), along with other top 10 national scorers Danny Kristo (North Dakota), Erik Haula (Minnesota), Hobey Baker Award winner Drew LeBlanc (St. Cloud State), Corban Knight (North Dakota) and Kyle Flanagan (St. Lawrence).
There's still plenty of puck-moving talent up front coming back in the college ranks, though.
After consulting with a number of NCAA coaches, here's a look at 10 Division I forwards to keep an eye on in 2013-14, listed in alphabetical order. This doesn't necessarily mean they're the biggest, fastest or strongest examples out there, nor surefire Hobey Baker Award finalists, nor locks to go on to successful NHL careers.
They are, however, 10 players who more than likely will give you your money's worth when you sit down to watch them in action this season, from now until April.
Agostino tied for the Bulldogs' scoring lead with since-graduated Andrew Miller. He saved his best for last by recording four points in four NCAA tournament games as Yale won its first national title, including setting up the game-winner in overtime in a regional semifinal against favored Minnesota.
That was just after Agostino's NHL rights had been dealt from Pittsburgh to Calgary in the Jarome Iginla trade. The Flanders, N.J., native, who made the jump directly from New Jersey high school hockey to NCAA Division I, has produced 100 points in 101 career games with Yale, including 58 assists, and will be looking to maintain that pace in his senior season.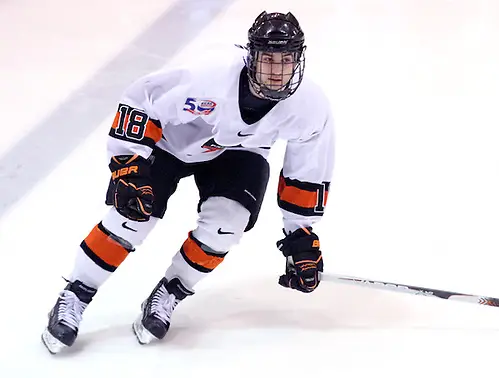 Calof has registered at least 30 points in each of his three previous collegiate campaigns while playing on struggling Tigers teams the past two seasons. He's also led Princeton in scoring each of his three years.
He went over 100 career points last season and has 40 goals and 62 assists for 102 points in 95 games to date. A former ECAC Hockey and Ivy League rookie of the year, the Nepean, Ontario, native also earned second-team All-ECAC and first-team All-Ivy League accolades last season.
If the Tigers are to improve this season, Calof will have to be the one they're following.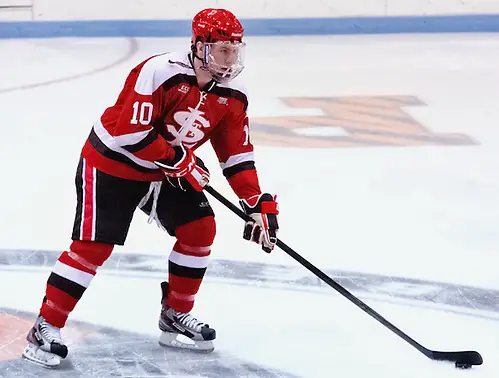 Carey tallied 28 goals last season, half of which came on the power play, and also led the Saints in overall scoring. The Hamilton, Ontario, product tied for fourth in the nation in points, and is averaging better than a point per game in his college career (128 points in 114 games).
He also tallied 20 goals and 33 points in ECAC play last year to pace the circuit, earning second-team All-American honors. This year, however, Carey will have to make do without the aid of graduated teammate Flanagan, who figured in on half of Carey's scoring plays in 2012-13.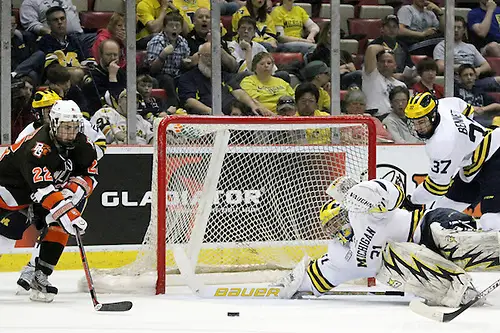 Carpenter served as a team captain as a sophomore and finished 11th in CCHA scoring with 26 points. Six of his goals came with a man advantage, and three scores decided games. This was after a freshman campaign in which the Oviedo, Fla., native netted 11 goals and 30 points, before becoming more of a sniper last season.
"Ryan Carpenter has the opportunity to be a force this year in the WCHA," an opposing coach said. "He is coming off a very productive season and should improve on that during his junior year."
He'll be a linchpin as the Falcons shift from the defunct CCHA to the revamped WCHA.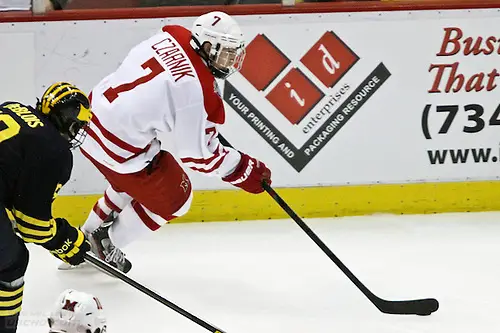 Czarnik, who hails from Washington, Mich., finished fifth in CCHA scoring last season with 31 points in 32 contests in the league's swan song, and was a second-team All-America selection. Four of his 14 goals overall last year came while short-handed, while three were game-winners.
In 82 career games with the RedHawks over two seasons, he's put up 53 assists and 77 points while helping Miami to two NCAA tournament appearances and the final CCHA regular season title. This year, he'll serve as team captain as the RedHawks transition to the NCHC.
"Every time he's on the ice he's a threat to score, even strength, power play or short-handed," an opposing coach said. "He's also not afraid to get involved either — honest and physical."
Everyone and anyone who follows college hockey knows what Gaudreau did in 2011-12, tallying 21 goals and 45 points while also scoring one of the most spectacular goals of the year in the title game in Tampa to help Boston College clinch its third NCAA crown in five seasons.
He finds ways to get open and has the speed, hands and vision to make any defense anxious.
"Johnny Gaudreau … has an ability to break a game open in several different ways," an opposing coach said.
Last year, BC's latest mighty mite again scored 21 goals, six of which were game-winners, and also earned first-team All-America honors, although the Eagles were ousted in the first round of the national tournament by Union.
After winning a Beanpot title last season but no other team trophies, you can bet the Carney's Point, N.J., product and his Eagles teammates will have plenty of incentive this time around.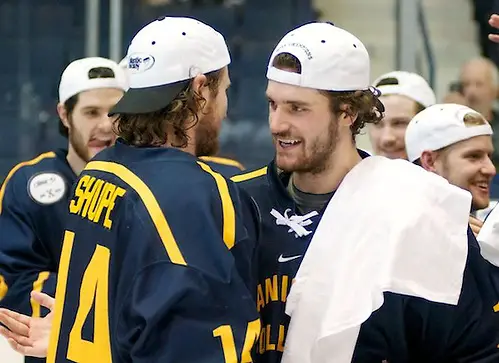 Gibbons led Atlantic Hockey in scoring as a junior with 40 points in 33 conference games, and in three seasons in Buffalo he has put up ever-increasing totals.
The Ohio product has posted 42 goals and 92 points in 111 career games, along with 11 power-play goals and six game-winners. He finished last season on a 10-game scoring streak, tallying 19 points in that span, including a four-point performance in the league title game against Mercyhurst and a goal in the NCAA tournament versus Quinnipiac.
"Very skillful with the puck, and it is difficult to take it away from him once he has it on his stick," an opposing coach said. "Extremely accurate shot paired with a quick release makes him a danger whenever he is on the ice."
Leitner went from 28 points as a freshman to 47 points last year, and also had six power-play goals and two game-winners to finish among the nation's top scorers. The California-born forward also helped the Mavericks to their first NCAA tournament berth since 2003.
"Matt Leitner is very savvy five-on-five and on the power play," an opposing coach said. "He is very patient with the puck and is the type of player who is very dangerous on the rush and making plays in the offensive zone. He has been a top scorer in the USHL as well as in the WCHA. He has natural offensive ability."
Now we'll see what he gets done in the new WCHA, which the Mavericks are favored to win in its first year post-realignment.
Rau and the Golden Gophers embark upon a new road this year, with the advent of the Big Ten, and he's Minnesota's leading returning scorer with the departure of Haula to the pro ranks last spring.
Rau, from Eden Prairie, Minn., averaged a point per game last year, and had two or more points in 11 games, including a trio of three-point nights. He also had streaks of five and six games with at least one point, and never went more than three games without getting his name on the score sheet.
He'll be looked to at least duplicate that effort as the Gophers begin Big Ten play.
The leading returning scorer in the nation after a 22-goal, 52-point season, Walters hit the century mark for his career with an assist in the season finale against Minnesota State.
The Roseau, Minn., native has improved his point total every season, and last year more than doubled the output of his sophomore year. He had 16 multiple-point games as a junior, including a string of eight such contests, and posted a pair of four-point outings. A second-team All-American, he also had 18 points against opponents that made the NCAA tournament. The Mavericks will be looking to Walters to keep lighting lamps as they enter the NCHC this season.