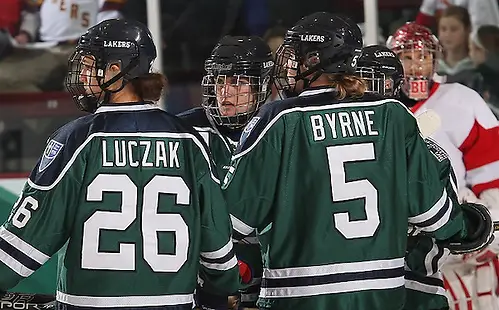 For the first time in three years, the lineup of teams in College Hockey America looks exactly the same as it did the year before. How long that will last remains to be seen, but at least for now, the rumors all involve teams joining the CHA, not leaving it.
"For the women's game, you just want it to grow as big as possible," Mercyhurst coach Michael Sisti said. "You want the number of teams to grow, the competition level to grow, certainly the attendance to grow, and all those things may lead to more games in the NCAA tournament, more games on TV So it's a work in progress, but hopefully, things are going in the right direction."
The league has stabilized at the critical number of six teams, and it is his understanding that the conference automatic bid will be awarded as early as 2015.
"It's been an interesting journey, but things are highly competitive now, which is what you want," said Sisti, the only coach who has watched the entire history of the league unfold, because his is the only team that has been a league member from the beginning.
"Last year with the playoffs, a couple of those [best-of-three] series, one went to three games, which was really exciting," Sisti said. "The rivalries are building and some really nice traditions are growing."
It is almost tempting to pick a different champion just to mix things up and honor the league's tradition of change.
But who? Syracuse lost its top two scorers. Robert Morris is inexperienced in net. RIT graduated its veteran core. Lindenwood's goalie can steal games, but it is another thing to steal a title. Penn State just has too far to go in one year.
I guess that leaves Mercyhurst. The Lakers have actually had to fend off a late challenge the last couple of seasons, but I don't see it coming down to the wire this year. Mercyhurst has too much pop at the top of the line chart that the others can't match. The Lakers have won all 12 CHA season titles, and 13 shouldn't prove unlucky for the gang from Erie. It's just as well, because this is the only league I ever manage to predict correctly.
Click on the team name for a more detailed preview.
Mercyhurst Lakers
Projected Finish: First
CHA Coaches Poll: First
Previous Season: First, 17-3-0, 34 points
Key Departures: Stephanie Ciampa, Lauren Jones, Jenna Hendrikx, Stephanie DeSutter, Gina Buquet, Kelsey Welch
Arrivals: Taylor Accursi, Sara Besseling, Paige Horton, Brianna Kennelly, Jillian Skinner, Megan Whiddon
Key Players: Christine Bestland (28-44-72), Jenna Dingeldein (15-28-43), Emily Janiga (19-22-41)
Robert Morris Colonials
Projected Finish: Second
CHA Coaches Poll: Third
Previous Season: Tie for third, 9-10-1, 19 points
Key Departures: Kristen DiCiocco, Delayne Brian, Kelsey Thomas, Cobina Delaney, Jamie Joslin, Dayna Newsom
Arrivals: Carley Catherine, Jessica Dodds, Maeve Garvey, Brittany Howard, Mackenzie Johnston, Tia Kipfer, Mikaela Lowater, Rikki Meilleur
Key Players: Rebecca Vint (16-17-33), Thea Imbrogno (11-12-23), Kristen Richards (9-14-23)
Syracuse Orange
Projected Finish: Third
CHA Coaches Poll: Second
Previous Season: Second, 13-6-1, 27 points
Key Departures: Holly Carrie-Mattimoe, Shiann Darkangelo, Jacquie Greco
Arrivals: Morgan Blank, Erin Brand, Eleanor Haines, Larissa Martyniuk, Laurence Porlier, Elizabeth Scala, Heather Schwarz, Jessica Sibley
Key Players: Nicole Ferrara (10-14-24), Melissa Piacentini (9-14-23), Kallie Billadeau (1.56 goals against average (GAA), .940 save percentage)
Rochester Institute of Technology Tigers
Projected Finish: Fourth
CHA Coaches Poll: Fourth
Previous Season: Tie for third, 7-8-5, 19 points
Key Departures: Tenecia Hiller, Kim Schlattman, Ariane Yokoyama, Kristina Moss, Ellesha Fortuna, Danielle Read, Laura Chamberlain
Arrivals: assistant coach Matt Woodard, Cassie Clayton, Lauren Klein, Brittany St. James, Lindsey Stenason, Brooke Stoddart, Mackenzie Stone, Taylor Thurston, Dakota Waites, Caitlin Wallace
Key Players: Kourtney Kunichika (9-15-24), Erin Zach (4-13-17), Ali Binnington (1.93 GAA, .928 save percentage)
Lindenwood Lions
Projected Finish: Fifth
CHA Coaches Poll: Fifth
Previous Season: Fifth, 7-10-3, 17 points
Key Departures:  Allysson Arcibal, Brett Lobreau, Samantha Redick, Taylor Fairchild
Arrivals:, Carrie Atkinson, Morgan Church, Holly Dietzler, Leah Elledge, Anja Kadijevic, Sarah McGall, Alexis Molotky, Katie Nokelby, Saville Pickar, Nicole Rash
Key Players: Alison Wickenheiser (12-12-24), Alyssa West (7-12-19), Nicole Hensley (3.42 GAA, .922 save percentage)
Penn State Nittany Lions
Projected Finish: Sixth
CHA Coaches Poll: Sixth
Previous Season: Sixth, 1-17-2, 4 points
Key Departures: Taylor McGee, Katie Zinn
Arrivals: Laura Bowman, Sarah Nielsen, Amy Peterson, Kelly Seward
Key Players: Nicole Paniccia (3.11 GAA, .928 save percentage), Shannon Yoxheimer (14-17-31), Taylor Gross (7-15-22)