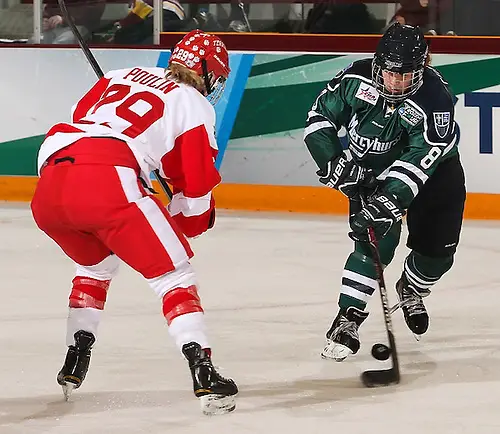 As was the case last year, Mercyhurst enters the season needing to replace its primary goaltender.
"It's too early to tell exactly how we're going to navigate through it," said coach Michael Sisti. "[Amanda] Makela has a lot of experience, but we like our other two goalies as well. Without great goaltending, you just can't have the season you hope to have. Everything starts there, and hopefully, we're solid in net again."
Goaltending is made all the more important because the Lakers' defense figures to make some mistakes along the way.
"We're pretty young back on 'D,'" Sisti said. "Most of our freshmen play right away, which from a recruiting standpoint they enjoy, but with that comes learning on the go. It's good to have someone like [juniors] Molly [Byrne] and [Caroline] Luczak back there that have from day one played a lot of games."
Few teams in an Olympic year can send out a trio of forwards coming off seasons of more than 40 points, but Mercyhurst can with CHA Player of the Year Christine Bestland and sophomores Jenna Dingeldein and Emily Janiga. That's a big advantage in the CHA, where none of the other teams return even one scorer of that caliber.
"We're going to need support from other players, too," Sisti said. "We've got a combination of some new players who haven't quite been in the fire before, and we have some players that are returning that maybe haven't played as big a role for us in the past. We're going to need them to step up, because it's tough to win games with two or three people. We're going to need a good chunk of our team to step up in all different areas to be successful. If we can do that, we'll be fine. If not, it'll be a tough year. That's the challenge."