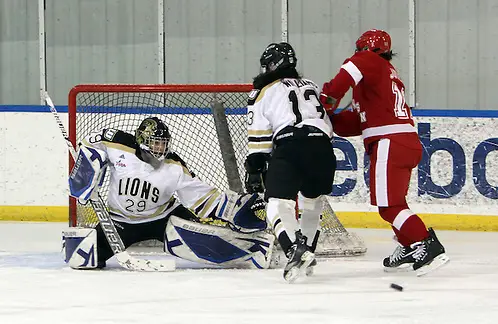 Lindenwood was much improved in its second season of varsity competition, and those gains became very evident down the stretch. The Lions put together a seven-game unbeaten streak in February, posting a 5-0-2 record over that stretch.
CHA Rookie of the Year Nicole Hensley at times held her team in games almost single-handedly. In the final start of her season, she made an NCAA-record 90 saves to extend Robert Morris to three overtimes in the CHA quarterfinals. In Hensley, coach Vince O'Mara has a cornerstone around which he can build for the next three seasons.
The Lions matured in front of her and were better able to compete physically with opponents, resulting in better team defense. Lindenwood surrendered double-digit goals just once in its second season, after doing so six times in its inaugural slate.
Lindenwood did not make similar gains on the offensive end in its second year. The Lions' scoring decreased slightly, attributable to playing a more difficult schedule. New players Lyndsay Kirkham, Jocelyn Slattery, and Chelsea Witwicke reached double digits in points, so while the team did not add any scoring phenoms, it at least had more contributors.
The challenge in year three will be devising new sources of offense. Unless goals can be manufactured from the team's systems or a couple 20-point producers are included in the latest freshman class, the Lions are going to have to win a lot of 2-1 games in order to make a move up the CHA ladder.