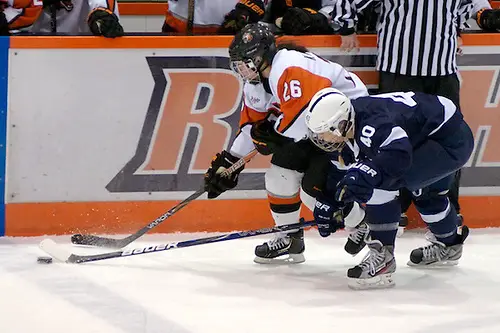 Penn State begins its second varsity season and its first in its new home, Pegula Ice Arena.
"This season for us is all about opportunity," said coach Josh Brandwene. "What an opportunity for these student-athletes to be a part of this facility and to train and play and to have their Penn State athletic career take place right here. One of the most special moments I've had as a coach was watching them move into the facility a couple weeks ago."
As with any new program, year one had some growing pains.
"Everything that we did last year, all the challenges that we faced, all the adversity that we dealt with has made this group incredibly resilient and incredibly gritty," Brandwene said.
There were struggles, with 26 losses along the way. The low points were not as low as they could have been, thanks in large part to the efforts of goaltender Nicole Paniccia, a transfer from Connecticut.
"She works so hard at her craft in terms of her goaltending," Brandwene said. "She's never satisfied. She has a tremendous work ethic. She's always looking to make whatever little improvement she can, and certainly, her results last year speak for themselves, not only in terms of what she did statistically for us, but the leadership and experience that she provided as a veteran at the Division-I level on a young team."
Her .928 save percentage helped keep the margin down in the losses and contributed to seven victories, including two over full-time Division I opponents.
Wins don't happen unless someone puts the puck in the net, and none of the Nittany Lions was better in that regard than sophomore Shannon Yoxheimer. She had 14 goals and 31 points as a rookie.
"This group is just so coachable," Brandwene said. "They work hard, they listen, and they make it fun for us as a coaching staff to come to the rink every day."
Now the team will try to flip the result on some of the tight contests in played last season. PSU did not win over its final 15 contests, but the margin of defeat was less than four goals in all but one of those defeats.
"The fact that we were there in those games, with so many close contests last year, to me was a very pay-it-forward type thing," Brandwene said. "We're looking to get better defensively, we're looking to get better offensively. We want to improve every day and build upon the opportunity we had last year to be competitive and then take it to the next level."