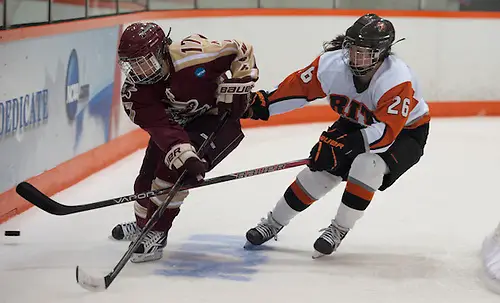 Fresh off of an NCAA Division III Championship and competing in Division I for the first time, Rochester Institute of Technology proved that it belonged.
The Tigers posted a .500 record, including a 7-8-5 mark in league play. The success was achieved in large part by relying on a veteran core that had helped RIT earn its D-III title.
This season, many of those veterans are gone, and nine new players arrive. The Tigers may have more talent, but less experience. The loss of its former leaders was evident in a 12-1 pounding at the hands of No. 3 Clarkson in this season's opener, the type of calamity that last year's squad was poised and resilient enough to avoid.
Starting goaltender Ali Binnington is coming back from an injury and her backups were getting their first exposure to the college game, compounding the problems versus the Golden Knights. The question becomes whether the game in Potsdam was just a bad day or systemic of problems that will plague RIT throughout the season.
Three of the four top-scoring Tigers graduated, so new scorers must emerge to support Kourtney Kunichika. Conference play does not begin for RIT until November. That gives Scott McDonald several weeks to learn what he has in his arsenal and an opportunity for new leaders to emerge in the locker room.
At least early in this campaign, it may be necessary to take a step back in order to move forward. RIT will contend in the CHA, but it is a bit much to expect that to occur during this year's regular season.