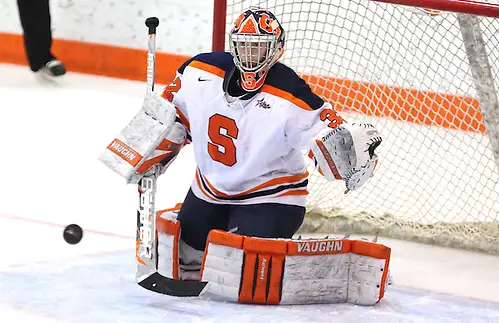 Whether Syracuse was better than expected in 2012-13 or just better than I expected, it's safe to say that much of the success of the Orange can be attributed to the emergence of Kallie Billadeau in net. Her 16 wins, 1.56 goals against average and .940 save percentage were all vast improvements over what she had demonstrated in her first two seasons.
If she can maintain that level of play, then Syracuse is a legitimate threat to unseat Mercyhurst atop the CHA standings. Assuming she does, I still don't like the chances of the Orange doing so for a couple of reasons.
Syracuse has trouble holding on to scorers for four years. While at St. Lawrence, coach Paul Flanagan always had players on his roster who could put the puck away. Gina Kingsbury, Rebecca Russell, Sabrina Harbec, Chelsea Grills, Carson Duggan — Flanagan always had a skater or two that he could send over the boards to change a game.
At Syracuse, starting with the transfer of Isabel Menard three years ago, it doesn't work out. Last season, Laurie Kingsbury suffered an injury that forced an end to her career. Shiann Darkangelo transferred to Quinnipiac; while she may not be of the caliber of others on the list, she would have been one of the top returnees. With a midle-of-the-pack offense, it is tough to earn a title.
Even more damning, Syracuse can't break through and beat Mercyhurst. The Orange have zero wins over the Lakers in four years, and that cost them a realistic shot at the both the regular season and tournament crowns last spring. Until Syracuse can steal a page from Robert Morris and figure out a way to upend the champions, the likely finish for the Orange is behind both the Lakers and Colonials.