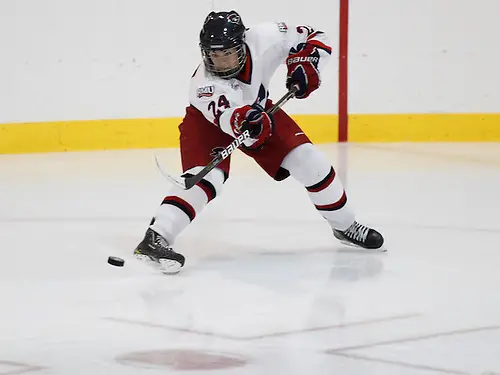 Things didn't go as smoothly for Paul Colontino in his second year at Robert Morris as they did in season one. The Colonials went just 2-9-1 in conference play against Syracuse, RIT, and Lindenwood combined, leading to a sub-.500 mark in league action. Ironically, RMU had far less of a problem with league champion Mercyhurst, taking three of the four season meetings.
The real problems for the Colonials surfaced in the 2013 portion of the schedule. Coming out of the break, RMU went just 2-10-1, sabotaging a season that had shown promise to that point. Whatever the Colonials did over the holidays, they may want to consider a different itinerary this season.
Rebecca Vint's production dropped slightly in her sophomore season, due in part to opponents being keenly aware of No. 24 on the ice. Seniors Thea Imbrogno and Kristen Richards provide a couple of additional threats for Robert Morris, but it will be important for players to expand their offensive games, as no other returnee exceeded 15 points.
Just as vital will be finding a goaltender that can survive a baptism by fire. Junior Courtney Vinet, the only returning goalie, has only played 191 minutes for the Colonials. She'll be joined by newcomers Carley Catherine and Jessica Dodds.