Army's season-opening scrimmage is set to go on as scheduled Saturday but games are in question for both the Black Knights and Air Force as the goverment shutdown rolls on.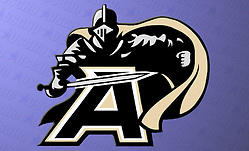 Army coach Brian Riley said in an email Friday that his team's scrimmage and Skate with the Black Knights event at Tate Rink will happen as planned. The scrimmage starts at 3:30 p.m. EDT, with a movie and skating to follow.
But Riley could not say whether the Oct. 11 game at Penn State — the opener at the Nittany Lions' new Pegula Ice Arena that's scheduled for a national broadcast on the Big Ten Network — will happen if the shutdown continues. He said he hopes to know by early next week.
Fellow service academy Air Force, meanwhile, is listing its Monday home exhibition game against New Brunswick as postponed, The Gazette reported Friday.
The Falcons are scheduled to take part in the Kendall Hockey Classic in Anchorage, Alaska, next weekend, but their participation in that tournament against Alaska and Alaska-Anchorage is in doubt unless the shutdown is resolved.
An Alaska-Anchorage spokesperson said the tournament host school is monitoring the situation and has contingencies in mind, but the spokesperson would not reveal them.
Air Force's football team is playing at Navy on Saturday only because a private organization donated money to pay for the team's travel and expenses, according to an Air Force statement.
That statement also said: "As of now, this will be the last game of the season played for the Air Force Academy, as the service is currently operating without a budget."