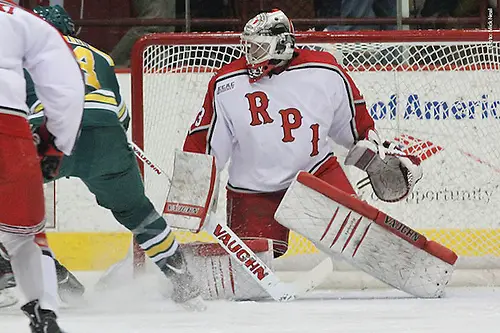 There have been a lot of changes across college hockey ever since Yale beat Quinnipiac 4-0 for the national title on April 13, giving ECAC Hockey its first national championship since Harvard won in 1989.
Thirty-five of the 59 Division I college hockey teams are either playing in a new conference this season or are part of a league that has changed membership.
But if you're looking for changes in the ECAC, you won't find many.
As veteran Colgate coach Don Vaughan put it: "The league is in a good place."
All 12 of the league's teams were untouched by the conference realignments across college hockey this offseason. And a year after the official retirement of one of the league's all-time top coaches in St. Lawrence's Joe Marsh, and the rumored near-departure of Quinnipiac coach Rand Pecknold, all 12 head coaches are back as well.
There is one change that was casually mentioned during closing of the league's media day news conference. The championship consolation game — which last year featured a national championship preview between Yale and Quinnipiac – is no more. The conference also said goodbye to Atlantic City as the site for its championship weekend, returning to Lake Placid, which was the site of the championship from 1993 to 2002.
Union's Frozen Four run two years ago coupled with a dominant showing by the league in last year's NCAA tournament (Yale, Quinnipiac and Union finished 8-2 in the tournament, with the only two losses coming to ECAC teams), should put to rest any negative perceptions of the league. But listen to the league's coaches, and they wonder where that came from in the first place.
"The people that we have to change the mentality [about the league] is really the media," Cornell coach Mike Schafer said. "The level of competition is phenomenal right now. I think what probably happens most around the country that frustrates us most as coaches is that you lose to an opponent in our league and you see that in the national polls that you drop five or six places. Our coaches know how good our teams are."
Like Schafer, Dartmouth coach Bob Gaudet has been around the league for a number of years, both as a player and as a coach.
"We have some of the greatest rivalries in college hockey and it was outstanding to have Yale win the national championship and Quinnipiac there battling them for it," Gaudet said. "It's an exciting league and it's what we, as coaches, expect. The level of competition in ECAC Hockey is outstanding, but that's something we all have known for a long time."
The league did see a trio of talented players get an early jump on their pro careers, with Dartmouth forward Matt Lindblad signing with Boston, and Union losing a pair of key players from their back-to-back Whitelaw Cup teams in goalie Troy Grosenick (San Jose) and forward Josh Jooris (Calgary).
Grosenick's departure means that all four goalies from last year's championship weekend have moved on. In fact, five of the league's top six goalies from last season (Grosenick, Quinnipiac's Eric Hartzell, Yale's Jeff Malcolm, Brown's Anthony Borelli and Princeton's Mike Condon) are gone.
Still, that doesn't mean these teams have a gaping hole in net this season. Union's Colin Stevens faces the same uncertainty that Grosenick did when he took over for Keith Kinkaid two seasons ago. Borelli wasn't even on the radar at this time last year after playing in a mere seven games entering his senior year, but finished third in the nation in save percentage.
Stevens, along with Quinnipiac sophomore Michael Garteig and Yale freshmen Alex Lyon and Patrick Spano, could emerge as the next group of elite goaltenders on some of the league's contending teams.
Also gone is graduated St. Lawrence forward and Hobey Baker Award nominee Kyle Flanagan. But the Saints return the nation's leading goal-scorer in Greg Carey, who's joined this year by younger brother Matt.
The elder Carey is joined by a number of top-flight upperclassman forwards across the league, including Brown's Matt Lorito, Princeton's Andrew Calof, Quinnipiac's Matthew Peca and Yale's Kenny Agostino.
It was already a positive, albeit brief season debut for the league last weekend. Clarkson, picked last in both the media and coaches poll, swept No. 20 Niagara at Dwyer Arena, where the Purple Eagles were 15-0-2 last season. Golden Knights coach Casey Jones was looking for better defensive play this season, and Clarkson certainly got that over the weekend.
And Colgate, which brings in another large recruiting class after having three freshmen among its top four scorers last season, rebounded from a 7-4 loss to Ferris State on Saturday for a 1-0 win over the 2012 national runner-up Sunday.
Here are the previews, ranked by my predictions. Click on each name for more.
The Engineers are a trendy pick for the top spot after turning a hot stretch run into a second-place finish. Goalie Jason Kasdorf and a solid group of skaters should have them in a good spot. Read more
Another year, and another question about who will be in goal for the Bulldogs. All that the since-departed Jeff Malcolm did was answer that question with a national title last season. Read more
The Big Green looked like a good bet for a top-four spot until a late slump pushed them out of consideration. Lots of talent here. Health and consistency will be important. Read more
It's tough to pick against Union's track record the last few years. The Dutchmen should be one of the league's tougher opponents once again. Read more
It was a season to forget for the Big Red. Don't bet on another sub-.500 year. Read more
The Bobcats might be a bit too low here, but the loss of four senior defensemen and goalie Eric Hartzell is a lot to overcome. Read more
The Bears played well in the second half and had a nice playoff run despite numerous injuries throughout the year. If they find a goalie and get some support for Matt Lorito, look out. Read more
Kyle Flanagan is gone, but Greg Carey and his nation-leading 28 goals are back. The Saints need some of their freshmen to step up quickly. Read more
Last year's impressive freshman class is joined by several other newcomers with the potential to make an impact. A home split with Ferris State wasn't a bad way to start the year. Read more
There's talent up front, led by senior Andrew Calof, but the Tigers lost goalie Mike Condon and defensemen Michael Sdao and Eric Meland to graduation. Read more
The Crimson were ranked sixth in the coaches' poll, so it should be interesting to see how the year plays out. One thing is for sure: It can't get much worse than last season. Read more
Coach Casey Jones thinks more depth and competition for playing time should lead to good things. The Golden Knights started the year off with a pair of wins at No. 20 Niagara, which was 15-0-2 at home last season. Read more