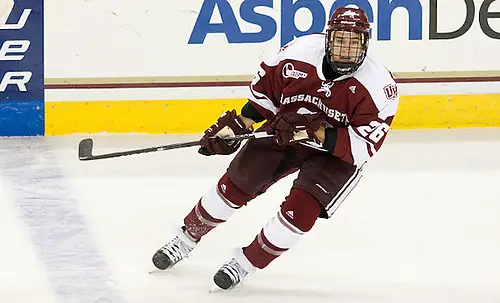 Being a first-year coach of any program can be difficult. Being the same first-year coach hired late in an offseason can simply be daunting.
That is exactly what Massachusetts coach John Micheletto faced last season.
That didn't deter the Minutemen from doing some good things on the ice. UMass earned impressive victories over NCAA tournament teams Boston College and New Hampshire and came away victorious from the Ledyard National Bank Classic at Dartmouth over the holidays.
There also were significant areas of concern for the Minutemen, all of which need to be addressed if UMass is to rise in the standings and surpass the coaches' poll prediction of a 10th-place finish this season.
Offense is the biggest area that needs improvement. The Minutemen were a better-than-average defensive team and, at times, created problems for opponents by forcing turnovers. Converting those turnovers into goals, though, was a struggle.
"We can't go through the first 20 minutes [of a game] and have the better of the opportunities and the shots and not have the scoreboard reflect that," Micheletto said. "Eventually, that catches up to you in this league. You can't let good teams hang around and not take advantage of your opportunities."
The Minutemen return their top three forward scorers from a year ago in seniors Branden Gracel, Conor Sheary and Michael Pereira. On top of that, Micheletto and his staff brought in four freshman forwards to add to the offense in Steven Iacobellis, Ray Pigozzi, Frank Vatrano and Brandon Wahlin. (Vatrano, however has been ruled ineligible for the regular season by the NCAA.)
Defensively, the Minutemen hope to continue on last season's improved play but may have a hole in net with the dismissal of goaltender Kevin Boyle. Boyle, who was in net for eight of the 12 UMass wins last season, was let go by Micheletto and transferred to Massachusetts-Lowell, where he will sit out this season.
That leaves Steve Mastalerz as the only goaltender with significant experience and could put pressure on incoming freshman Alex Wakaluk. When asked if Wakaluk would compete for time from the start, Micheletto said, "absolutely."
If there is a single player that Micheletto hopes can improve, it is blueliner Oleg Yevenko. The Belarusian arrived in training camp this year 15 pounds lighter than last season.
"[Yevenko] made an unbelievable commitment to his body and his conditioning," Micheletto said. "He looks really good and has gained a lot of confidence having a year of learning our style of play under his belt."
The prospects for UMass are high and Micheletto hopes this is a year in which his team can take a step forward. But this, indeed, is a team that needs significant improvement and that ability to improve is what likely will dictate success for UMass this season.
About the Minutemen
2012-13 overall record: 12-19-3
2012-13 Hockey East record: 9-16-2 (ninth)
2013-14 predicted finish (coaches' poll): 10th
Key losses: F Rocco Carzo, D Conor Allen, G Kevin Boyle
Players to watch: F Michael Pereira, F Branden Gracel, F Connor Sheary, D Joel Hanley, G Steve Mastalerz
Impact rookie: With goaltender Kevin Boyle removed from the program, look for rookie Alex Wakaluk, last year's MVP for the Saskatchewan Junior Hockey League, to split time with Steve Mastalerz.
Why the Minutemen will finish higher than predicted: Coach John Micheletto, now in his second season, has his first recruiting class in place and will be much more settled in than a season ago when he was a late hire to replace longtime head coach Don 'Toot' Cahoon. Simply put, this team should be much more prepared this season than last.
Why the Minutemen will finish lower than predicted: When you look where UMass ranked in most statistical categories a season ago, you'll find the Minutemen in the middle of the pack nationally in almost every one. If that mediocrity doesn't improve, neither will the Minutemen.