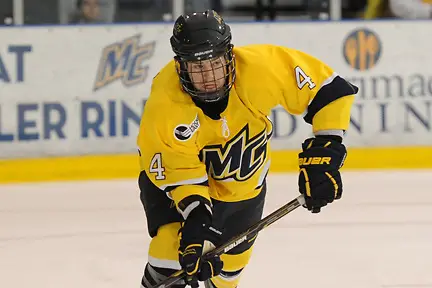 For the last few years, the doubters have looked at Merrimack's losses to graduation and said, "OK, so this is the year they drop back down to the cellar."
Not this time.
The Warriors lost only defenseman Kyle Bigos and role-playing forward John Heffernan from last season's squad, one that remained in contention until the last couple weeks of the season and finished only five points out of first place.
With a veteran squad, Merrimack could be in the title hunt all year long.
"It makes for a lot less mentoring and a little more coaching," Merrimack coach Mark Dennehy says. "We've got a lot of familiarity with how we want to play and the strengths and weaknesses of our players. There really was much more fine-tuning that went on this offseason than in years past.
"With that said, last year wasn't good enough, so we need to get five points better. But we have both goaltenders back, our defensive corps should remain strong, and now hopefully [everyone] is a little bit stronger, a little bit faster and maybe a little more confident. With that, we can get more consistent offensively and on the power play."
Sam Marotta and Rasmus Tirronen return between the pipes. Dennehy played the hot hand, but for the most part, Marotta took the lead.
"Both guys played really well in certain stretches," Dennehy says. "It got to the point where Sam kind of took the reins and ran with it, but we also were confident enough to throw Raz in there late in the season.
"Both guys came back in good shape, they're both confident and they both know where they fit."
The defense, led by Jordan Heywood, who finished second on the team in scoring, isn't bashful about jumping into the play.
"We've had at least three defensemen in the top scoring by position each of the last four years," Dennehy says. "We want our defensemen getting up in the play. We think [when we're] five-on-five, if they're not looking to jump into the offense then there's not going to be much offense."
Up front, Mike Collins doesn't get as much attention as other top scorers in the league but is an underrated threat. Behind him are a host of forwards with single-digit goals and double-digit points.
"Michael has been great for us from day one, but I think you're going to see [five or six] guys take their game to another level," Dennehy says.
"We had a lot of freshmen in the lineup last year that were called upon to play more than maybe they were capable of, but that experience should pay off. It's still going to be scoring by committee, but I think there will be more opportunities."
About the Warriors
2012-13 overall record: 15-17-6
2012-13 Hockey East record: 13-11-3 (sixth)
2013-14 predicted finish: Seventh
Key losses: F John Heffernan, D Kyle Bigos
Players to watch: F Mike Collins, F Shawn Bates, F Connor Toomey, D Justin Heywood, D Brendan Ellis, D Dan Kolomatis, G Sam Marotta
Impact rookies: F Hampus Gustafsson, F Chris LeBlanc, D Craig Wyszomirski, D Jonathan Lashyn
Why the Warriors will finish higher than predicted: The Warriors finished only five points out of first place and lost less talent than any other team.
Why the Warriors will finish lower than predicted: Given the margin between them and the lower four teams in the league last year — a larger gap than with first place — they'd really disappoint if they finish lower than seventh. But the margin between winning and losing remains tiny, so any lack of focus could still be fatal.