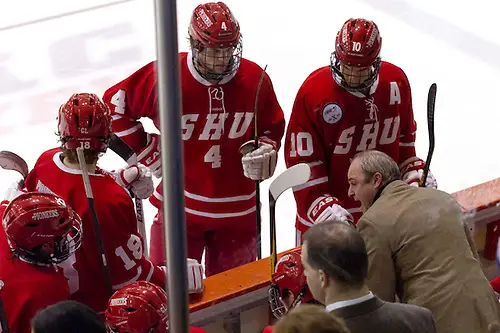 Here's our weekly look at big events and big issues around Division I men's college hockey.
Todd: Talk about setting a tone. We didn't even get out of the first Friday of the 2013-14 season before there was the first major upset. Sacred Heart, which won just two games last season, shocked No. 1 Massachusetts-Lowell on the road, sending a buzz around the college hockey community.
It was a great story for the Pioneers and quite a change from last year, but did it make you have any second thoughts about the River Hawks?
Jim: Yes and no. Yes in that these are must-win games for Lowell. The River Hawks were the better team on paper and didn't live up to expectations on the ice. But at the same time, Lowell has started slowly in each of the last two seasons and still recovered to make the NCAA tournament.
I give a lot of credit to Sacred Heart for game-planning well. The Pioneers got an early lead, kept Lowell to the perimeter and were able to quickly bounce back when Lowell scored. It seems to me, at least, this Sacred Heart team is nowhere near a two-win team like it was a season ago.
Todd: I think back to last season, when our Chris Lerch checked in with Sacred Heart in the weekly Atlantic Hockey roundup and found a team that, at that point, was 0-24-2 but still had coach C.J. Marottolo emphasizing positives. Michigan Tech was 4-30-4 in 2010-11 but rebounded for a 16-19-4 season a year later after a coaching change. Those kinds of turnarounds can happen, and while success at Sacred Heart is measured in different ways than at Lowell and the other ranked schools, it's good to see teams get rewarded.
Jim: Staying out east, the team that I thought may have been most impressive in the nation last weekend is Hockey East's newest member, Notre Dame. Playing a home-and-home series with Western Michigan, a team with high expectations of its own, the Irish not only swept but didn't allow a single goal in the two-game series.
Did Notre Dame put an early stake in the ground for national picture consideration?
Todd: I'd like to see a little more of Western Michigan to be able to judge how heavily to weigh Notre Dame's weekend. It's an impressive start, to be sure, but if the Broncos aren't going to live up to their preseason No. 18 ranking, I don't want to make more out of the result than is there.
That being said, I think we have to consider Steven Summerhays as being among the goalies to watch this season. He's a veteran and he had a full season of play last year to get him ready for what could be a pretty special season.
Notre Dame still has two more weeks of nonconference play before it gets into Hockey East games. What do you think this transition is going to be like for the Irish? Pretty much everything is going to be new for them this year.
Jim: I think that Notre Dame is the biggest X factor in Hockey East this year. In my opinion, the Irish could finish anywhere from first to fifth or sixth and no one would be surprised. They're a team that has a lot of experienced players, many of whom have played in a Frozen Four.
I was concerned about travel but coach Jeff Jackson says there will be less in Hockey East than there was in the CCHA. Personally, I think Notre Dame could be a real threat in the league.
Enough talk about the east. What stood out to you this past weekend in the new (or new look) western conferences?
Todd: Much like Notre Dame, Denver got through the opening weekend without allowing a goal in a pair of home games against Merrimack. That's a great start for the Pioneers under new coach Jim Montgomery, who put the credit on goaltender Sam Brittain.
Denver is one of those teams that I feel like could take some people by surprise this season. A coaching change has been known to spark players who formerly weren't quite reaching their full potential, and I could see that happening there.
The Big Ten is getting quite a bit of recognition early this season, with three of its teams in the top five of the USCHO.com Division I Men's Poll. Wisconsin won its first two games of the season for the first time since 2004 and for only the second time in Mike Eaves' 12-year tenure. I think the Badgers will be more like the team that finished last season with wins in eight of its last 10 games instead of the one that won only one of its first 11.
Jim: Despite Wisconsin's lopsided loss in the NCAA tournament, I thought there were few teams playing as well down the stretch last season as the Badgers. Thus, it will be worth watching to see if they can keep this going for the first month or so to position them well heading into Big Ten play.
Speaking of the Big Ten, and knowing that you live in Big Ten country, what are your preseason thoughts on this league? Obviously, all six teams can't make it to the NCAA tournament. Five of the clubs (all but Penn State) have been part of the Big Dance in relatively recent years. Which teams do you think may be on the outside looking in come March?
Todd: I don't think I'm alone in predicting that, overall, the league is going to be split in half this season — Wisconsin, Minnesota and Michigan in the top; Michigan State, Ohio State and Penn State in the bottom. Because of the 20-game league schedule, though, I wouldn't be surprised if the conference standings are a little different. And because of that, I wonder if the teams at third place and lower will have a good enough record to get an at-large spot.
Looking toward this week, we have the first conference series for the NCHC on the schedule, and it starts with a couple of good ones. New No. 1 Miami hosts No. 6 North Dakota and Colorado College hosts No. 20 Minnesota-Duluth. What games are catching your eye on this week's schedule?
Jim: Wisconsin traveling to No. 7 Boston College and No. 15 Boston University could be an interesting pair for the Badgers and certainly a good early road test.
Similarly, No. 5 Michigan's two-game series at No. 13 New Hampshire will tell us if the Wolverines' win over BC last Thursday was a fluke or not. You also have a battle of two of last year's Frozen Four teams in No. 9 Lowell and No. 14 Quinnipiac. No shortage of great hockey early in the season. Until next week …