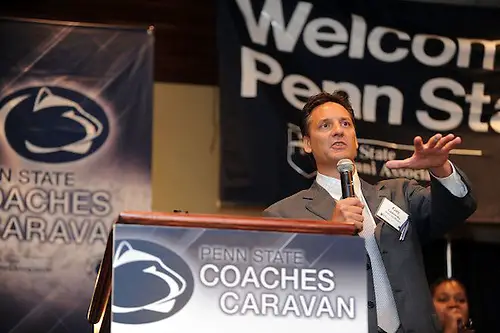 The moment the Penn State Nittany Lions took to the Pegula Arena ice for the first time last Friday night, it was clear. A new era of college hockey had arrived. The millions of dollars and years of waiting had been worth it. Now that the ceremony of it all has ended, the real work begins.
The arrival of Penn State is the most significant event in college hockey in the modern era, more than likely. The shift it stirred within college hockey clearly was one of seismic proportions.
After the upheaval of realignment, college hockey fans so steeped in tradition may fear what's next for the game they've cared for so deeply. However, as one watched what unfolded in Happy Valley last Friday night, it's hard not to feel a twinge of hopefulness for what the future holds, not only for the Penn State hockey program but the college game as a whole.
There is a newness to this season that brings along curiosity and intrigue, particularly at Penn State. There are new faces in new places, including new conferences. However, for college hockey to thrive in this era of realignment, that curiosity and intrigue needs to turn into regularly packed houses, higher TV ratings and better-attended postseason events. If it does, college hockey grows and gets better.
Penn State's arrival is a game-changer, not only because of what's already happened but what comes next. Just because Penn State added hockey doesn't necessarily mean others will follow suit. That's what makes the next couple of years in Happy Valley so important.
The image of a full Pegula Ice Arena, enthusiastic fan support and a team cruising to a home victory from Friday night is one that should stick with other athletic directors around the Big Ten. It will speak to them even louder if the that scene is a regular occurrence at the Peg.
Not only that, but 41 nationally televised games featuring Big Ten teams this season alone has to be an eye-opener for others within the conference.
Penn State, having taken the leap into Division I, is now college hockey's guinea pig. They have an unbelievable leg up with the monetary commitment from Terry Pegula, which not every school would be able to enjoy. It's a program that seems destined for success. How quickly the Nittany Lions can achieve that success may be a motivating factor for other schools to take a look at forming a college hockey program.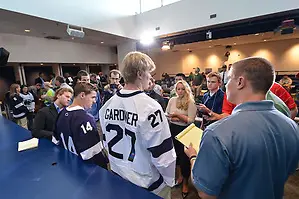 Those within the Big Ten know that a six-team conference is far from ideal. In order for the conference to strengthen its hockey branch, it will need growth. Ideally, that would come from other schools already affiliated with the conference formulating a Division I hockey team.
The affiliation of hockey within the Big Ten makes starting a program more appetizing for teams within the league, but that is what adds more weight to what Penn State is able to accomplish as a program in these first few seasons.
No question, Big Ten ADs are going to be watching. As we know in college athletics, money talks. The $102 million donation from Pegula to Penn State made it all possible, but beyond a charitable donation, a team has to stand on its own. If a sport as expensive as hockey can generate revenue, the start-up costs look more like an investment than a blind leap of faith.
It's not what Penn State does this season that will matter to college ADs, but what it does next year and the year after. The Nittany Lions are the new shiny thing on campus right now. If they struggle in the standings, will the stands remain full? Will they keep getting games on national TV? Will their fans travel well? Will they win?
These are the questions that are going to be of importance to big-program athletic directors going forward.
If Penn State goes through some adversity in the standings — which is highly probable with a young hockey team — but they still maintain the level of interest they appear to have now, that's interesting. If Penn State shows it can quickly become a legitimate championship contender, it's more than interesting — it shows hockey might be good business.
Schools won't want to start a sport in which they'd be a perpetual basement dweller. If Penn State turns its big-name appeal and state-of-the-art building into attracting elite recruits — and the program already has brought in some solid players — there's not much to say other Big Ten schools couldn't do the same.
The risk factor of starting hockey remains high. Most schools would need men's and women's hockey to appease Title IX requirements. That's a lot of money up front. That's why there needs to be a big-money donor of some kind. Those don't just grow on trees.
Pegula's gift is the separating factor. There aren't many schools that would be able to find someone to match what he did at Penn State. They may not have to, though.
Since the Big Ten is at six teams, there is incentive for the conference to dangle carrots for other programs within it to at least think about hockey. Whether that be reasonable arena standards or more favorable scholarship requirements, that may be something the conference has to acquiesce, at least temporarily.
Nebraska may be the best positioned of any of the Big Ten schools to add hockey. The newly constructed Pinnacle Bank Arena in downtown Lincoln, Neb., where Nebraska's basketball teams will play, has ice-making capabilities. It was done that way so in the event that Nebraska wanted to elevate to Division I, it would have a place to do it. The facility barrier, which is the biggest for any team, is seemingly removed in Lincoln.
Then there has always been the hopefulness of Illinois elevating its club hockey program, which is both popular on campus and successful throughout its history, much like Penn State. All that is at this point is hopefulness.
Don't think expansion within the Big Ten is the only way things could change in college hockey, though.
As Jennifer Heppel, who oversees hockey for the Big Ten, told the New York Times in a recent story about the conference, the league would consider affiliating teams for hockey only, though that would be years away. The conference admitted Johns Hopkins lacrosse this summer in order to institute the sport within the conference. Should that happen, the realignment wheel starts again, as it would be difficult to see many teams turning down an offer to join the Big Ten, with its big-name programs and unparalleled television package.
I don't think anyone in the college game would be happy about that kind of upheaval again.
One way or another, the Big Ten is going to change college hockey again, and it will be what goes down in Happy Valley that drives that change.