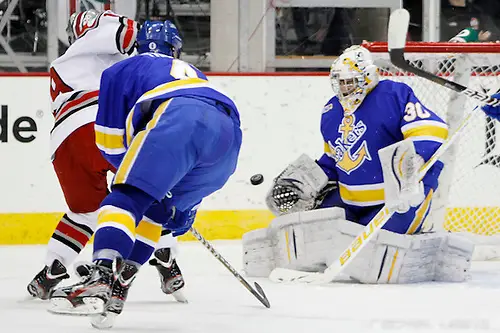 Here's our weekly look at big events and big issues around Division I men's college hockey.
Jim: Well, Todd, we're a couple of weeks into the season and it seems like the curse of the USCHO.com Division I Men's Poll is in full effect.
After Massachusetts-Lowell fell from No. 1 last week, Miami dropped a game against North Dakota and dropped from the top spot again this week. Of course, it's difficult to really predict which teams belong at the top this early in the season, so that's part of it.
And there are always some surprise teams out there that prove themselves early. Two of those that are sticking out to me are Northeastern and Lake Superior State. The jury is out on both, and Northeastern more so as it hasn't played the toughest schedule (Alabama-Huntsville and Holy Cross). But for the Lakers, you have to believe this is an improved team that is coming off a two-game road sweep of Union.
What are your thoughts of the Huskies and Lakers? And what other teams surprise you out of the gate?
Todd: My initial reaction with Lake Superior State is that it's too early to heap praise on the Lakers for anything more than a job well done in their first four games. And give them credit for that — Union hadn't been swept at home in nearly two years, so it's a productive step for Lake State to get that done.
But, digging into the statistics, it's hard to say that the Lakers were a dominant team in Schenectady. Union outshot them by 11 shots on Friday and by a whopping 31 shots on Saturday. Even though the Lakers have a strong, senior goaltending corps in Kevin Kapalka and Kevin Murdock, I don't think they can make a habit of being minus-42 in the shots-on-goal category for a weekend.
I would put Northeastern in the wait-and-see category as well for the reason that you suggested: the opponents. With St. Lawrence and Boston College on the schedule in the next two weeks, it shouldn't take us long to get an answer on how viable a team the Huskies are this season.
I have been a little surprised by some of the results coming out of the Alaska tournaments in the last two weekends. First, it was Alaska-Anchorage knocking off Quinnipiac, then both Anchorage and Alaska took down Denver in overtime. Then again, I learned a long time ago to never be surprised at what happens in Alaska — a lot of variables get introduced there that don't factor in the Lower 48.
Jim: My eyes certainly opened when I saw the results in Anchorage this past weekend. But for me, it was the fact that Denver lost twice. This is the same Denver team that a week ago didn't allow a single goal against Merrimack. Yes, travel to Alaska isn't the easiest thing and sometimes that factors in. But I expected the Pioneers to come home with a split at worst.
I can say that same thing for a few teams. New Hampshire tied and lost at home against Michigan and is 1-2-1. Lowell was swept by Quinnipiac (which, by the way, hasn't fallen off much from last year no matter how many players it lost) and the River Hawks are 1-3.
And then there is Wisconsin, the No. 2 team in the poll a week ago that was whacked badly on its trip to Boston, losing 9-2 to Boston College and 7-3 to Boston University. Were those results the biggest shockers to you?
Todd: I'll say this: I was not surprised Wisconsin lost twice in Boston. I was surprised by the margins. A team as veteran as the Badgers should know how to play in opposing buildings, unfamiliar or not. And it sounds like they weren't ready for what they faced, at least against the Eagles on Friday. That's something the Badgers have to figure out before they'll rise to an elite level this season.
We'll see how Boston College does in that situation at Minnesota on Friday, but the Eagles have more recent experience with the Gophers — and maybe a chip on their shoulders after losing 8-1 last season. How much motivation do you think there is this week for the Eagles?
Jim: I think this weekend provides major motivation for BC. When you look back to last season, its game at Minnesota was a major turning point in the season. Though there were some high points after that game, the 8-1 loss seemed to put some doubt in the heads of BC's players and, in the end, the Eagles lost out on the regular season and postseason Hockey East titles and were eliminated in the first round of the NCAA tournament.
Last weekend proved BC can score goals against elite teams. This weekend will show how BC skates on the road with the nation's best.
Todd: And this week's Division I Men's Poll has Minnesota in the No. 1 position, which, as you pointed out up top, hasn't been kind to its owners so far this season. We'll see if that trend continues.
On an individual level, few are having better starts to the season than Rensselaer's Ryan Haggerty. Through four games, the junior has seven goals, including a hat trick in last Saturday's 7-1 win over Sacred Heart. He also had a pair of goals in a 3-1 win over Boston University the night before. This could be a name to keep in mind as the season continues.
Jim: I know from experience that Hobey Baker Award voters love points. So Haggerty has a solid start. Northeastern's Kevin Roy and Minnesota's Sam Warning both have nine points, though fewer goals, through four games. And BC's Johnny Gaudreau is on a 2.33-points-per-game pace already with seven points in three games to lead the nation in points per game. It is early but all four have Hobey potential.
This weekend upcoming should be interesting with newly-No. 1 Minnesota hosting BC for two. That, by far, leads my list of games to watch, though the Ivies getting some ice time this weekend gives us Cornell at Nebraska-Omaha — a good early test for the nationally ranked Big Red — and defending national champion Yale as part of the Liberty Invitational in Newark, N.J., alongside Princeton, Brown and Dartmouth.
So what games will grab your attention?
Todd: There are some more good east-west matchups to watch besides BC-Minnesota. No. 8 Providence hosts No. 3 Miami in a two-game series, while No. 4 Michigan hosts No. 13 Boston University and No. 18 Massachusetts-Lowell.
Providence is off to a 3-0 start with two wins over Minnesota State and a blowout win over American International. This series against the RedHawks should be a great test for the Friars.