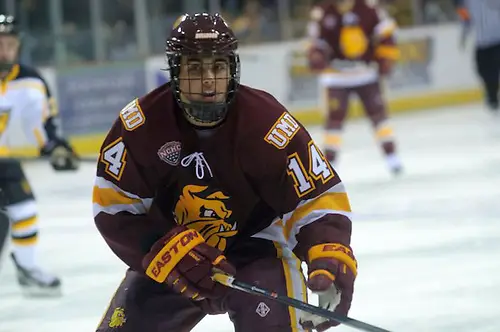 After four games last season, Minnesota-Duluth was 2-2. The Bulldogs had just split with Ohio State at home to open the season, then traveled to Notre Dame and split there. They promptly went into a swoon thereafter, going 1-5-2.
This season, with six games under their belt, the Bulldogs are again coming off a split with Notre Dame, this time at home, before traveling to Ohio State. In fact, the Bulldogs next six games are on the road, a murderer's row stretch that also includes stops in Grand Forks to face North Dakota and Minneapolis to face Minnesota.
"It doesn't pay to look anywhere except the next game," said Bulldogs coach Scott Sandelin. "I think that the schedule we have, whether it is nonconference or league, we have a lot of tough opponents and we have a weekend off after this, so it kind of breaks up the six-game stretch.
"You just have to worry about who you are playing each weekend. It doesn't matter what league they are in, everybody is a pretty good hockey team, so we are focused on how we have to play the game each and every night. I think that's one thing we have stressed a lot, trying to play the game the right way, and if you do that, you are going to give yourself a good chance to win some games. If we don't do that, you're not."
After opening with a win and a tie against Michigan Tech, the Bulldogs split at Colorado College and at home against the Fighting Irish. In both series, the Bulldogs lost on Friday and rebounded on Saturday.
Sandelin said he sees a lot of similarities in those two series and what his young team can learn from them.
"I think our first third of the weekend, our first two periods Friday, were a little better against Notre Dame, but very similar, and our last four periods have been pretty good," he said. "We just have to figure out the first third, and hopefully we can do that soon."
The Bulldogs have a balanced scoring attack that is led in part by two freshmen, Kyle Osterberg and Alex Iafallo, who came into the season somewhat unheralded. Both have four points, tied with senior Joe Basaraba and junior Caleb Herbert for the points lead on the team.
"I think we expected those guys to contribute," said Sandelin. "I think both of those guys [Osterberg and Iafallo] came in under the radar a bit. A lot of people talked about Dom [Dominic Toninato] because of his good year. It's just good to see those guys getting adapted to college hockey and having some success offensively.
"They are learning every game. They are certainly guys that, like all of our freshmen, we knew we were going to count on those guys to play some minutes, some more than others. And right now, I think they've all done a pretty admirable job for freshmen stepping into this league, especially our young defensemen."
The defense, too, has relied on contributions from rookies, with Carson Soucy tied with several players for second on the team in scoring and Willie Raskob also helping to key the defense.
In fact, most of the Bulldogs' blue line corps is underclassmen; they have one senior in Luke McManus, and a couple of juniors, Tim Smith and Derik Johnson. Yet despite that youth, Duluth sits at third nationally in team defense, allowing just 1.67 goals against per game.
"I think defensively, our team has played pretty well," said Sandelin. "I think last weekend was a great test against certainly a real good hockey team that is big, is strong, is fast. There's not a lot of holes in their team. We played those guys our third pretty well. I think they were better Saturday. Again, it's a learning process.
"It's not an easy position to play as a young player, and I think they are both [Soucy and Raskob] getting a lot of ice time. Since the preseason, I think we've seen them improve each week. We know the ups and downs they are going to have during the year like all freshmen do, but hopefully those peaks and valleys aren't extreme, and right now we haven't seen a lot of them."
Coming into the season, Sandelin expected that sophomore Matt McNeely would be his starting netminder, but so far, time has been split evenly between McNeely and senior Aaron Crandall, with the latter starting both games against Notre Dame.
Having two goalies playing well is something that excites Sandelin.
"I am going with whoever is playing well right now," Sandelin laughed. "Obviously, Matt had two good games against [Michigan] Tech and an OK game against CC and then we threw Aaron in there and he played well, and he's played three solid games for us.
"So right now, that's actually a bonus for our team, because I think both of them have played pretty well so far. Hopefully, that will continue, because we are going to need it."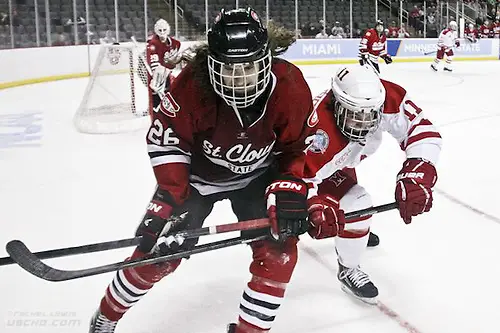 St. Cloud State readies for conference action
St. Cloud State, 3-0-1 after a pair of nonconference series, is readying for two big weekends. The Huskies travel to North Dakota this weekend to open their NCHC season and then host Miami. Those two teams are the ones St. Cloud is expected to battle for the Penrose Cup, given to the winner of the NCHC regular season.
Through the first four games, coach Bob Motzko has been pleased with the overall play of his team, but sees some areas that need improvement.
"We've had different lines all four games, and we're still trying to search for our combinations," he said. "I think we are going through some of the normal growths of a hockey team right now. We had some dynamic changes to our roster, and so we are trying to put the right people in the right seats on the bus, and it's trial and error.
"You kind of guess early, play a few games, and you start to figure it out. I'm real happy with those guys that are returning. I don't think they are playing at the top yet, but they are playing very consistent and strong for us right now."
Offensively, the Huskies have been led by senior co-captain Nic Dowd and sophomore Jonny Brodzinski, both of whom have four points. A few other players have also come through on the offense, including sophomore Kalle Kossila, as well as two freshmen, defenseman Niklas Nevalainen and forward Ryan Papa.
"We've been scoring some goals, obviously, but our offense is a little behind right now," said Motzko. "I think that might be a normal thing. With the bye week, you'd like to have played some games right there. We kind of showed it in spurts, but we haven't sustained great play for long periods of time.
"Our power play is not clicking great yet. It's still early to be evaluating that. We're moving in a good direction, but I'd like to see our offense have more sustained play from a pressure standpoint and making some plays and not have these lulls."
One area where Motzko expects improvement is defense — in three of the four games the Huskies have played, they have jumped out to early leads only to let the opponent back into the game. Motzko expects to see better play from goaltender Ryan Faragher, and better overall team defense.
"He's played three of them, and he's 3-0," Motzko said of Faragher. "He's off to a good start from that standpoint. I think he still has to work on that consistency. One thing we've done is we've had leads in all three of those games. We had 2-0, 2-0 and 4-0 leads, and the teams have all come back. We have to continue to work on that consistency.
"Part of that might be a little bit goaltending, and part of that might be a little bit our systems and our play and the teams we've been playing. It's still something we need to work on, but we're making progress and we like the start that's Ryan's off to."
According to Motzko, the team is excited about its trip to Grand Forks this weekend to face North Dakota, which the Huskies see as an important test.
"We have been playing them four times every year since I've been here, and it's always early in the year," Motzko said. "It's a great test for your team and a great opportunity to move your season forward and start to get better. We're excited for it."
Important exhibition
While last Saturday's game against the U.S. Under-18 team was just an exhibition for North Dakota (which it won, 4-1), the game meant a lot for the team, especially junior and senior brothers Mark and Mitch MacMillan.
The team wore pink jerseys in support of North Dakota Strong, which raises money and awareness for breast cancer research during October.
"Our family has been affected by it pretty immensely, like everyone has," Mitch MacMillan said in a video interview with North Dakota Athletics. "Everyone knows somebody or has a relative or friend who has been affected by breast cancer. My grandma passed away when I believe I was 1 or something, so I barely got to know her. She got to meet me a little bit, but she never got to meet Mark or our sister, Alyssa. Now we've had two aunts who have been diagnosed with breast cancer but who have survived it."
The game-worn jerseys are being auctioned off here, with all proceeds going to the Mayo Clinic for breast cancer research. That will benefit the patients at the Altru Health System in Grand Forks, which is part of the Mayo Clinic Health Network.
In the video interview with North Dakota Athletics, Mark MacMillan said: "I know the past few years, they have been having the North Dakota Strong campaign, and this has just ramped it up a bit. It's awesome. All the other teams are getting involved. We are having pink games for other events as well, and other student-athletes are speaking like me who have been affected by breast cancer at a personal level, so it's awesome to see the support."
The game was one of four North Dakota sports games in support of North Dakota Strong. The women's ice hockey team also got involved, as its series against Ohio State Oct. 18-19 (which North Dakota split), was part of the event. During those games, donations were also taken from fans at the games.
NCHC players of the week
Offensive player of the week — Austin Czarnik, Miami: In a tough weekend out in Providence, Czarnik was an offensive force for Miami, assisting on five of the RedHawks' six goals. Four assists came on power-play goals, and one was on a short-handed tally. Czarnik had the primary assist on the two goals that helped Miami rally to tie Providence on Friday before the RedHawks lost in overtime, and helped his squad rally from a two-goal deficit again on Saturday to earn a 4-4 tie.
Defensive player of the week — Ethan Prow, St. Cloud State: Prow notched three assists during the Huskies' road sweep of Colgate while finishing a plus-3 and blocking four shots in each game. He assisted on the game-winning goal in the third period Friday, and helped the penalty kill go 5-for-7 on the weekend; he wasn't on the ice for either power-play goal.
Rookie of the week — Ryan Papa, St. Cloud State: Papa scored his first two collegiate goals while helping St. Cloud sweep Colgate. He scored a goal in the second period of Friday's 4-2 win, and his goal Saturday gave St. Cloud a brief 2-0 lead in a 4-3 win. Papa also posted a plus-1 rating in each game.
Goalie of the week — Josh Thorimbert, Colorado College: Though the Tigers' offense was MIA in a road series against Clarkson, Thorimbert was a bright spot, stopping 70 of 73 shots for a .959 save percentage and 1.45 GAA. He stopped 28 shots in Friday's 2-1 loss, allowing just one goal at even strength, and stopped 42 shots Saturday before Clarkson scored with 9.9 seconds left in overtime.