The beginning of Atlantic Hockey's 2013-14 season was very much trick rather than treat.
The league is in the midst of one of its worst nonconference showings in years, and after having two teams in the NCAA tournament a year ago, it's increasingly appearing as if only the automatic bid will earn a low seed come the spring.
Yet there are positives to take away from what's been an arduous start. Sacred Heart upended the then-No. 1 team in the nation when it beat Massachusetts-Lowell. Air Force swept Penn State. Mercyhurst picked up a win against Merrimack. And the league games themselves have been some of the most exciting so far this season.
Despite a 1-5 start and five-game losing streak, the Bentley Falcons are playing some of their most competitive hockey in two years, and two of their players are well on their way with a march into the program's all-time record books. All of this comes as they continue an eight-game road stretch to open the season and a first half in which they'll play only four games in their own barn.
After defeating Nebraska-Omaha 6-4 on opening night, Bentley has since lost a return match with the Mavericks and road games to Sacred Heart, Maine, Quinnipiac and Harvard. They've been in each of the games, losing by more than two only once (at Harvard). And they're developing a team that's looking toward its league games with a more determined eye after a disappointing season last year.
"I think last year taught us a lot about who we were and what we could be as a team," coach Ryan Soderquist said. "We refocused this year and while the results haven't been there, there are things that I see in this team coming together that keep us poised for a great year. It's a completely different attitude that we have in practice, on game day, and it has us really excited to get into the bulk of our league games."
Soderquist's Falcons are being led by two players marching toward history. Goalie Branden Komm needs just one win to become the fourth goalie in program history with 30 career wins. Six more wins will tie him for the all-time wins record.
He holds the two greatest single-season GAAs for his work over the last two years, and he is first or second in appearances, saves, shutouts and career GAA. In that last category, he's the only Bentley goalie to record a career GAA under 3.00 with that number still in progress. Last summer, he spent time in the NHL development camp for the Ottawa Senators, just over the border from his native Buffalo area.
This season, Komm recorded at least 30 saves in each game except for the loss to Sacred Heart. Against Quinnipiac, he saved 46 shots in a one-goal loss as the Bobcats outshot Bentley 50-13. In his last two games, he's saved 82 of 89 shots with a .921 save percentage.
Bentley has a goal differential of -0.33, a number it wants to improve but one that still ranks third among AHA programs.
"I think when you look at stats, if I'm first or second at anything, it's more of a compliment to how the team can play, how far the program has come at Division I, and how far we can go in terms of hopefully getting that first [AHA] title and first NCAA appearance," Komm said.
"Before the puck can get to me, it has to get through five other guys. So even if it's a shot on goal, if they can change the angle or force something that's easier to stop, then that's about the entire team more than it is about one guy."
Alongside Komm, senior forward Brett Gensler is on the verge of breaking the team's Division I scoring record. With 54 career goals, the 2012 Walter Brown Award winner needs just eight strikes to tie the record. And with 63 assists, he's three away from moving into second and 21 away from taking the lead for the program at the NCAA's top flight.
Beyond that, his 117 career points ranks ninth all-time at any level, and his 52 points in 2011-12 is a program record he claimed from his head coach.
"Brett's a player that we need to be complete on the ice, not just a scorer," said Soderquist. "When he's able to dish the puck and find other guys, it really opens up our opportunities and creates chances to score for others and, when the attention is off him, for himself as well."
The Falcons wrap up their season-opening road trip this weekend when they head to Merrimack on Friday and conference foe Army on Saturday.
Bad Jackets, good Jackets
American International opened its season Oct. 19 by shocking Schneider Arena and Providence with a 1-0 lead in the first period and a 1-1 tie after the frame. Halfway through the second period, the Yellow Jackets trailed by only one.
Then the floodgates opened, and the Friars scored two sets of three unanswered goals to win 10-4. It was the first time the Yellow Jackets allowed double digits in goals since Oct. 23, 2011, when Air Force landed 12.
But a positive mind-set of a team that didn't quit spilled over a week later at home against Sacred Heart. Switching Ryan Kerpan for Ty Reichenbach in net, AIC took a 3-0 lead in the second period and defeated the Pioneers 4-1 to win their league-opening game for the first time in two years. Coincidentally, the last time AIC won its first league game, it was also over the Pioneers, at home.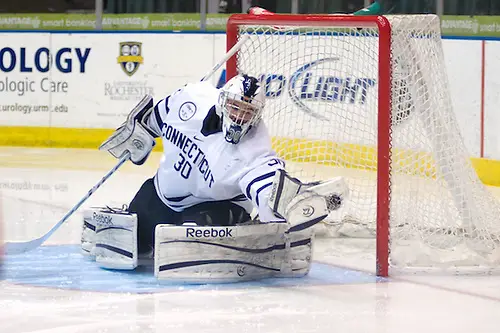 Grogan just getting warmed up in Storrs
Last year, Matt Grogan played well enough to wrestle Connecticut's starting goalie job away from Garrett Bartus, the bread and butter of the program for three years.
Grogan, who had played in 10 games over the two years prior, ended up playing in 23 games last season, notching a 1.93 GAA and .937 save percentage, good enough for eighth and fifth in the country, respectively. In both categories, he finished second in the league to only Carsen Chubak from Niagara.
Back for a fifth year after redshirting as a freshman, Grogan struggled by his standards at Minnesota State on opening night, allowing two goals and stopping only 29 shots as UConn lost 2-1. The next night, he let in six goals despite stopping 42 shots, and the Huskies lost 6-1 to the Mavericks.
Grogan broke through in a big way last week, though, when he saved 47 shots and took a 2-2 tie from visiting Union. The Dutchmen, who have been to three consecutive national tournaments, including one Frozen Four and another regional final, outshot the Huskies 49-23. Even though the UConn defense would love to have a better showing, it has to help knowing that it has a stone wall protecting its goal.
The wild, wild west
If the league's slate of games is any indication so far, the west is going to be a wild shootout.
Air Force beat Canisius on Friday and Niagara on Saturday, scoring seven goals in the latter. Niagara and Robert Morris skated to a 3-3 tie with a combined 77 shots on goal. Niagara has beaten Canisius. Canisius beat nationally ranked Denver in a nonconference game.
If this is setting a trend, pencil in games this weekend for viewing pleasure. Air Force comes east to play Rochester Institute of Technology and Mercyhurst. One big dog in the yard plays another big dog before taking on a team that's predicted by many to be the biggest dog this season.
Players of the week
Continuing the trend of picking our own players of the week, I'd be remiss if I didn't point out the league's choices for top skaters. The AHA chose Chad Demers from Air Force as the player of the week, with Canisius' Keegan Asmundsen as the goalie of the week.
All respect to Dick Vitale, the league took Kyle Dutra as its "diaper dandy," naming the Mercyhurst freshman as rookie of the week. I'm going to agree in a couple of areas, but I'm disagreeing in goal.
Player of the week — Air Force forward Chad Demers: The big, bad Falcons are picking up steam after their opening weekend blues in Alaska. Taking conference wins over Canisius and Niagara, Demers scored four points for the cadets, including three against Niagara. He had an assist on the game-winner against Canisius and has points in five straight games. Through six games, he has nine points, including seven assists.
Goalie of the week — Connecticut's Matt Grogan: Maybe I'm a sucker for the eastern goalies, but Grogan put together one of the finest performances in the nation's short season so far in the 2-2 tie against Union. His Huskies were outshot 16-6 in the first period and trailed 2-0 after one. In the second period, he served as a major catalyst in the UConn comeback, stopping all 19 Dutchmen shots as his team tied the game despite being outshot 19-12. He stopped 11 more in the third, then all three in overtime (UConn did not have a shot on goal in the extra frame).
Rookie of the week — Mercyhurst forward Kyle Dutra: Dutra was solid at both ends of the ice last week for the Lakers, scoring his first two career points with an assist in each game against Alaska. He is a top-six forward for the Lakers, but his greatest achievement in my opinion came from his two-way ability. He peppered the Nanooks defense with seven shots on goal, then blocked three in his own end. Well-earned bruises and hustle earn him the honors as best newbie this week.