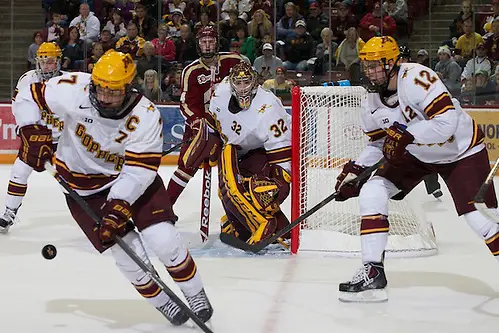 After six contests, and going into its first off weekend of the season, Minnesota is 5-0-1, the No. 1 team in the nation and riding a hot streak.
Sound familiar?
Minnesota was 6-2-2 in its first 10 games last season and went 9-1 in its first 10 contests of the 2011-12 season. The Gophers made it to the Frozen Four in 2012 and were bounced in the first round of the tournament last year by eventual champion Yale.
Though the Gophers had a high national ranking last year as well, this year's start seems more impressive because of the competition they have faced. Minnesota's only ranked opponent in its first 10 games of last season was Michigan State. The Gophers swept the Spartans on opening weekend and Michigan State disappeared from the rankings shortly after.
This season, the team has picked up impressive victories over New Hampshire and looked good in its series last weekend against Boston College. Minnesota tied BC 3-3 on Friday and took down the Eagles 6-1 on Sunday afternoon.
"There are a lot of good teams right now, we won a couple games this weekend, and that's really all it means," Minnesota coach Don Lucia said after Sunday's win. "We have to continue to work to get better. There are some areas of our game defensively that we have to get better. We have to stay healthy and keep moving forward."
The team's health came into play for the first time last weekend when Jake Parenteau suffered an upper-body injury after losing his footing and crashing into the Gophers' goalpost during Friday's game against BC.
"It's a little bit different, you know, guys are in and out of the lineup," sophomore defenseman Mike Reilly said. "It's tough to lose a great player like that — he was definitely a big part of the first five games. We've got to adjust just a little bit, but [Jake] Bischoff came in and played great for us."
Minnesota's start to this season may have come as a surprise to many because of the five early departures from last year's team. The Gophers' freshmen have stepped up in a big way early this season. Freshmen Justin Kloos (9 points), Hudson Fasching (8) and Taylor Cammarata (6) are all in the top five on the team in scoring this season.
"I think we are starting to build a little identity of a team," Reilly said. "We had to face one of the fastest teams in the nation. We haven't really faced a team like that. I know it's early on, but it's a team we can probably face later on at the end of the year definitely."
One thing that remains to be seen this season is how the Gophers can handle a ranked opponent on the road. Minnesota has played only two games away from Mariucci Arena this season, a road sweep of Bemidji State. Sanford Center may have even felt like home for Minnesota, as a lot of Gophers fans made the trip.
After their off weekend this week the Gophers will get that first road test next weekend when they travel to No. 2 Notre Dame for a two-game series.
"I think it's good to regroup going into a team like Notre Dame," Reilly said. "It's going to be hard against them, but I know that if we go into practice Tuesday, Wednesday, Thursday and focus we can get ready for Notre Dame."
Young pups big for Wolverines
Michigan may have lost for the first time last weekend, but thanks to early season wins over Boston College, New Hampshire and Boston University, the No. 4 Wolverines (4-1-1) have established themselves as a definite contender in the Big Ten.
A lot of the credit for the team's success can go to its freshmen.
Freshmen Tyler Motte leads the team with four goals, and JT Compher leads Michigan with five assists. Freshman Evan Allen has also picked up two goals for the Wolverines this season. All three freshmen forwards have spent time together on the second line so far this season.
"I just had a good feel for these three; they're competing hard," Michigan coach Red Berenson said. "They're always making good decisions on the ice."
The trio of players seem to be comfortable playing together, because they have played together before this season.
"We're all the same age, and we've all been together for a few years," Allen said. "Me and Tyler have been together before that, so I think we have a lot in common on the ice and off the ice. I think we play together really well, and we want to keep it going."
Michigan also has a solid freshman between the pipes in Zach Nagelvoort, who has a 2-1 record this season. Nagelvoort stopped 18 of 19 shots last Friday against Boston University and stopped 34 of 36 in Saturday's loss to Lowell.
"I really liked our goalie," Berenson said after Friday's game. "This was his first home start. There was a lot of pressure on him for a lot of reasons: He's a local Michigan kid, his grandparents live here, he has always wanted to come to Michigan. This was his chance to start at home, and I thought he looked solid."
Senior defenseman Mac Bennett also took note of the freshman's strong play in net last weekend.
"It's a huge confidence booster, that's for sure. He played fantastic tonight," Bennett said after Saturday's game. "And he gave us a chance to win this game. He's been really, really solid since he's come in, and I'm really happy with his play."
Badgers look to rebound at home after off week
With the beatdown that No. 13 Wisconsin took in Boston now a semi-distant memory thanks to an off weekend, the Badgers will look to get back on track this weekend when they welcome undefeated No. 12 Lake Superior State to the Kohl Center.
"I like the way we went back to work last week. We accomplished a lot of things that we as a coaching staff set out to do," Wisconsin coach Mike Eaves said. "And so when we left the week on Friday, we felt that we went back to the basics. We worked hard, we worked smart and we worked on playing as a team. So we feel it was a good week."
Wisconsin's struggles in Beantown happened with a key player not on the trip. Junior goaltender Joel Rumpel was sidelined with an ankle injury suffered during practice.
Rumpel is be part of another Wisconsin goaltending duo this season. Landon Peterson started the Badgers' first game against Northern Michigan and Rumpel made the start in the second game. Peterson made both starts against Boston College and Boston University, gave up 13 goals and got yanked in the game against BC in favor of third-string goalie Adam Miller.
"Right now we're hopeful for the weekend but that will be determined pretty strongly over the next couple of days," Eaves said Monday of the possibility of Rumpel playing this weekend.
This weekend, it will be even more important for the Badgers to get back on track because their next two weekends will be on the road at Miami and Minnesota.
Three stars
First star — Ohio State junior forward Nick Oddo: Oddo had two goals and one assist in the Buckeyes' first two victories of the season last weekend over Robert Morris. He was the only player in the conference to light the lamp more than once over the weekend. Oddo is also the first player not from Michigan or Minnesota to be honored with a Big Ten weekly award.
Second star — Minnesota junior forward Sam Warning: Warning has to have gotten used to seeing his name in the weekly awards by now. This is the third straight week he has received the honor. Minnesota's speedy forward notched three assists in last weekend's tie with and win over Boston College. Warning is tied for the national scoring lead with 12 points.
Third star — Michigan freshman goaltender Zach Nagelvoort: Nagelvoort racked up 52 saves last weekend against Boston University and Massachusetts-Lowell. He picked up the win over BU, but Michigan dropped Saturday's game to Lowell.