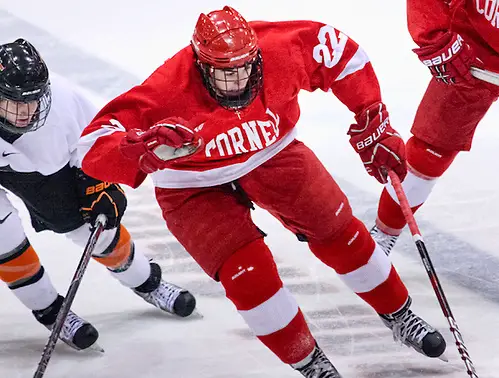 Brown and Cornell finished the 2012-13 regular season in seventh and ninth place, respectively. It was a moderately successful year for a gradually improving Brown program; it was a season to forget in Ithaca.
Both squads look to make big steps forward this year, and both have good reason to expect as much.
After Cornell's sweep of Nebraska-Omaha in the Cornhusker State and Brown's triumph in the inaugural Liberty Hockey Invitational, the mood is so far, so good.
Red road-ready
What was the big difference between the Mavericks and Big Red? Two fractions: 2/14 and 7/15.
The two and seven represent power-play goals; the 14 and 15, power-play opportunities. That'll do it, all right.
"We found a way to win. Our special teams did well for us on the weekend," Cornell coach Mike Schafer said. "We have a lot of things to improve as far as our game is concerned. UNO is a good hockey team, and Friday and Saturday we needed good special teams and good goaltending to win the game."
The visiting Red scored three power-play goals in Friday's 5-3 win and piled on with four more with the man advantage in Saturday's 4-3 final. UNO outshot the Red 71-33 on the weekend (40-13 on Friday alone), but senior goaltender Andy Iles was up to the task with 65 stops.
Unfortunately, even Iles' best can't placate Schafer, who has seen a little bit of everything as he closes in on two full decades behind the Cornell bench.
"As a coach, you're a worrywart all year," Schafer said. "All things at all times — that's what you [fret about] as a coach. You constantly worry about trying to generate offense five on five, defense five on five. You're constantly worried about your power play and penalty kill. You're always paying attention to all aspects of your game. You can always use improvement."
That's not to say that the coach is cranky … just diligent. He sees great promise in this team after all, in both its returners and the rookies.
"I'm happy with some of our returning players, like [junior forward] Madison Dias, [sophomore forward] Johnny Knisley, and I'm happy our offensive players have gotten off to a quick start. And obviously I'm happy with some of the adjustments that our freshmen have made. You see [rookie defender] Patrick McCarron as an offensive guy who we thought would do the job; he's done that. [Forward] Eric Freschi has been a great addition, is strong defensively, plays hard. Definitely happy with some of the freshmen and their transition to college hockey."
Schafer also mused about the spotlight being freshly cast on ECAC Hockey in light of last year's NCAA success, and what it means for the league to post such strong nonconference results out of the gate this fall (26-11-4, best in the country).
"You look at the games last year in the NCAAs, on the national scale, and obviously our teams did very, very well," Schafer said. "I think that comes across to some of the rest of the country as a surprise, but not to the members of the league. I think it was important for us to come back as a league and have a strong start to kind of reinforce the strength of different teams.
"You've got Clarkson, who was picked really low — picked to finish 12th in our league — and they're off to a 6-1-1 start. They've got a really good hockey team. It's just a matter of the league being extremely tough this year, and that helps everybody involved. The strength of the league is going to help [regarding] the NCAAs down the road, and not only make you better but get more [ECAC] teams in it.
"I think that the league itself has always put up good teams on any given year, but it's just recently over the last three or four years that the depth of the league has started to get better."
Schafer now draws positive comparisons between the ECAC's current status and the way leagues like Hockey East and the former WCHA have been in recent years.
"Last year, Yale won the national championship but finished fourth in the conference tournament," he said. "That's the kind of success that you've seen from some of the other leagues on a given year. For us, it's refreshing that it's happening but it's also something — as a veteran coach — I know that if you want to change people's opinions, you've got to have continued success."
As for Cornell, the Red have no recent laurels to rest on. Last year's dismal campaign featured a season-sinking seven-game losing skid (and 10 losses in 11 games) to open the 2013 calendar year. It's a new season and a new page for Schafer's side.
"For us, we just hope to have a similar kind of year in the sense of different parts of the season — and just not have a seven-game skid right in the middle of it," he said. "That's what we hope the difference is."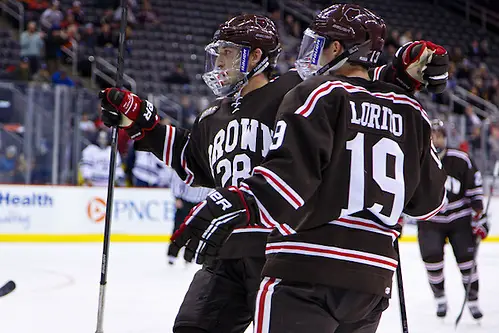 Bruno on the rise
Following stunning victories over Yale and Dartmouth in Newark, N.J., last weekend, Brown is off to its first 2-0 start in 11 years. As much as he hates to admit it, even coach Brendan Whittet is a bit surprised.
"When you're looking at the opponent — the defending national champs, and all the weapons they have coming back — I was a little nervous, honestly, going into it," he said. "We responded really well. The guys started off a little slow — I thought Yale had us back on our heels a little bit for the first period, and then we got comfortable and we played a great game from the second period on."
The game was not without its trials, as senior captain and Maple Leafs draft pick Dennis Robertson was ushered from the game in the 24th minute for a hit-from-behind major and game misconduct. That left the team without its leader and top defenseman.
"It was a continuation of our defensive responsibility, tenacity, puck management, determination and passion from the prior year," Whittet said. "It was good to see that continuation, and it was good to see how we responded to some adversity. We were down 1-0, and our captain had gotten a five-minute major, was out of the game, and everybody responded really well. It was neat to see, because it's a mature team in that regard. There was no panic."
For the first time in recent memory, the Bears possess a handful of credible, reliable offensive threats to go along with their tremendous grinding ability and work ethic.
"To cap the weekend with a championship trophy, it was a great team effort, but also great individual efforts by [sophomore Mark] Naclerio, [sophomore Nick] Lappin, [junior Matt] Lorito, [sophomore] Brandon Pfeil, our goaltending was excellent — which I think a lot of people … would question [about this year's team]," Whittet said. "The guys played very, very well in their respective games."
For those who have tuned out Brown in the past, here's your chance to catch up on what could be a dynamic team.
"I'd say watch No. 28 — Nick Lappin — and No. 27, Mark Naclerio. Two sophomore forwards that do a lot of little things correct," Whittet said. "They're strong on pucks, they're around the net a lot offensively, they're unbelievably solid defensively, they're on both the power play and penalty kill. Their upside and potential are tremendous. Those are two guys who are ready to blossom, to take off, and their linemate's not too shabby either, in Matt Lorito."
Don't sleep, either, on Robertson, who has steadily compiled 54 points in 100 career games from the blue line.
"He's very responsible defensively," Whittet said. "He's the engine, he's the horse that drives our team from the back end. He's just an absolute beast of a player. He plays 30 minutes a night for us. He plays in all situations. He goes into corners and battles, and he comes out with pucks. He is everything you would want in a hockey player, and he's gotten better and better and better, and he has matured.
"He understands the timing of the game, when he should and shouldn't jump in. Should he jump in? Should he play defense? … We try and play him in every situation we can. He can play ridiculous amounts of minutes and not get tired. We look to him to be our leader, and he's done that very, very effectively."
Ultimately, what will separate a successful Brown campaign from the fits-and-spurts seasons of years past will be consistency. Coaches' favorite buzzword is a fleeting thing, and the Bears have yet to master the art of wire-to-wire effort.
"That's what we're searching for," Whittet said. "I talked to them the other day about starting at a high level and continuing to a higher level. I don't want peaks and valleys, and a lot of that will be borne out by how we approach each and every game. I tell our guys that there's only 29 games in an Ivy regular season, and we've already played two … we're down to 27. My expectation is that they play with intensity at a high level each time they step on the ice, and I believe that's realistic."