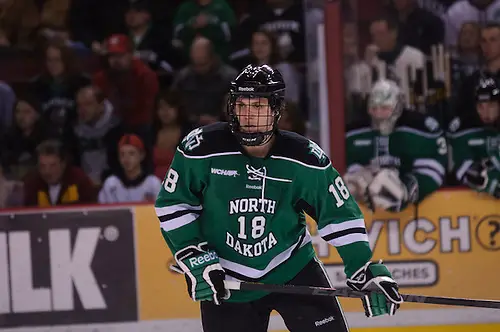 To find out what a performance from a hockey team's captain should look like, one needn't look much further than the game film from last weekend's series between No. 11 North Dakota and Nebraska-Omaha.
Dillon Simpson, a UND defenseman wearing a 'C' over his heart in his senior season in Grand Forks, only picked up one point all weekend against the Mavericks at Omaha's CenturyLink Center. What really made him stand out last weekend though, was his play when the puck wasn't on his stick.
UND's longest losing streak (three games) in one year turned into its longest losing skid in seven (four) Saturday night when UNO beat its visitors 4-2, but Simpson was arguably the last person anyone could blame for UND's loss that night.
In fact, UNO maybe would've won by an even greater margin Saturday were it not for Simpson. Of the 15 shots UND blocked in front of goaltender Zane Gothberg in that game, Simpson led the visitors by far with eight.
To put that into even deeper perspective, consider his teammates' numbers in that category Saturday: Only one other UND skater had two blocked shots in the game, and five had one apiece.
UND then won Sunday's rematch by a 3-2 count to salvage a series split. The visitors had to hold on for the final 20 minutes of the game though, after Simpson left in the second period due to an injury, and he could only watch when UNO forward Josh Archibald cut an earlier 3-1 UND lead to 3-2 with 12 seconds left in the game's middle frame.
Simpson's departure from the game further shortened a UND bench – which only had 12 forwards available going into last weekend – that was already beginning to run out of gas, just like it had in Saturday's third period against the Mavericks.
This time however, UND managed to hold on. Largely thanks to 11 saves in Sunday's third period from goaltender Clarke Saunders, UND battened down the hatches in the weekend's final frame and ground out the win.
UNO had its chances to find a second equalizer of the game, including a 5-on-3 power play for 1:46 in the middle of the third period as well as Mavericks defenseman Michael Young hitting the bar with a shot inside the final ten seconds of regulation, but UND forward Drake Caggiula's goal 8:52 into the second period ultimately stood up as the game-winner.
With its win Sunday evening, UND bumped its record up to 2-4-0-0 in the NCHC and 3-4-1 overall. UNO finished the weekend 3-1-0-0 in the NCHC and 5-5-0 overall.
Saunders and UND's top four remaining healthy defensemen in Jordan Schmaltz, Paul LaDue, Nick Mattson and Troy Stecher deserve a lot of credit for their performances in the third period as they kept the Mavericks' potent offense at bay.
However, what fans in Omaha saw last weekend from Simpson before he succumbed to an as-of-yet undisclosed injury was a masterclass in on-ice leadership and an athlete putting his body on the line for his team's cause.
Slow starts haven't deterred St. Cloud State
It's not at all uncommon to hear players and coaches speak in post-game interviews about an ability to overcome adversity. For the Huskies of third-ranked St. Cloud State, they're already getting plenty of experience of doing just that.
SCSU may have only managed a split at home last weekend with No. 7 Miami, but the Huskies' 2-1 win Saturday at the Herb Brooks National Hockey Center in St. Cloud, Minn. marked the fourth time this season they've taken at least a point despite trailing after the first period.
One night after the RedHawks blanked SCSU 2-0 thanks in large part to 31 saves from sophomore goaltender Ryan McKay, Miami got on the board first again Saturday's rematch. Max Cook did the honors, beating Huskies junior goalie Ryan Faragher 18:03 into Saturday's first period.
SCSU junior forward Garret Milan answered for the Huskies not long after the second period started, though, beating McKay just 1:34 into Saturday's middle frame. Things then got even better at 10:52 of the third period when Huskies sophomore forward David Morley latched onto a no-look centering feed from Jimmy Murray behind the RedHawk net before beating McKay for the eventual game-winning goal.
Saturday's win saw the Huskies finish the weekend tied on points for first place in the NCHC. Both SCSU and UNO are 3-1-0-0 in the league so far this season, although the Huskies (6-1-1) have a significantly better overall record than the Mavericks do.
Denver, Colorado College play out NCHC's first overtime shootout
We had to wait – some folks surely more excitedly than others – for the very first overtime shootout in the NCHC, but the moment finally arrived in Friday's Gold Pan rivalry game between Colorado College and Denver.
After playing to a 1-1 tie through 65 minutes at the World Arena in Colorado Springs Friday night, the game was settled with a shootout. DU won the shootout 2-0 to take two of the three league points initially on offer when the night began.
Pioneers defenseman Joey LaLeggia and DU forward David Makowski both beat CC goaltender Josh Thorimbert in the shootout. The Tigers' two shooters, forwards Charlie Taft and Andrew Krushelnyski, failed to find a way past DU goaltender Sam Brittain.
With the shootout win in Colorado Springs plus a 2-1 win over the Tigers in Saturday's rematch at DU's Magness Arena, Denver's record improved to 1-2-1-1 in the NCHC and 4-5-1 overall. CC fell to 1-4-1-0 in the NCHC and 1-6-1 overall.
Nationally, any shootout win in NCHC play counts as a tie.