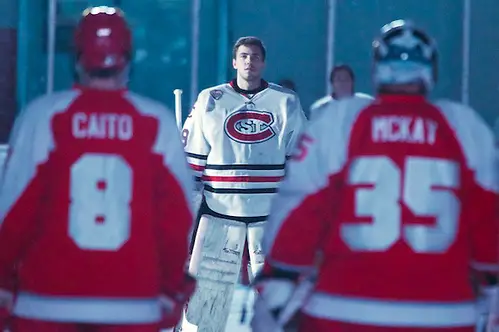 Here's our weekly look at big events and big issues around Division I men's college hockey.
Todd: I have to say I was hoping for some more decisive results from the big-time matchups we saw last weekend. No. 1 Minnesota split with No. 4 Notre Dame. No. 3 St. Cloud State split with No. 7 Miami. No. 5 Quinnipiac tied with No. 9 Yale.
I guess what it tells us is that there isn't a truly dominant team in college hockey this season. At least not yet. Am I reading that wrong?
Jim: No, I think you're dead on. Looking at the top five in this week's poll, I had a difficult time ranking each. And because of that, I think there was little change. The top four stayed the same, five and six swapped and no new teams entered the top 10. I, personally, have seen a couple of teams in Boston College and Quinnipiac that I believe have the talent, if they're each able to stay healthy, to be there come the end of the season.
The other thing that stands out to me is how far down you have to go in the poll to find a WCHA team. I think we all knew the conference would become a shell of itself, but I still thought that WCHA teams like Ferris State or Lake Superior would have a little bit of respect from the voters, but maybe I'm expecting a lot.
Todd: I think maybe it's because the teams people expected to be up there when making picks before the season haven't started very well. Minnesota State is 4-4 and dropped out of the rankings this week ahead of a series at No. 1 Minnesota. Ferris State has put together five straight wins but started 2-2. Lake Superior State has one win in its last four games after starting 4-0.
Teams are going to be judged not only on their record but on the company they keep. This season, ECAC Hockey schools are getting a boost while the WCHA and Atlantic Hockey are in a bit of a funk.
Quinnipiac, which you mentioned before, gained a couple of the first-place votes that Minnesota lost this week but actually moved down a spot because, as I like to say, no team exists in a vacuum in the rankings. Some voters apparently viewed Providence's sweep of Merrimack as better than the Bobcats' win over Brown and tie with Yale. Should they?
Jim: I think the question you raise is a very good one. There is no doubt that Providence is a very good team. So what do the Friars have to do to move up in the polls? They need to win games. Quinnipiac wants to hold its position or move up? It, too, needs to win games. Providence won twice last weekend against a mediocre Merrimack team. Quinnipiac beat a good Brown squad and tied the defending national champs. Obviously, two voters think Quinnipiac is good enough to be No. 1. But it seems there are probably also a few that feel the Bobcats could be ranked below sixth, which to me is just silly.
Again, these are just polls. But a part of me wonders what the ECAC needs to do to gain the respect it deserves?
Todd: I guess you could say it's doing all it can right now. It's putting a solid product on the ice and has become much more of a balanced league than was the case not too long ago. I'm not naive enough to think that winning last year's national championship is going to change everyone's perception of the ECAC, but it gave the naysayers less ammunition.
Six ECAC schools are among the top 20 in the rankings, and I think that says a lot about where the league is at.
Jim: Good point. I'll let my stomping for ECAC rest, for now.
I know we don't usually talk about women's hockey in this space, but it was hard to ignore the ugly end to the Ohio State-Bemidji State women's game last Friday. The game broke the all-time NCAA penalty minute record for men or women with 318 and absolutely destroyed the old women's record of 83. I know I was somewhat taken aback by Ohio State coach Nate Handrahan, who said he was proud of his players for showing some fight because the opposition celebrated on OSU's ice surface and was going off the ice "yipping and hooting and hollering." So what are players supposed to do after a win? Skate off quietly?
I know it's not that simple and there is likely a lot more to it. But I also wonder what kind of an example these players set. This may come off as biased, but I feel that in women's collegiate athletics, more so than men's, many of the fans are families with young girls who look up to these female student-athletes. And while things can boil over at times, the coach saying he is "proud" of his players just seems like misdirected enthusiasm. Your thoughts?
Todd: I did a double-take when I was transcribing the video of Handrahan's news conference. It was not what I was expecting to hear. And I have to admit that when I later saw the video, the actions didn't match what I was expecting, either, from the lengthy list of disqualifications. But a lot of players left the bench and became involved in the fracas, which didn't leave the officials much choice. You could argue that they were leaving the bench like they always do after the horn sounds, but they willingly joined in what was going on along the boards.
I think I understand what Handrahan was getting at: You want your players to stand up for each other. But equating that with being upset that the other team was celebrating doesn't seem to fit. The next day's rematch was an interesting game, too, in that each team only had enough eligible players to field two forward lines and two defensive pairs. That could have been a dangerous situation with that few players.
Jim: Honestly, and this may sound extreme, if I were a commissioner in charge of this series, I would have had both teams forfeit the rematch for the inability to field anywhere near a full squad. As you said, that's just dangerous.
Anyway, back to men's hockey. What matchups are intriguing for you this week?
Todd: A couple of series between ranked teams stand out here in the west. No. 8 Miami returns home after splitting at St. Cloud State to host No. 12 Wisconsin, which has played in only one of the last three weekends. It's the Badgers' last road nonconference games of the season, and a big chance to make an impression nationally after the last one — blowout losses at Boston College and Boston University — didn't go well.
And No. 13 North Dakota hosts No. 20 Minnesota-Duluth in an NCHC series that matches teams looking to get on more solid footing as we transition out of what's considered the early part of the season. What's up out east?
Jim: In Hockey East, New Hampshire and Northeastern are both coming off of good weekends but still each have a lot of question marks. Maybe some will get answered when they square off. Upstart Clarkson should get tested on Friday by Cornell, while the Capital District's rivalry of Union and Rensselaer will get renewed, both teams with higher expectations than in recent years.
And Sacred Heart has already knocked off one Frozen Four team from a year ago and it'll get the chance to beat the defending national champions when it takes on Yale on Saturday.