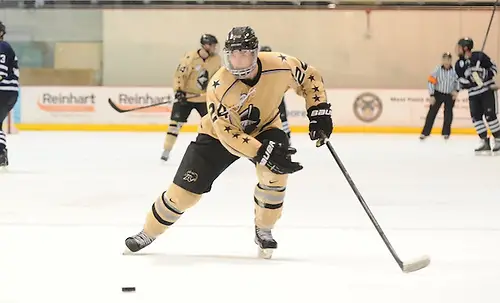 There is no correct formula for a coach to determine when his team is on the verge of becoming great. On paper, a team can be the greatest in his program's history, but their season can be derailed for a multitude of reasons. A team can look at their schedule and assume the worst, then defy those expectations and become the definition of a Cinderella story.
Without a correct formula, though, a coach needs to look at the roster and try to position them best for the correct jump. At Army, those challenges are tougher than normal.
Brian Riley has been the head coach since the 2004-05 season, and he's won a regular season championship in Atlantic Hockey at the helm of the Black Knights. He's also the third member of his family to coach the team, with his brother Rob leading West Point from 1986 through 2004, and his father, Jack, dating back further to the 1950-1951 season.
"Certainly, we have a unique situation as a military service academy in terms of recruitment and player development," said Riley. "It's very important for a player to understand their role, both on and off the ice as someone who attends West Point."
For the Army coaching staff, that means an evaluation system that allows them to look at a player both within their system and through their background.
"We don't get as many opportunities as we'd like [to evaluate players]," he said, "so we have to take advantage of the ones that we have. We have to take every chance we can and use every opportunity to grow more confident in a particular player."
That means analyzing an ever-changing list of intentions and desires. "One of the things that we develop is someone that's going to be tough," said Riley. "We want players willing to block shots and play physical. It's funny because we always look at our guys and say, 'We want to play physical but disciplined and be tough,' and these are guys who are going to West Point, where all of that is a way of life. But we look at them and say that if we're not a physical team, we lose our advantage."
The system is not without growing pains. The team has just one senior in forward Brian Schultz, and it's comprised of 21 freshmen or sophomores.
"Since we're so young, we need to have our juniors help our guys realize what it means to be an Army hockey player, on and off the ice," Riley said. "Our sophomores played a lot as freshmen, so they're growing together. It's very important for players to learn their roles and understand that a role can change.
"A guy on the fourth line can buy into that and improve himself as a fourth-line guy," he continued. "But in the same breath, a guy on the fourth line can really grind and work hard and improve himself to playing in the top lines. They can earn playing time on other lines if they exhibit those qualities that gets them on those lines. But it's also up to the coaches when a guy needs to embrace a certain role to point that out and help him understand who he is and who he can be as a player in your system."
Despite improvements within the overall team play, Army struggled out of the gate and lost its first six games, the last of which was an 11-0 thrashing on the road at Boston College.
But the Black Knights finally broke through in a big way against Sacred Heart on Tuesday, defeating the Pioneers 6-2 behind a hat trick by junior Maurice Alvarez and a stingy defense that allowed just 26 shots on net, their lowest shot total allowed all season.
The West Pointers will look to build on that momentum this weekend when they head to Niagara.
Downright offensive
Atlantic Hockey enters this weekend with one program in the top 30 of Division I in scoring defense: Connecticut, which is tied for 30th with Yale and Cornell.
Two teams have given up 10 goals in a game this year: American International, which was beaten 10-4 by Providence; and Army, which was smoked by Boston College 11-0. Neither of those games combined for the amount of goals scored last Friday by AIC and Bentley, who combined for 15 in an 8-7 Yellow Jackets victory.
Three teams have cumulative GAAs over 4.00. Army and AIC obviously fit that bill because of the skewering of their stats, but it's somewhat surprising that Niagara is the third.
After giving up 10 goals to Ohio State across two games, the Purple Eagles are at 4.12, fifth worst in the country and just above Alabama-Huntsville.
And while we're at it, half of the league's teams rank in the bottom 10 teams nationally. Dartmouth has allowed 5.50 goals per game to have a defense that's worse than an Atlantic Hockey team.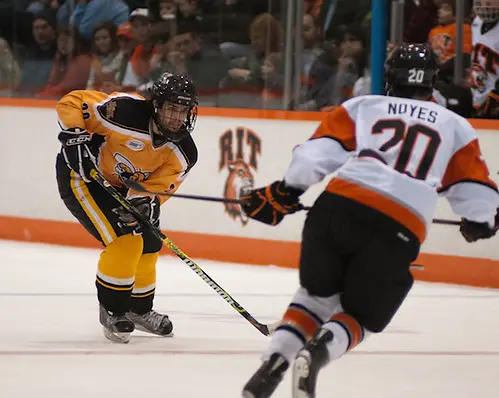 Yellow Jackets swarming Eastern pod
Last season, Niagara opened up 9-0 and essentially ended the race for the league's top seed before Christmas. This year, expected teams like UConn and Air Force are pacing the league by picking up early wins in their scheduling pods.
But the shocker to start the year is the 2-0 start by AIC that's caught many by surprise and established the team as one that can control its destiny to start out the season.
AIC has beaten Bentley and Sacred Heart in such a fashion that established it as a potential dark horse in the race for the top of the eastern pod. While UConn is the clear favorite, everyone behind the Huskies appeared clumped together.
Bentley spun its tires out of the gate by opening league play at 1-2, and Holy Cross, despite a 2-1 record in the AHA, is facing diminished expectations. Army and Sacred Heart remain in the back.
If AIC can defeat Holy Cross this weekend, the Yellow Jackets will set up a huge early season game with Connecticut the following weekend. They'll either be the top team or the second team in the eastern pod, and they'll be in a position to put a little bit of distance between them and the lower-tiered teams. That's something that's been a pipe dream for a team that finished a program-best ninth last year and was reduced to 11th in the preseason coaches' poll.
It's not a cause for victory celebrations yet, but the next two weeks will go a long way to determining just how relevant AIC is about to become.
Quietly consistent Crusaders
Throughout the league's struggles this year in nonconference play, it went easily unnoticed when Holy Cross opened up 0-5.
The Crusaders were swept by an improved Northeastern team, then swept by a Quinnipiac team that's already up into the nation's top 10. But the Crusaders are right back where they've been familiar with a 2-1 league record that stands as the second-best in the east.
They've finished in third place in the league each of the last three years, last finishing out of the top four in 2009-10 when a 12-19-6 Crusaders team went 10-13-5 and finished seventh. Before the season, coach Paul Pearl remarked about his team's consistency, mentioning that it has been consistent because its identity remained fluid and wasn't bound to the previous year.
With no disrespect intended to previous years, his teams have done a great job focusing on the present.
That focus has been obvious. Fourteen different Holy Cross skaters have scored, 10 of whom are either a freshman or a sophomore. A team that was expected to lose much after graduating four of its top six scorers from a year ago, the Crusaders seamlessly transitioned to the youth movement, a credit to the coaching staff and a move that once again has them positioned near the top of the AHA standings.
Holy Cross will attempt to assert its dominance over the Mass Pike this weekend when it entertains AIC on Friday and heads to Bentley on Saturday.
Players of the week
Continuing the trend of picking our own players of the week, I'm going to agree with the AHA this week, adding one more into my offensive player of the week for dual honors.
Players of the Week — forwards Jon Puskar and Alexander MacMillan, American International: Puskar and MacMillan each registered five points in the Yellow Jackets' wild 8-7 victory over Bentley last week. In a back-and-forth affair that saw AIC rally from a 4-1 first-period deficit, Puskar had perhaps the biggest strike. After Bentley tied the game with less than 20 seconds left, Puskar scored on a play that was faceoff, saucer pass, shot, score, coming with five seconds left. He assisted on MacMillan's game-winning goal in the third period.
MacMillan, meanwhile, tallied that eventual game-winner and won half of his faceoffs while registering four assists. Both players were plus-2 in a game that was a statement that the Yellow Jackets aren't going away quite yet.
Goalie of the week — Mercyhurst's Jimmy Sarjeant: The Aurora, Ontario, native was dominant when he had to be against two of AHA's preeminent power programs. He stopped a then-career high 36 shots to help lead the Lakers to a dominant 8-2 victory over first-place Air Force, then topped that high the next night by saving 37 in a 3-2 win over Rochester Institute of Technology. Remember when I said that Mercyhurst needed these two games to announce its presence with authority? Consider it done thanks to the goalie.
Rookie of the week — AIC's David Norris: Norris had an amazing assist on Puskar's go-ahead goal at the end of the second period. He delivered a seed of a saucer pass that knifed through the Bentley defense and found the streaking Puskar, who pounced and stole momentum back from the Falcons, who'd just tied the game. He finished with four assists, one of which was on MacMillan's game winner, and a plus-2 rating.