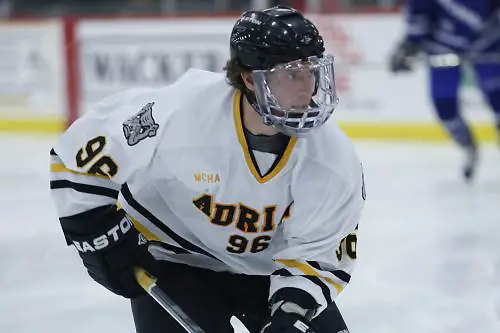 The top six teams are still undefeated in the third week of play. Expect to see some shake-up in the polls from the seventh spot down as some teams didn't make strong debut weekends.
There were no major upsets as teams are getting into the flow of the season, but there were some overtime thrillers recapped below:
ECAC EAST
Norwich and Babson remain undefeated on the season as Norwich (4-0-0) earned two wins against conference opponents Southern Maine and the University of New England. Norwich Cadet's senior forward Chris Duszynski is currently leading the league in goals scored with seven goals scored. Two of his goals were scored in the 8-1 win over University of New England. Babson (4-0-0) had a single non-conference game where they beat Assumption 4-3.
ECAC NORTHEAST
It was a busy week of conference play for the league. The game's started on Tuesday with at least one game being played each night except Friday. The week was highlighted by a 3-3 OT battle between first place Nichols and Becker. Nichols have a 3-0-1 record while Becker is sitting with a 0-4-1 overall record. Hawks sophomore Gregg Hussey made 40 saves while on the other end of the ice Bison sophomore Alex Larson made 36 saves.
ECAC WEST
Hobart (2-1-3) fought to one overtime loss and one overtime tie this weekend. Friday night's game against nonconference Geneseo had a two goal output from the Statesmen. Geneseo was able to score the game-winning goal 4:53 into overtime. Saturday's game against nonconference Brockport was tied 1-1 heading into overtime with neither team able to score with extra time. Hobart put 45 shots on net in the tied game.
MASCAC
In the first week of conference play Framingham has come out with an early lead in the standings going 3-0 this week and 3-1 overall, they remain the the only team who has not suffered a conference loss. Worcester St. has unable to win a conference game this week sitting at the bottom of the standings at 0-2, but are 3-2 overall. There was one overtime game with Salem State downing Plymouth 4-3.
MIAC
There were only two conference series in a slew of nonconference match-ups. Concordia-Minnesota traveled to Gustavus Adolphus where they split the series with matching 3-1 scores. St. Olaf and Saint John's had a home-and-home series. Friday night's contest had St. Olaf shutting out Saint John's 2-0. Saturday night the Johnnies outscored the Oles 7-4 had a 2-1-3 scoring line from freshman forward Kevin Becker.
NCHA
Adrian and St. Norbert continue to roll through the season with matching 6-0-0 overall and conference records. The Bulldogs swept Concordia-Wisconsin, giving them their first losses of the season, with 7-0 and 3-1 scores. Junior forward Josh Ranalli leads the league with eight goals on the season, including three in Friday's win.  St. Norbert swept Lake Forest, also giving the Foresters their first losses of the season. St. Norbert ouscored Lake forest 9-1 in Friday's contest.
SUNYAC
Plattsburgh remains undefeated with a 4-0-1 record. On Saturday Plattsburg and Buffalo State ended in a 1-1 tie. Bengals goaltender Kevin Carr made 43 saves, including 14 in the first and third periods. In Friday's 3-2 win over Potsdam Carr made 39 saves for a weekend total of 82 saves on the weekend.
WIAC
Conference play doesn't start up until December, but Wisconsin-Stevens Point and Wisconsin-Eau Claire are clear frontrunners. The Pointers hold a 6-0 record while the 2013 national championship Blugolds are 4-0 on the season.