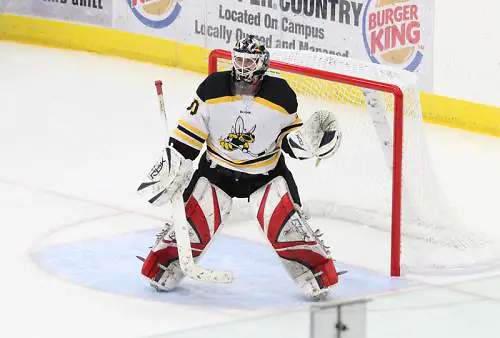 Dan Stauber knew it would be a challenge for his Wisconsin-Superior team to travel to New York and play a pair of games against nationally-ranked opponents.
Not to mention the toll a long trip can take on a team.
But while the Yellow Jackets had been up and down in the weeks prior to the PrimeLink Great Northern ShootOut, they seemed to step up their game against Plattsburgh and Norwich.
Sure, Superior was beaten 4-1 by a Plattsburgh team that is now No. 1 in the country, but it capped its weekend with a impressive 3-0 win against previously-unbeaten Norwich, which entered the weekend ranked second in the country.
Superior left the tournament as the first western team to win a game in the event. Western teams were 0-11 before the Yellow Jackets' victory.
"We had not played up to our standard early on and we knew it was going to be a very difficult weekend for us," Stauber said. "We knew we had to step up if we were going to have a chance to be successful. I thought we held our own against Plattsburgh, but we didn't capitalize on some chances. Against Norwich, we we were very sound on defense. Overall, it was a good weekend for us."
One of the things that stood out to Stauber was the toughness his team displayed in the two games, both physically and mentally.
"I felt like our guys had great mental toughness and we were physical when we had to be," Stauber said. "We want to be a hard-working team every night and I thought we worked very hard over the weekend. We stayed true to who we are as a team."
The Yellow Jackets, who are now 4-5-0, now turn their attention to WIAC play and go into conference action knowing they have two goaltenders capable of stepping up on any given night.
Drew Strandberg has played in five games and has racked up 125 saves with a 2.22 GAA.
Division I transfer Dayn Belfour has seen action in four games and has tallied 75 saves. He has a 2.88 GAA and played his best game at Superior in the win over Norwich. Belfour, the son of former NHL goalie Ed Belfour, earned his first shutout as he came through with 27 saves.
"The thing about Dayn is he plays the puck very well," Stauber said. "But Drew is a very good goalie, too. They have different styles of play, but both of them are capable of playing well. We are excited about having two goalies who can step up and we plan to continue to rotate them as much as possible."
Superior will need to be at its best to contend for a title in the WIAC, which features two teams ranked in the top 10. Wisconsin-Eau Claire is the defending national champion and ranked seventh in the nation this week, while Wisconsin-Stevens Point is unbeaten and ranked fourth.
"I would say right now [that] Stevens Point is the team to beat," Stauber said. "They have come blazing out of the gate. Eau Claire is very good, though, even with the players they lost from last year. It's a tough league and you have to come to play at a high level every night."
But the good news for Superior, despite having a roster that features 10 freshmen, is that it gained a great deal of confidence from its effort in New York. It doesn't hurt that it also has a win over St. Scholastica, which is currently ranked No. 10 in the nation.
"We talked after the weekend about how we have an expectation to play at a certain level and we have proven we can do it," Stauber said. "Our expectations are high and we have to be ready to go because every night will be a challenge. It's going to be interesting to see how things play out."
CONTENDER ALERT: Fourth-ranked Stevens Point and seventh-ranked Eau Claire were both off this past weekend, but they are clearly the frontrunners for the WIAC championship.
One team will have a slight edge in the title race after Friday as the two contenders collide on Friday night in Eau Claire.
Stevens Point, which has won its first eight games, has scored six or more goals eight times. Garrett Ladd has fueled the offense with eight goals and eight assists.
Kyle Brodie has tallied four goals and six assists, while Scott Henegar has come through with three goals and seven assists. The Pointers have racked up 50 goals and have allowed just 17.
Brandon Jaeger has started seven games in goal and owns a GAA of 1.57. He has tallied 125 saves.
Eau Claire has lost two of its last three, both to St. Norbert, and has tallied 27 goals on the season. It has allowed 18.
Jon Waggoner leads the team in scoring with five goals and four assists. Tyler Green has a GAA of 3.00 and has tallied 127 saves.
The game on Friday between the Pointers and Blugolds will be the first of three meetings between the two teams this season.