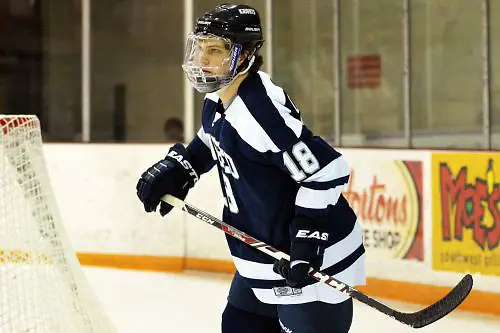 It usually doesn't take a rookie too long before he receives his "initiation" – his "Welcome to the SUNYAC" moment.
It's been 10 games now as a Geneseo Ice Knight and freshman Stephen Collins has yet to receive his.
No dressing room pranks played on him by the upperclassmen.
Nor any "love taps" applied not so gently by the opposition.
"No," said the soft-spoken Collins. "I haven't had any of that. No chirping."
Perhaps it's because he's been too busy putting up points to notice.
Collins, with seven goals and 12 points, has been racking them up a better than a point a game clip and is the SUNYAC's top first-year point-getter.
Not by coincidence, Geneseo (8-2-0, 7-1-0) is off to a terrific start.
"It's good to contribute," Collins said. "It's nice to score once in a while."
Ice Knights' coach Chris Schulz is effusive in his praise of his young sniper.
"The dimension that he's added to our power play," said Schulz, "and to our team in general with his skill is priceless."
To consider how Collins came to be part of that team, one would need a good atlas.
Collins hails from Pittsford , N.Y., which is normally just a short hop up I-390 from Geneseo.
However, Collins, took a much more circuitous route, with junior stops in Vermont, Iowa and Ohio.
Then, when hope for Division I opportunities failed to materialize, Collins headed for Arizona State last year to sample the club hockey life.
"The league I was in was good competition," he said. "The experience was amazing. And so was the weather."
Collins put up impressive numbers for the Sun Devils (27 goals and 42 assists) in 43 games.
But the desire to ply his trade closer to home led him to Geneseo, where former junior teammates Tyler Brickler and Zachary Vit (SUNYAC's reigning player of the week) were waiting for him.
"I knew it was a great school to go to," said Collins. "And I knew a few guys on the team. They told me about it."
Any concerns about how he would fit in with his new mates were dispelled off the hop.
"I was comfortable with the team from the start," Collins said. "It's been pretty good so far."
"We knew he was super talented," added Schulz. "It was pretty seamless. He's all business at the rink. He loves hockey."
The Knights have just one game to play before the holiday break, but it's a momentous one.
On Sunday, Geneseo will meet ECAC West foe Nazareth in an outdoor contest, to be staged at Frontier Field in Rochester, N.Y.
Needless to say, the Knights are pretty jazzed about being part of such an historic occasion.
"Our team couldn't be more excited to be playing at Frontier Field," said junior goalie Bryan Haude, who comes from nearby Hilton. "It is a great opportunity and something we will all remember for the rest of our lives. We are going to prepare for this just like any other game with the exception of adding a few extra layers for the cold. It should be a great game and something we are all looking forward to."