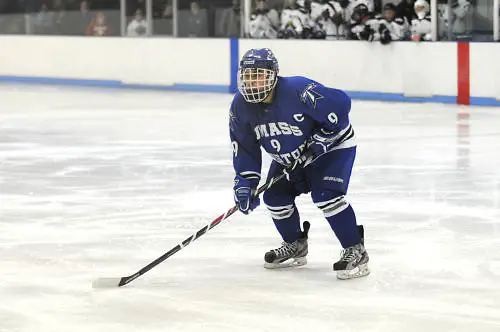 While many teams have already shut it down for finals and the upcoming semester break, Massachusetts-Boston still has a game remaining on the schedule in the first half and want to continue to build success and confidence in closing out a solid opening 10 games.
The Beacons' current four-game winning streak has their coach seeing a lot of things he likes and is building excitement around a solid second half run in the always challenging ECAC East.
"I thought we started showing some good signs of progress in our game during the PAL Cup tournament," stated coach Peter Belisle. "I have been telling the guys that we need to understand that we aren't sneaking up on anybody this season and we are going to have to bring our very best hockey each and every night if we are going to build on last season's success. We have had some challenging games early on with the two ties at Castleton and Skidmore and the 2-1 loss against New England College. Really, those games could have gone either way in terms of wins or losses for us, so it is very important to keep that focus and discipline in our game and build off the success we started a couple of weeks ago after Thanksgiving."
One of the big differences for the Beacons this season so far has been the search for a consistent power play. While the overall percentage rate is pretty solid at 27.5 percent effectiveness, it is an area where Belisle feels they can be even better and take some pressure off the five-on-five game.
"We have some very gifted offensive players here," stated Belisle. "But when I look back at last year there were times when we were running about a 30 percent success rate. Right now, the numbers are about equivalent but going 1-for-8 or 2-for-10 in games can be big difference-makers in deciding wins and losses. Last year, we had Rob [Florentino], Tim [Richter] and Mike [DeGrazia] all playing on the first power play as seniors and they were a big part of our success scoring over half of our total power-play goals. They are all gone now and you just don't replace that production or chemistry easily. In the last few games it is getting better and I think we will be fine, but we definitely want to have that consistent performance with the man-advantage and punish the opposition when they take penalties against us."
While some may have the impression the Beacons started slowly this season based on their position in the standings, their coach has provided great perspective heading into last weekend's final conference games before the break.
"If you look at where we are heading into our games with UNE and Southern Maine, we are actually a point ahead of where we were last year at this point in the season," noted Belisle. "Of course, we want to build on the tournament win and get a little momentum and confidence by stringing some wins together to end the first half of the season and we certainly have the chance to do that. I have joked with Jeff Beaney recently that the only place I haven't won since I have been here is at Southern Maine, so it is a good challenge for our team to continue to find new milestones to build on. That road trip and finishing at home on the weekend against Wentworth will certainly test us before stepping out for the holidays."
The first 10 games have seen the Beacons as road warriors with seven of the 10 being played away from the friendly confines of the Clark Center. At 6-1-2, the Beacons can close the opening stretch on a five-game win streak and look forward to some quality time at home both during the holidays and then for hockey shortly thereafter.
"It is nice we got a couple of the big road trips knocked off in the first half with going to Maine and on the Skidmore-Castleton trip," Belisle said. "Including the tournament after Thanksgiving, we really have spent the last three weeks on the road. The Wentworth game gives us a chance to play at home before the break and then we can really look forward to a favorable schedule in the second half where we play 10 of 15 at home and open with five in a row on home ice, including the Codfish Bowl right after the New Year. The schedule is going to be tough, but it is always nice to be the home team and we have played pretty well in our building over the past few years, so we have a good chance to continue our success in the second half and do it in front of our fans, too."
One guy coach Belisle can count on to keep the focus of this still young team is senior forward Travis Daniel, who is currently second on the team in scoring (4-10–14), recently passed the century mark in points for his career with his three assists against the University of New England last Friday night.
"Travis is just a true competitor," said Belisle. "He is on go all the time and it is great to see him achieve that milestone as a player here at UMB. It is a significant accomplishment and there is so much more hockey to go for him and us this season."
The offense is cranked up and the streak is at four with Wentworth coming to visit this weekend. A five-game win streak would be nice before the semester break and set the tone for continued success in 2014.