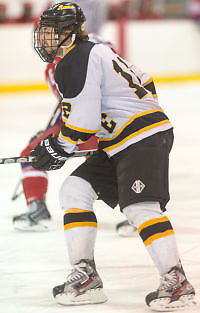 The last few years have been a struggle for Framingham State and senior forward Eric Ward.
The Rams' record in 2010-11 was 4-13-1, while in 2011-12, it was 6-15-1 and last year, the Rams stumbled to a 2-19-1 mark.
Ward and the rest of the Rams are sitting 5-3-1 overall this season and in first place in the MASCAC with a 4-1-1 record.
"Certainly, we had a lot better start than in the past," Framingham State coach T.J. Brown said.
A big help was that only two players from last season's squad are gone.
"We've all been kind of expected to win," Ward said. "Last year, we were expected to do better than we did. Then this year, it's kind of the same thing. We expected ourselves to do a 180-degree turnaround from last year to this year. We are standing behind our coach and the systems in place. We are executing a lot better this year."
Brown was hoping to have success earlier, but understood some things take time. He said this was the year he was hoping to have a big season.
Ward noted that the team has been working on better forechecking this season and it has paid off with the team averaging 3.78 goals per game.
"We have a lot of guys playing at this level for three or four years," Ward said. "We can expect goals from our first line all the way to our fourth line."
Just like the team, Ward is also off to a blistering pace with 10 goals and three assists in 10 games so far this season. His goal total puts him tied-for-third nationally.
Ward was one of Brown's first recruits when he took over as the head coach.
"Eric is one of our assistant captains [and] he's one of the guys we can as coaches talk to him and he will relay the message to the guys in a way they get it," said Brown. "On the ice, there aren't many guys who play the game harder than he does."
Brown describes Ward as a two-way forward and probably the best goal-scorer he has ever been around.
"He has learned through the hardships the last couple of years," Brown said. "He has done a good job learning what it takes night in and night out to do well in this league."
Ward gives credit to his linemates.
"My line [with Ryan MacDonald and Brendan McCarron] has has a lot of chemistry on the ice," he said. "We do really well in practices and we are good friends on and off the ice. I attribute a lot of it to them because they are good playmakers."
MacDonald has five goals and nine assists this season, while McCarron who has four goals and six assists.
"We put them together right off the bat to start the season," Brown explained. "They gelled real well with each other. The three of them are all very highly-skilled forwards. It wasn't hard for them to mesh with Eric being the goal-scorer out of the group. I think it took a couple of guys that could get him the puck regularly. Now, we are seeing what he can do once he gets it."