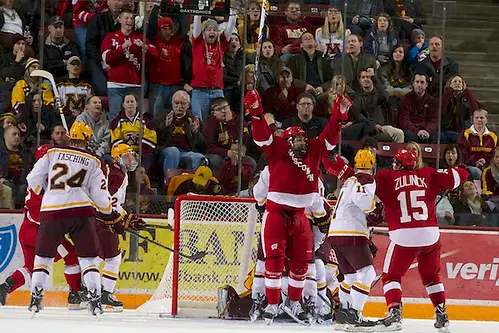 After four Big Ten games, Wisconsin's conference winning percentage (.500) is about the same as its overall (.542).
The fact that the preseason favorites weren't rolling out of the gate doesn't concern coach Mike Eaves.
"You always wish that your record was better," Eaves said. "But I think that we recognize that the storm we had to handle was the fact that we had three breaks and we could not get on a sustained roll here.
"That's over with now. We've done some good things. We just have to be more consistent and by playing more regularly we'll be able to get that consistency."
The Badgers were swept by Minnesota in their first conference series and rebounded to sweep Penn State at home last weekend. Eaves said it was still too early to get a feel for how the Big Ten was going to play out, both this season and in the future.
"I mean, Minnesota, we played them four times a year anyways so that feels about the same. Having Penn State here, we played them here last year," Eaves said. "For us to get a real feel for the Big Ten, I think we need to go to Michigan State and get into their rink, get into Penn State's rink, get into Michigan's rink and go to Ohio State. When we start doing that it'll feel like, 'Yeah, this is the Big Ten, this is something new.'"
Eaves said earlier in the season that Wisconsin had struggled building a team identity this season because of the numerous off weekends the team had scheduled. Those off weekends prevented the team from building momentum and getting on any sort of roll.
"What helps form a team identity is going through things as a team, tough moments and tough stretches," Eaves said, citing Saturday's close game against Penn State as an example. "It was 3-3 with 10 minutes left, and we found a way to win a hockey game."
Eaves also cited the Badgers' comeback win over Miami and the game where they came back from a 3-0 deficit to tie Lake Superior State as other big games for the team this season.
"It's those kind of moments that your team identity is forged," he said. "So as we play more, we're going to find ourselves in more of those situations. That's how we're really going to form it."
Though the Badgers were swept by Minnesota in the series at Mariucci Arena, Eaves said that he really liked what he saw out of the team in Saturday's game. Wisconsin rebounded from the sweep by blowing Penn State out on Friday and sweeping the Nittany Lions in a close game on Saturday.
"As disappointing as it was in Minnesota, Saturday night, in breaking down that video and being able to share it with the guys, it was a really good game and we did a lot of really good things," Eaves said. "We got beat because of mistakes that we made, four huge mistakes. But there were so many good things that we did that in sharing the video, that was fun to share it with them.
"But you have to get some W's to get that team confidence, so to come back home and find a way to get a couple wins was exactly what we needed."
This weekend, Wisconsin will end the first half of the season with a home series against a former WCHA foe, Colorado College. Eaves said that the Tigers are a better team than their 2-10-3 record shows.
"We played them last spring in the WCHA playoff finals and we know their team pretty well," Eaves said. "Quite honestly, I'm surprised by their record, they're a better team than that on paper. It sounds like the only thing that's missing, they've played pretty well, but they haven't scored a lot of goals."
In going against a team that struggles to score goals, it'll be nice for Eaves to have both of his goaltenders healthy. Joel Rumpel has played the last three weekends after suffering an ankle injury earlier this season and has looked good in net.
"They push each other and make each other better," Eaves said of Rumpel and Landon Peterson. "It's good to have that competitiveness in practice because it hones their skills."
The Badgers have historically been a second-half team. If they have another Wisconsin-like run in January and February it will happen in front of their fans. They have eight games in a row at the Kohl Center after Christmas.
"We have to take advantage of that, but one would think that if we're playing more regularly we can find that consistency more often," Eaves said.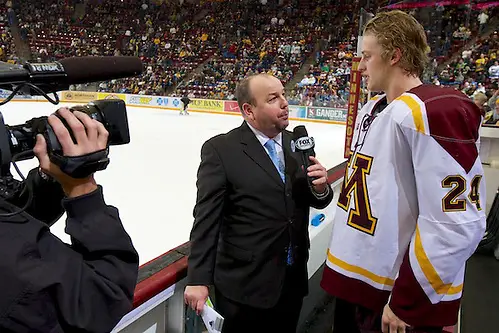 Six Big Ten players on 2014 U.S. National Junior Team's preliminary roster
The 2014 U.S. National Junior Team will open training camp on Sunday in Minneapolis. Its preliminary roster was finalized this week and includes six players from the Big Ten — Brady Skjei and Hudson Fasching from Minnesota; JT Compher, Andrew Copp and Tyler Motte from Michigan; and Nic Kerdiles from Wisconsin.
Minnesota's Don Lucia is the head coach of this year's squad.
The team's 29-man preliminary roster will be whittled down to 23 before the tournament begins in Malmo, Sweden, on Dec. 26. Team USA will practice Sunday through Wednesday at Mariucci Arena, and all practices are open to the public.
The team will play three exhibition games, the first being against Minnesota State on Tuesday night in Mankato, Minn. The other two games will be overseas against Sweden and Finland.
Three stars
First star — Wisconsin sophomore forward Nic Kerdiles: The sophomore from Irvine, Calif., had two goals and two assists in Wisconsin's two wins over Penn State last weekend. He scored the game-winning goal with just more than eight minutes remaining in the third period of the Badgers' 4-3 win on Saturday. This is the first Big Ten honor for Kerdiles.
Second star — Michigan State sophomore goaltender Jake Hildebrand: Hildebrand had 44 saves against Minnesota in Friday night's tie and he stopped all three shots he faced in the shootout to help the Spartans grab an extra point. He had 35 saves in Saturday's 3-2 loss to the Gophers. Hildebrand has 305 saves this season, which is second-highest in the conference. This is his first Big Ten weekly award.
Third star — Minnesota freshman Justin Kloos: The freshman from Lakeville, Minn., tallied three points for Minnesota last weekend. The Gophers grabbed four of six possible points from its conference series with Michigan State. Kloos leads all Big Ten freshmen with 17 points and 11 assists this season. This is his second Big Ten weekly award of the season.
Big Ten in the poll
Here's how the Big Ten teams stand in this week's USCHO.com Division I Men's Poll:
No. 2 Minnesota (Last week — No. 1)
No. 3 Michigan (LW — 3)
No. 15 Wisconsin (LW — 17)
Ohio State received 20 votes, which was fifth highest out of the unranked teams.
This week's matchups
Colorado College at Wisconsin (Friday and Saturday, Kohl Center)
Ferris State at Michigan State (Saturday, Munn Arena)