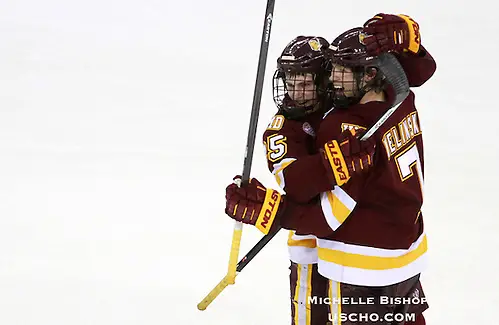 Although we're starting to see more daylight open up between the NCHC's sets of leaders and trailers, it appears to be time to start thinking about adding Minnesota-Duluth to the former category.
Duluth spent the first half of the season putting up a decidedly mediocre record and splitting series almost as though that was the Bulldogs' job. UMD coach Scott Sandelin's club appeared to make a breakthrough last weekend, though, in picking up its first sweep of the season at Nebraska-Omaha.
Each night of the two-game set saw one Duluth forward line really click.
In its' 3-2 win Friday, Duluth's third line of Alex Iafallo, Dominic Toninato and Adam Krause accounted for the first two goals of the game before defenseman Andy Welinski scored the eventual game-winner in the third period.
Sandelin made zero changes to his lineup for the rematch, and Saturday night saw Duluth's second line get its own time to shine. Joe Basaraba's two goals and big performances from linemates Austin Farley and Caleb Herbert helped the visitors to a 3-1 win.
Even more credit for both nights' triumphs has to go to Bulldogs goaltender Aaron Crandall. The senior will undoubtedly be the NCHC's goaltender of the week after stopping 38 and 52 shots against UNO, including several monster saves in both games of the series.
Duluth now finds itself 9-8-1 overall and 5-5 in the league, which is far from incredible. However, with a lot of winnable games coming up over the next four weeks ahead of a trip to first-place St. Cloud State Feb. 14-15, if Crandall stays hot and he keeps getting goal support from the offense in front of him, UMD might be able to parlay its success last weekend into something much bigger by the time they face the Huskies and then enter the home stretch of the regular season.
UNO's struggles continue
UMD and the team it swept last weekend appear to be moving in very different directions.
UNO's pair of losses last weekend at home to the Bulldogs marked the third time the Mavericks have been swept this season and the second time in two weeks.  What's worse, at 8-11-1 and 5-4-1-1 in the NCHC, UNO has now lost five of its last six games, and the only win came via an overtime shootout at Colorado College Dec. 7.
The news gets worse if you're a Mavericks fan.
A year ago this week, UNO was four games above .500, tied with Denver for first place in the WCHA, and the Mavericks had a legitimate Hobey Baker Award candidate in Ryan Walters. Now, UNO is three games below .500, is only in fourth place in the NCHC by two points over Duluth, and the Mavericks' leading scorer, forward Josh Archibald, is tied with 11 others for 39th in the country in terms of points with 21.
Archibald's tied for fourth in Division I with 14 goals, which UNO fans surely find great to see from the junior forward who has improved by leaps and bounds every year he's been in Omaha. However, when he's the only Maverick on the national radar in terms of leaders in either goals or assists, it's one more sign not enough is being done by UNO's attacking corps.
There's an even bigger mess to be dealt with in UNO's own end of the ice. The Mavericks are 49th in the country in scoring defense, having conceded 3.35 goals per game so far this season, and UNO has D-I's third-worst penalty-killing units, only succeeding at a 73 percent clip.
Poor defensive displays tend to beget poor goaltending numbers, too, and that's one way to describe UNO's goalies' figures so far. Junior Ryan Massa (11 appearances) and freshman Kirk Thompson (10) have fairly evenly split time in the Mavericks' nets this season, and Thompson's leading the way statistically with a 2.95 goals-against average and a .885 save percentage, numbers not much better than Massa's (3.34, .882).
Looking at the Mavericks' remaining schedule, there's a chance things could get worse for them. UNO is at fellow NCHC struggler Miami this upcoming weekend, and then the Mavericks will face the league's current top three teams – St. Cloud State, North Dakota and Denver – all in a row.
North Dakota gets back on track
North Dakota didn't post earth-shattering results in its Canadian exhibition tour Jan. 3-4, losing 3-2 in overtime to British Columbia before eking past Simon Fraser 4-3 the following day. Since then, though, UND has gotten back to the form that served the team well heading into the holiday break.
UND was made to work hard for its 5-3 and 3-2 wins at home last weekend to seventh-place Colorado College, but the bottom line is that UND was able to pick up six points from the series, something that hasn't been incredibly common in the NCHC so far and will only become even rarer as we head into the final couple of months of the regular season.
Even better, UND is now on a seven-game winning streak in non-exhibition games. That number may well go up to nine this next weekend after a home-and-home series with a Bemidji State team four games below .500 and with eight home losses already this season.
At 11-7-2 overall and 7-5 in the NCHC, UND's 21 points thus far currently put it only one point behind SCSU for first place in the league. What's even more exciting is that UND has a favorable schedule until it visits the Huskies Feb. 28 and Mar. 1, so expect to see at least a two-horse race at least until we switch our calendars over from February to March.