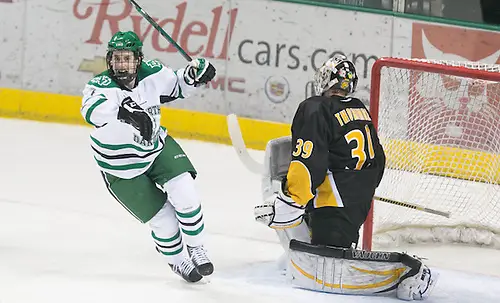 Here's our weekly look at big events and big issues around Division I men's college hockey.
Todd: As we do around this time every year, last week we turned on the PairWise Rankings, which this year have been updated with the new NCAA selection criteria. So now we get a better sense of what each result does to a team's NCAA tournament hopes.
As Jayson Moy pointed out in the first Bracketology of the season, the rankings in January may not seem to mean much but they're a decent predictor of which teams will end up in position for an at-large bid in March. Of the teams lingering around the cutoff point, which do you think has the most reason to be concerned about missing the tournament?
Jim: Right now, there are four teams on the wrong side of the bubble that may surprise some: Denver, North Dakota, Western Michigan and Miami. North Dakota is just below the line at 19th, but the other three have a lot of work to do if they're going to move up and get themselves into the NCAA tournament.
At the same time, it's interesting to see a team like Northeastern, picked to finish last in Hockey East, tied for sixth. We all do know, however, that there's plenty of hockey left to play.
Todd: Wisconsin and Michigan almost traded spots in the PairWise after the Badgers swept the Wolverines last weekend. Wisconsin moved from 15th to 10th, while Michigan dropped from ninth to 15th. You could argue that these are the two teams that will be battling Minnesota for the Big Ten championship, and the Badgers definitely took a step forward in that process last weekend.
On the other hand, Providence has taken a few steps back in recent weeks, going 0-3-1 in its last four games, including a 5-2 loss at Boston College last Friday in which Jon Gillies allowed an un-Jon-Gillies-like four goals on 30 shots. How deep do the Friars' recent problems go?
Jim: Having seen Friday's Providence-Boston College game in person, I can say with certainty that the result of that game was much more about how well BC played as opposed to the Friars and Jon Gillies playing poorly. That was quite possibly the best the BC offense has looked all year, at times pinning PC in its own end for minutes on end.
All of that said, if Providence has high hopes of winning the Hockey East regular season title, something that most feel is possible, it will have to find a way to solve Boston College. That is the challenge for all of the Hockey East teams as right now, as at 8-1-1 in Hockey East play, the Eagles seem dominant.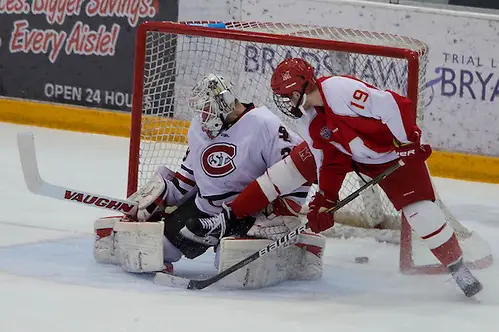 Todd: From the top of Hockey East, let's go to the bottom of the standings in the NCHC. That's where you'll find Miami, which was ranked No. 13 in the USCHO.com Division I Men's Poll a week ago but dropped out after a pair of losses at Western Michigan. The RedHawks are also down to 27th in the PairWise.
A lot of people expected a lot more out of Miami this season, and I still think the RedHawks are capable of being a strong team down the stretch. You have to wonder, however, whether the hole they have dug is too deep.
Jim: I have been quite shocked to have seen Miami drop to the bottom of the NCHC and out of the national polls altogether. With just two wins in its last nine games, you can officially say this team has hit a slump.
The biggest problem seems to be defense. After giving up just four goals in a five-game span in November, the RedHawks have given up 30 goals in that nine-game stretch in which the team is 2-6-1. I think we all knew that a good hockey team would be at the bottom of the NCHC given the prominence of the league's programs; I just don't think any of us thought it would be Miami.
Todd: On the other side of that sweep is Western Michigan, a team we've talked about recently but one that seems poised to make a run in the second half. The Broncos put that to the test this weekend at No. 3 St. Cloud State, a series that will be one to keep an eye on.
That's one of four series in the state of Minnesota that pique my attention. Ohio State plays Minnesota at TCF Bank Stadium on Friday as the Gophers finally get in on hosting one of these outdoor games. Denver travels to Minnesota-Duluth in a series between teams that are two points apart in the crowded midsection of the NCHC standings. And Minnesota State hosts Ferris State, with the Bulldogs looking to pull a little farther away in the WCHA. What's up out east?
Jim: Well, one of college hockey's best rivalries will be renewed on Friday night when Boston College hosts Boston University. But if these two teams play the way they did last weekend, this will be a mismatch. BC, as mentioned, was solid against Providence on Friday but BU looked lifeless against Maine at Fenway. Even though the game was interrupted by a rain delay, that was no excuse for the Terriers falling behind 5-0 before losing 7-3.
Additionally, Yale will travel to Clarkson on Friday in a battle of two nationally ranked ECAC Hockey teams, while a red-hot New Hampshire team will host Union for two in another meeting of ranked teams. Plenty of good hockey to keep an eye on this weekend.